Bookings Open!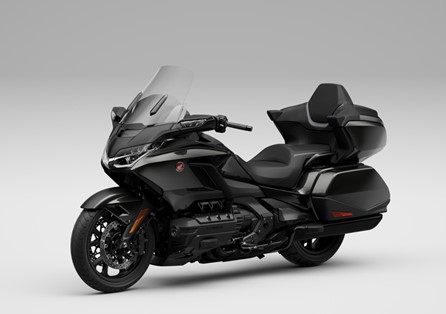 Turning the next chapter of ultimate luxury on two-wheels, Honda Motorcycle & Scooter India today launched the 2022 Gold Wing Tour in India. The new model will make its way to the Indian market through CBU* route from Japan (*Completely Built-Up).
The 2022 Gold Wing Tour will be available in – Dual Clutch Transmission (DCT) with Airbag.
Elaborating on the launch, Mr. Atsushi Ogata, Managing Director, President & CEO, Honda Motorcycle & Scooter India said, "Over the years, Gold Wing has strengthened its reputation as a technological flagship from Honda. Raising the level of touring experience by several notches, we turn a new chapter in redefining luxury on two-wheels with the 2022 Gold Wing Tour DCT model with Airbag in India."
Sharing his thoughts on the new 2022 model, Mr. Yadvinder Singh Guleria, Director – Sales & Marketing, Honda Motorcycle & Scooter India, said, "Honda Gold Wing has undergone a great evolution over the last decade while redefining luxury, comfort and safety. Gold Wing Tour offers a tailored riding experience as it offers the right mix of presets coupled with rider inputs for touring across different road conditions. We are glad to announce that the bookings for the '2022 Gold Wing Tour (DCT)' are now open in India."
Styling & Equipment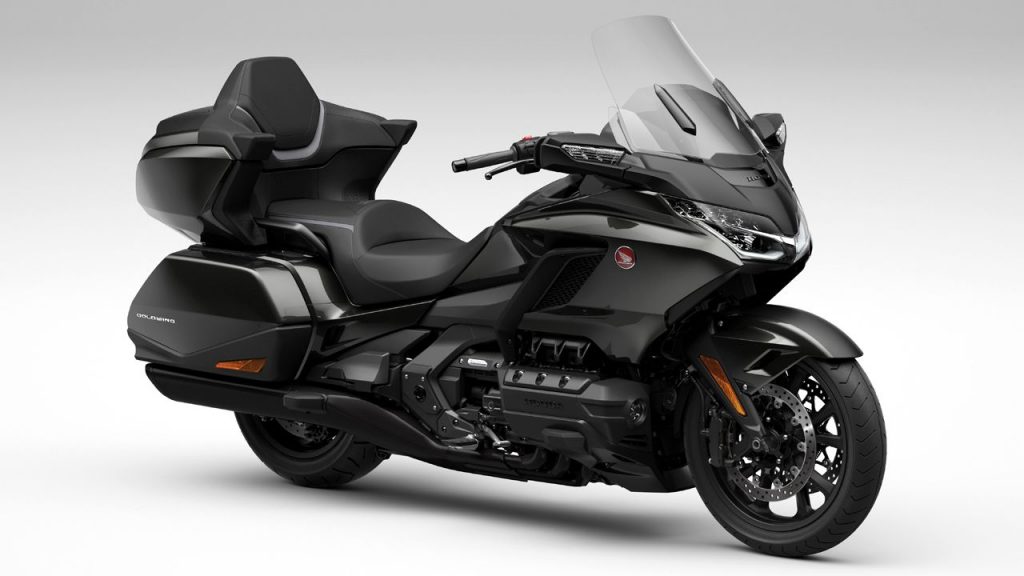 While expanding its appeal and reaching out to a younger generation of motorcyclists, Gold Wing Tour presents an energetic frontal signature, a unique silhouette and counterpoints comfort with the dynamic abilities of chassis and engine.
With a nuanced aerodynamic detailing, its trademark fairing, sharp and solid flat stretches hint at its aesthetic excellence, thus lending the luxury tourer a jaw-dropping road presence.
Adding functional beauty with grace – the double wishbone front suspension helps reduce sliding friction while a horizontally-opposed flat six-cylinder engine beats at the heart of Honda's premium tourer. Drawn together, the design elements create cutting-edge style, underpinned by incredible levels of engineering and electronics.
Providing a pleasant cooling breeze around the rider and pillion, Gold Wing Tour places comfort, heat management and air management on top priority. An extended electric screen offers excellent wind protection with a sense of space and freedom when required. The step-less screen angle and height adjustment can be operated from the left side of the handlebar.
A separated seat for rider and pillion with relaxed pillion back rest angle (from 16° to 23°) delivers utmost comfort while allowing movement and easy ground reach. The seat cover comes in a luxurious new suede/synthetic leather while the angle of the pillion backrest is also relaxed.
Full LED lighting including dual LED fog lights use polished optical lenses on both sides to create a jewel-eye low beam light signature & auto-cancelling indicators where system compares front and rear wheel speed difference to calculate when to cancel the indication relative to the riding situation.
When touring, after completing the deceleration with the cruise control system in operation and resuming the previous speed – the Gold Wing returns to the pre-set with an appropriate shifting schedule. The speed that is been set with the Cruise Control switch is shown in the bottom left side of the speedometer. Through Throttle By Wire (TBW), a smooth transition is achieved with an ultra-smooth operation, especially when going uphill.
With low contrast colors and dark tones applied to the dials while the peripheral areas form cone-shaped slopes to create a feeling of depth, the entire setup lends a luxurious touch to instrument panel.
Whether it is audio & navigation system, managing riding modes or adjusting suspension settings, the 7-inch full-color TFT Liquid Crystal Display screen provides all the information that the rider can access with a flick of a button. Information is displayed in differentiated segments in a very functional order, so the rider can get all the relevant data with the minimum of eye movement.
Notably, the screen can be lit up to 8 brightness levels with automatic adjustment setting with added convenience of tyre pressure displayed as a numerical figure in the bottom left section.
While the Smart Key activates all systems and incorporates the emergency key, the ignition and handlebar lock can be turned on/off while just carrying it.
The 2022-year model continues the 21 litres capacity fuel tank. The Smart Key opens all the boxes with a simple push button and makes the luggage operation simple. On the contrary, the unlock button on the Smart Key enables the passenger instant pannier access.
Bringing modern-day convenience and connectivity to the riders, 2022 Gold Wing Tour comes with Apple CarPlay™ and Android Auto™, so the rider can utilize the personalized information and content inside their smartphone, such as telephone numbers and music playlists. Additionally, Bluetooth connectivity is available with two USB Type-C ports.
Delivering superb sound quality with vivid presence are the lightweight speakers while a passenger audio control switch is also available for volume adjustment, switching the source and fast-forwarding audio.
The navigation system is displayed in the central area of the instrument panel and includes a gyrocompass – which ensures uninterrupted guidance even inside a tunnel.
Engine & Performance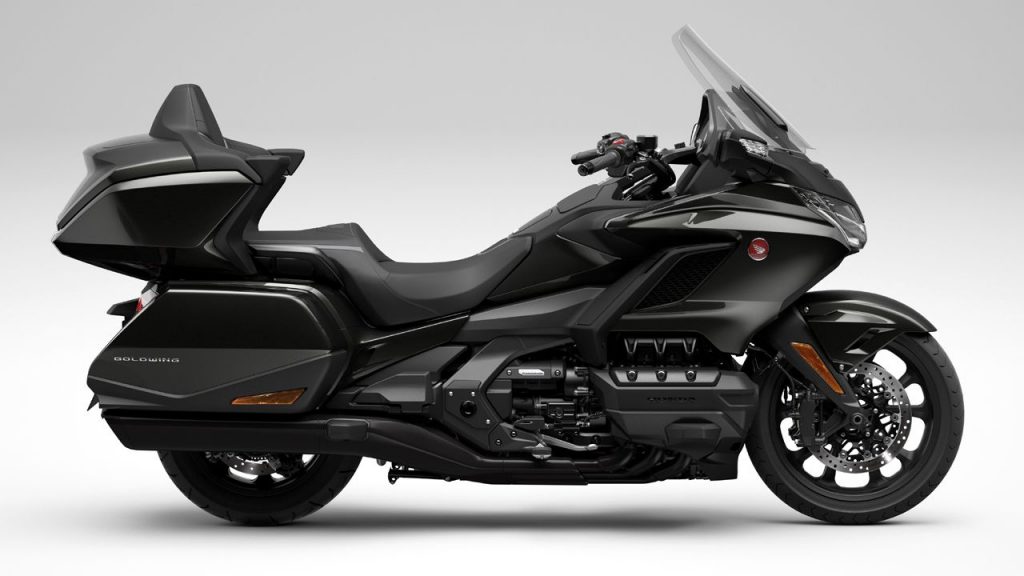 Fully realizing the handling potential of the chassis while contributing to this icon's appeal is the addictive power delivery. Gold Wing Tour's 1833cc liquid-cooled 4-stroke 24-valve SOHC flat-6 engine produces peak power of 93kW @ 5,500rpm and peak torque of 170Nm @ 4,500rpm.
To alter the legendary motorcycle's character and power delivery, Throttle By Wire (TBW) engine management adds 4 rider modes (Tour, Sport, Econ & Rain) linked to suspension damping and the Dual Combined Brake System (D-CBS).
Seamlessly monitoring and maintaining rear wheel traction, Honda Selectable Torque Control (HSTC) adds an extra layer of riding confidence. The level of input is adjusted as well (via TBW) in sync with riding mode selection. A powerful throb yet cancelling any excessive noise, the exhaust compliments engine's deep bass signature.
Furthermore, at 2.4 kg lighter than a standard system, Integrated Starter Generator (ISG) combines the power of generator and starter motor into one. The generator doubles up as the starter motor when supplied with reverse power. Driving the ISG setup is the helical gears which reduces mechanical noise.
Idling Stop system which operates with the help of ISG and the combination of DCT & TBW control lend that ultra-quiet start-up of the engine. Precisely three seconds into the traffic stop, the engine stops automatically and is back up again at the turn of the throttle.
With Gold Wing Tour's Hill Start Assist (HSA), starting it on different grades of slope is like a breeze. When setting off – even when the brake lever is released – the hydraulic pressure temporarily retains braking force (for about 3 seconds) so starting on the uphill slope with the throttle is possible.
Honda's Dual Clutch Transmission (DCT) technology continues to deliver consistent, seamless gear changes with clutch feel, shift speed and rpm range of up/downshifts tailored specifically to each riding mode. It uses two clutches: one for start-up and 1st, 3rd, 5th & 7th and the other for 2nd, 4th and 6th, with the main shaft for each clutch located inside the other. It also features a convenient creep forward and back function.
The transmission has been optimized for low speed maneuverability, with close ratios reducing shift-shock. In the higher speed range, they are set wider apart to reduce engine rpm. In both speed ranges comfort is improved as shifting up or down is of the highest quality.
Chassis & Handling
The 2022 Gold Wing Tour's diecast, aluminium twin-beam frame allows for a compact engine packaging with its structural thickness optimized in each area for a smoother and stable ride on both city streets as well as long touring stretches.
Among other conveniences, the double wishbone front suspension eliminates any sliding friction (from bump deflection and steering input) that a standard telescopic fork creates from the up and down travel of stanchions in the fork leg.
Nimble and easier to maneuver, steering input via the dual fork holders separated from the suspension provided by the single shock absorber along with motorcycle's yaw moment – deliver an entirely natural feel to the rider.
Dual Combined Brake System (D-CBS) spreads the braking forces to the front and rear wheels in response to the current riding mode of choice and adjusts the braking characteristics automatically. Facilitating this balance is a single, light circulation type ABS modulator integrated with the brake ECU which keeps weight down within the braking system.
A Pro-Arm swingarm allows for a much greater freedom of design and stable maneuvering as it attaches to the frame on the left side while the right side serves as a maintenance access. While Pro-Link provides progressive suspension action, spherical joints have been leveraged to cancel out any torsions.
Over & above the 4 riding modes, 4 preload settings for load selection from soft to hard – single rider; rider with luggage; rider with pillion, and rider with pillion fully loaded with luggage. Damping level adjusts electrically relative to riding mode. Stepper motors housed within the front and rear shock absorbers move needles to control oil flow, tailoring damping force for the riding situation.
Color, price & availability
Starting today, Honda has opened the bookings for 2022 Gold Wing Tour DCT with Airbag option at its exclusive BigWing Topline dealerships in Gurugram (Haryana), Mumbai (Maharashtra), Bengaluru (Karnataka), Indore (Madhya Pradesh), Kochi (Kerala), Hyderabad (Telangana) & Chennai (Tamil Nadu).
2022 Gold Wing Tour (DCT) with Airbag
Color -Gunmetal Black Metallic (with blacked-out engine)
Price – (Ex-showroom Gurugram, Haryana) INR 39,20,000