CHOCOLATE PRUNE BANANA MUFFIN
Chocolate Prune Banana muffin can make everyone happy because along with being healthy, they're also delightfully tasty. Serve it as a breakfast or enjoy this with your evening tea or coffee with family or friends, these Chocolate Banana Prune muffins are always a win-win munchie.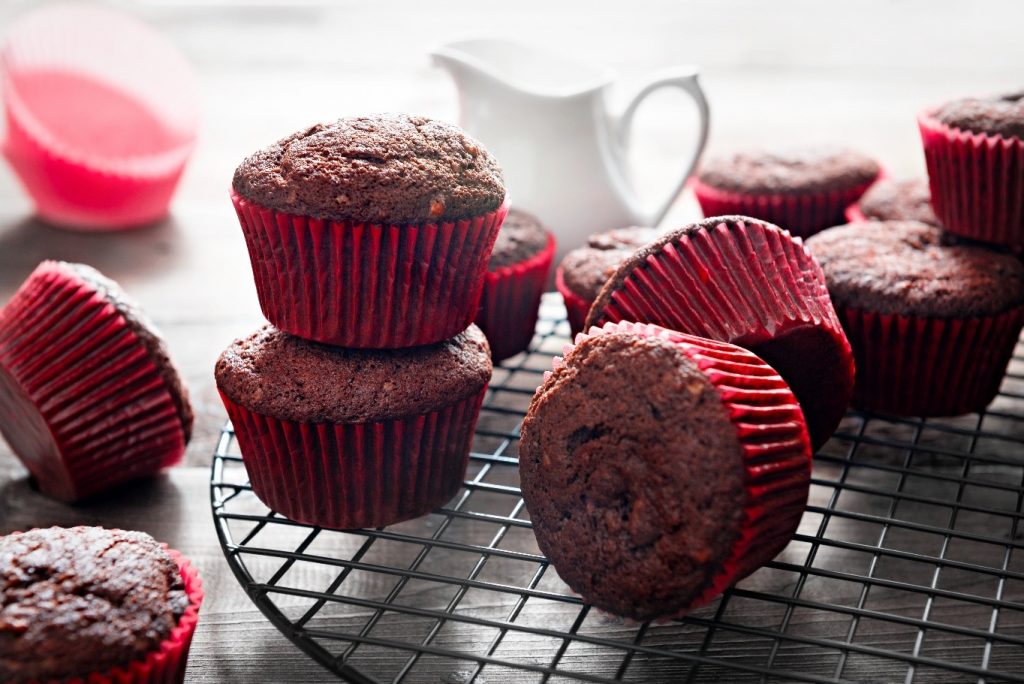 Preparation time 30 minutes
Cook time NA minutes
Serves 10-12
QUANTITY INGREDIENT
1½ Cup All-Purpose Flour
2 Ripened Big Bananas (Mashed)
1 Cup Del Monte Prunes
175 G Dark Chocolate
1/2 Cup Butter At Room Temperature
2 Eggs
1/2 Cup Sugar
1 TBSP Vanilla Essence
1 TBSP Baking Powder
1/2 TBSP Baking Soda
1/4 TBSP Salt
Method:
1. Preheat the oven at 170 degrees C.
2. Sift together flour, salt, baking powder and soda.
3. Cream together butter and sugar. Add 1 egg and beat until incorporated well. Add another egg and beat again. Add vanilla essence and mix. Now add melted chocolate and mix.
4. Add flour mixture in 3 batches and fold it until mixed. Add chopped prunes and
5. Fill the muffin pans, lined with the muffin liners. Bake them in the preheated oven for 18 to 20 minutes or until skewers come out clean.
There's nuffin better than prunes in your muffins.
BLUEBERRY MUFFINS
Biscuits and cookies have always been teatime favourites. But wouldn't you like to royal it up with some Blueberry Muffins? This heavenly dessert has a soft baked crust with the delectable Del Monte blueberries adding just the right fruity punch. Let's get the high tea started, shall we?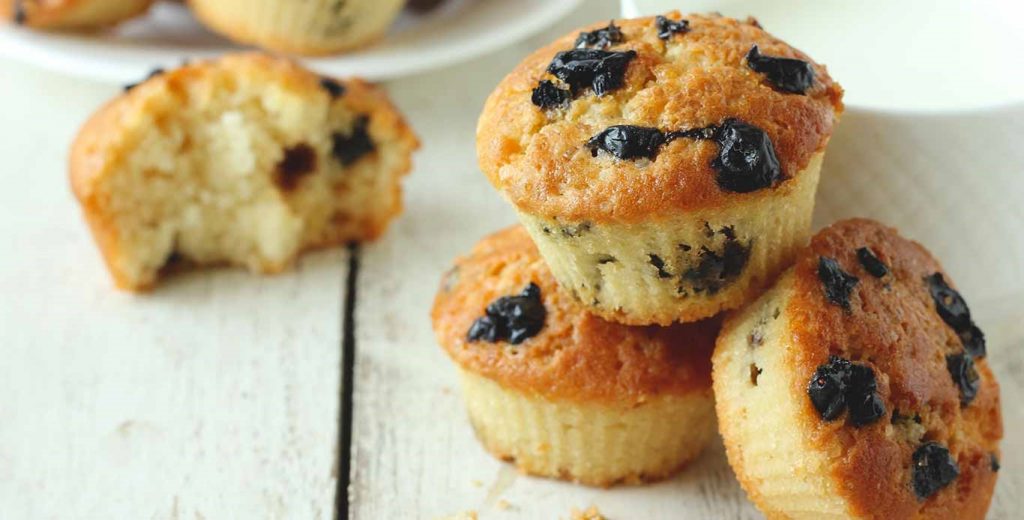 Preparation time 15 minutes
Cook time 30 minutes
Serves 4-5
QUANTITY INGREDIENT
2 Eggs
1 cup Granulated Sugar
1 cup Yogurt
1/2 cup Flavourless Oil
2 cup Del Monte Blueberries
3 TBSP Baking Powder
1 TBSP Vanilla Extract
1/2 TBSP salt
2 Cups All Purpose Flour (Maida)
Method:
1. Start by pre-heating the oven to 400 F degrees.
2. While it's warming up, line a standard muffin pan with paper liners. You don't want even a bit of that tasty muffin to get stuck.
3. Now, let's get our dry ingredients ready. Grab a large bowl and stir together flour, baking powder and salt, and set aside.
4. It's time for the wet ingredients. In a medium-size bowl, whisk together eggs, granulated sugar; make sure it dissolves, whisk in yogurt, oil, and vanilla extract. We want the mixture to be a light yellow- not too bright not too pale.
5. Fold the wet ingredients into the dry ingredients and mix everything using a spatula. Remember, the more you blend, the better it tastes.
6. Let's hear it for the star of the dish! Go on and add a generous helping of the Del Monte blueberries in the batter.
7. Now that we have our batter ready, we can get baking. Put the batter into the prepared muffin tins, filling about 2/3 of each cup. They'll be peeking up from those moulds in no time.
8. Place them in the oven and reduce the heat to 375F.
9. Bake for about 18-20 minutes. You'll know your muffins are done when a toothpick inserted in the centre comes out clean.
10. Let them chill a little (just 5 minutes) before you carefully remove them from the pan.
11. Cool on a wire rack and don't wait too long dig in!
Don't forget to pat yourself on the back!
CORN POCKETS
Make this delicious evening snack Corn Pockets to serve with your favourite cup of tea. Enjoy Del Monte sweet corn cream style filling encased in a buttery pastry layer. Serve warm with Del Monte tomato ketchup.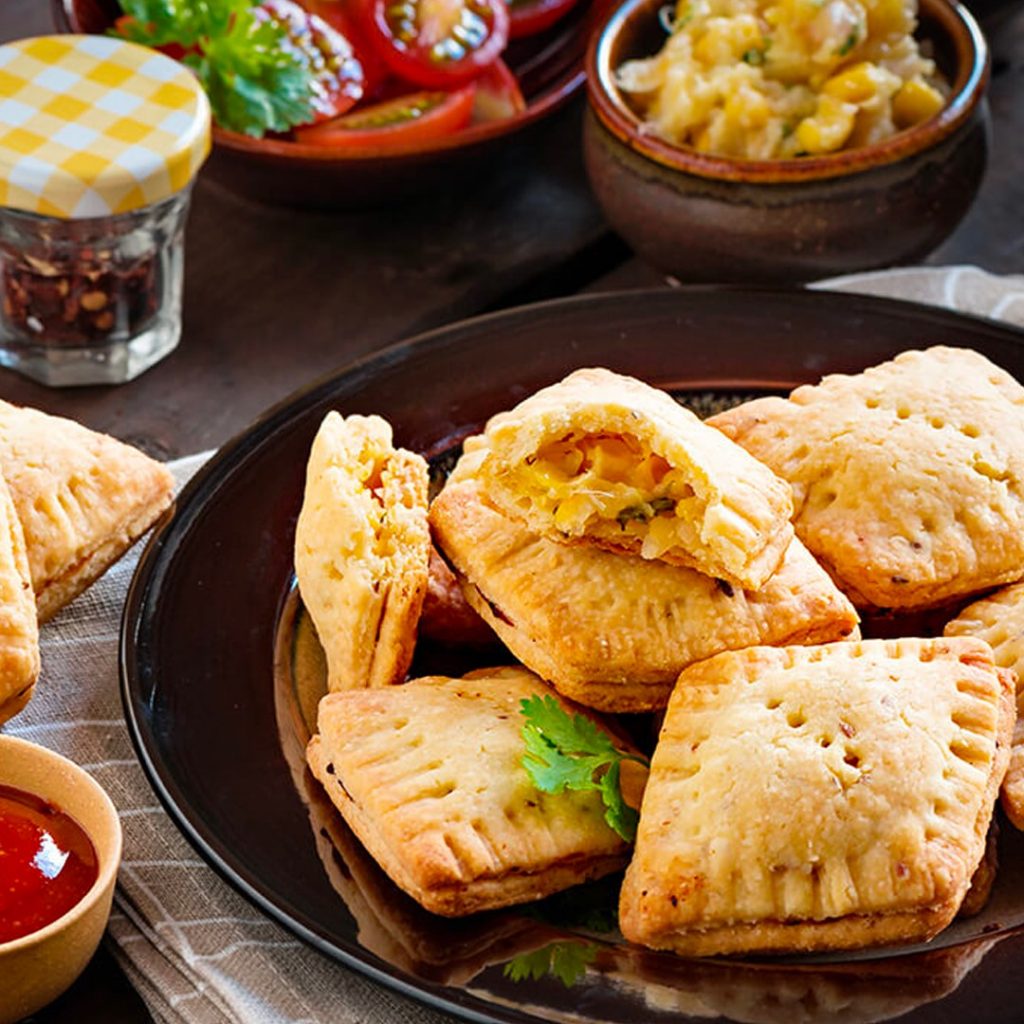 Preparation time 15 minutes
Cook time 15 minutes
Serves 4-5
QUANTITY INGREDIENT
2 cups, flour
3/4 cup, butter, at room temperature
1 tsp roasted cumin
1/4 tsp ajwain
2-3 tbsp of ice cold water
– Salt And Pepper To Taste
1/2 can, Del Monte Sweet Corn Cream Style
3 tbsp Del Monte Corn Kernels
1/2 tbsp garlic, finely chopped
1 green chilli, finely chopped
1 tsp ginger, grated
1 small onion, finely chopped
2 tbsp coriander leaves finely
– chopped Salt and pepper to taste
2 TBSP Butter
– Milk for brushing
Method:
1. In a pan, melt butter. Add ginger and garlic, fry for 2 minutes. Add onions and saute until pink and soft. Add green chillies and fry, Add cream style corn, corn kernels and season with salt and pepper. Cook until it reaches thick (jam) consistency. Take it off the heat and cool completely. Add coriander leaves and mix.
2. Mix the butter, cumin, salt, and pepper, ajwain and all-purpose flour with the fingers until mixture resembles coarse crumbs. Some may be the size of a pea.
3. Then transfer mixture on work surface, add ice cold water and knead very gently to bring them together to form a ball (Don't knead it too much with your palm) Wrap the crust dough in plastic wrap and refrigerate it for 1 hour.
4. Take the crust dough and roll it on a parchment paper into a 14×14inch square with a thickness of ¼ inch.
5. Now cut the pastry of desired shapes around 2.5-3 inches each. Keep these pieces on a tray and refrigerate it for another hour.
6. Preheat the oven at 180 degrees centigrade.
7. Take out the pieces, put ¾-1 tsp of the filling in the centre of one piece. Cover it with another piece. Press the edges gently with a fork so the two pieces get sealed. Arrange each pie on the baking tray. Prick at the centre from top using a fork. Brush with milk on top and bake it for 12 to 15 mins or till golden brown.
8. Cool on wire rack Serve.
Enjoy your meal!
GARLIC OLIVE TAPENADE
A savoury starter, this garlic olive tapenade tastes best with a glass of wine. It's a perfect blend of garlic, herbs, and olive oil with tangy Del Monte olives making it a mouth-watering treat!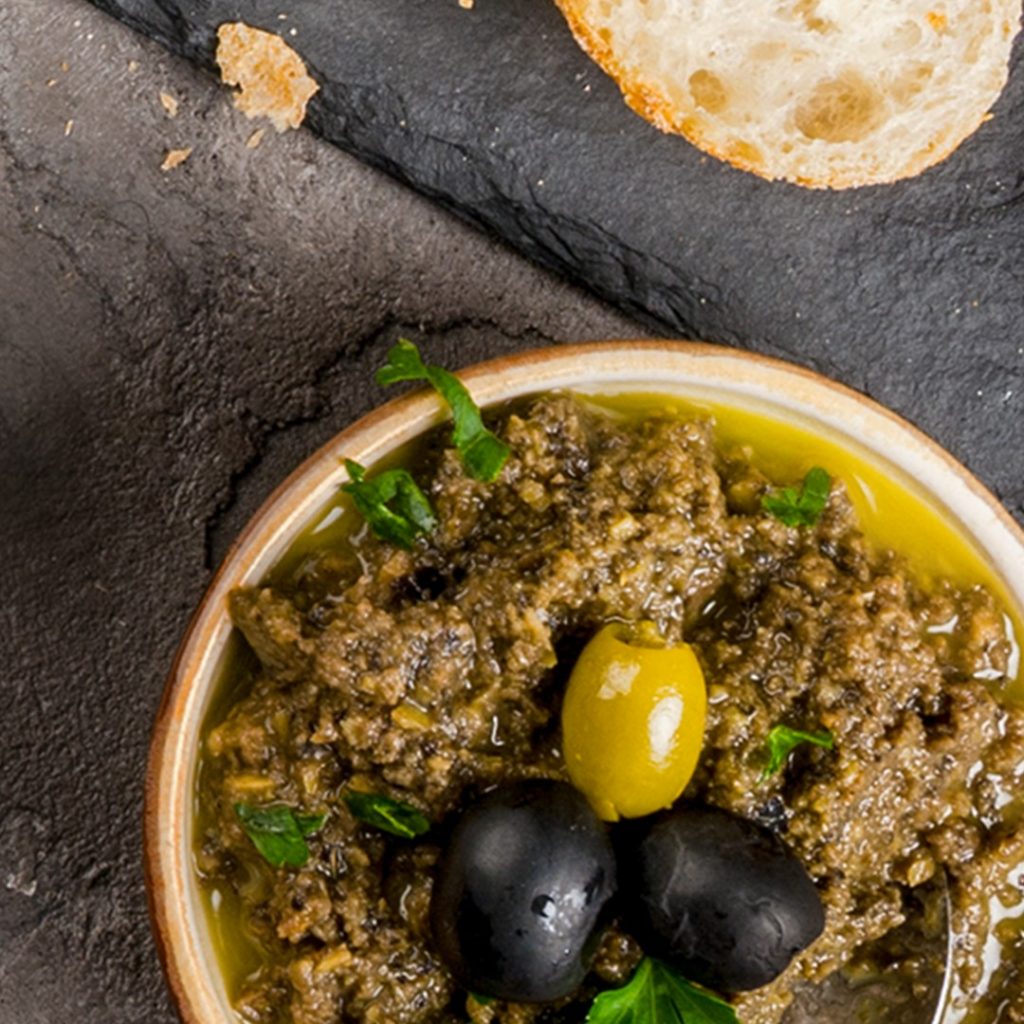 Preparation time 15 minutes
Cook time 15 minutes
Serves 4-5
QUANTITY INGREDIENT
6 garlic cloves (finely chopped)
1 cup Del Monte Black Olives
1/2 cup Del Monte Green Olives
1/3 cup Olive Oil
2 TBSP Capers (Optional)
1 TBSP Dijon Mustard
1/2 TBSP Dried Rosemary
1/2 TBSP Dried Basil
Method:
1. Put the Del Monte Black and Green Olives a blender and add, cloves, capers, mustard, rosemary, and basil to them till everything is nicely minced.
2. Slowly pour in the olive oil and blend till mixture becomes a smooth paste.
3. Top it with chopped olives and serve with your favourite crackers.
Believe it or not, it's that easy!