Mumbai's beauty scene is about to get a major makeover, for Skin Story, the sensational beauty brand hailing from Dubai, UAE, is all set to cast its spell on make-up enthusiasts with its exceptional range of non-toxic, sustainable and fragrance-free makeup products.
Founded by two sisters, Nidhi and Rashi Sethi, Skin Story has carved a niche for itself by providing clean and effective makeup solutions for women with sensitive skin. Their brand philosophy revolves around the idea of "high-performance make-up, with skincare-loving ingredients," making it a go-to choice for beauty enthusiasts seeking premium quality products.
Nidhi Sethi, one half of the visionary duo behind Skin Story, stated, "We're thrilled to bring Skin Story to Mumbai, a city known for its vibrant diversity and love for beauty and wellness. Our journey started with a genuine need for clean, high-quality beauty products that suit all skin tones and types. Now, we're excited to share the same beauty empowerment with our fellow Mumbaikars."
Manufactured in Korea, a country renowned for its skincare expertise and gentle ingredient usage, Skin Story brings with it a thoughtfully curated range of high-performance make-up products that are poised to make a lasting impression on Mumbai's beauty scene. Prepare to be amazed by Skin Story's show-stopping trio of multi use magic – the fabulous multisticks! At the core of their product lineup, these beauties are here to revolutionise your beauty routine. Bid farewell to roughness and say hello to a soft, supple complexion that feels oh-so-luxurious with BARE, a lightweight and plush multistick specially formulated to nourish, calm, and strengthen dry, damaged, and sensitive skin on your face. The best part of this multistick is its lightweight formula that effortlessly absorbs into your skin, leaving no oily or greasy residue behind. Next in line is BOLD – the ultimate multipurpose wonder that effortlessly contours your face, making you look effortlessly chic and defined. Enriched with the goodness of Avocado oil, Camellia Japonica Seed Oil, and Marula oil, it's like giving your skin a rejuvenating spa treatment. Last but not least, say hello to LEGACY – your passport to a smooth, clean complexion with a delightful pop of colour on your face. This incredible multitasker doubles up as your go-to blush, bronzer, lipstick, and eyeshadow. But that's not all!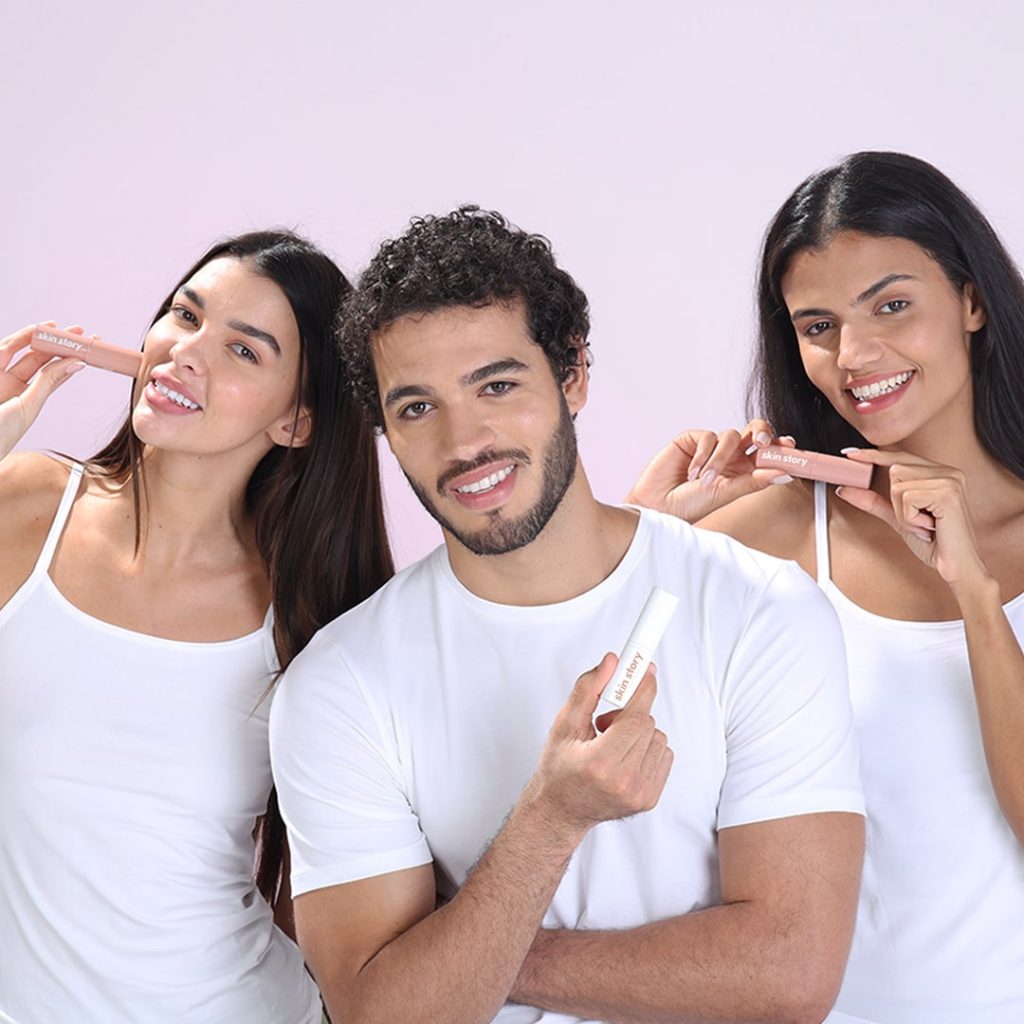 Witness the magic of mesmerising eyes with Skin Story's powerful duo – DRAMA mascara and the revolutionary GROWTH serum, your ticket to naturally stunning brows and lashes. DRAMA stands tall as the ultimate mascara, bringing allure without any harmful carbon black. Your precious lashes are safe and bound for enchanting outcomes that will leave everyone spellbound. Packed with all the star ingredients – Peach Leaf Extract, Peptides, Biotin, and Panthenol – GROWTH serum works wonders in nourishing, promoting growth, adding shine, and strengthening your lashes and brows. Get ready to indulge in the magic of these powerful ingredients and watch your lashes and brows flourish like never before!
Skin Story's decision to manufacture their products in Korea, a country renowned for its skincare expertise and gentle ingredient usage, sets the foundation for their commitment to clean beauty. But their commitment to clean beauty doesn't stop here. The brand has exciting plans to launch the much-awaited Vegan DEFINE Eyeliner and an exciting pipeline of vegan brushes, lipsticks, eyeshadows, gel eyeliners, and more, ensuring that every stroke of boldness is clean and cruelty-free.
Beyond their commitment to women, Skin Story also cares deeply for the environment. Their thoughtfully crafted packaging is ecologically conscious, reflecting their dedication to a sustainable and greener world.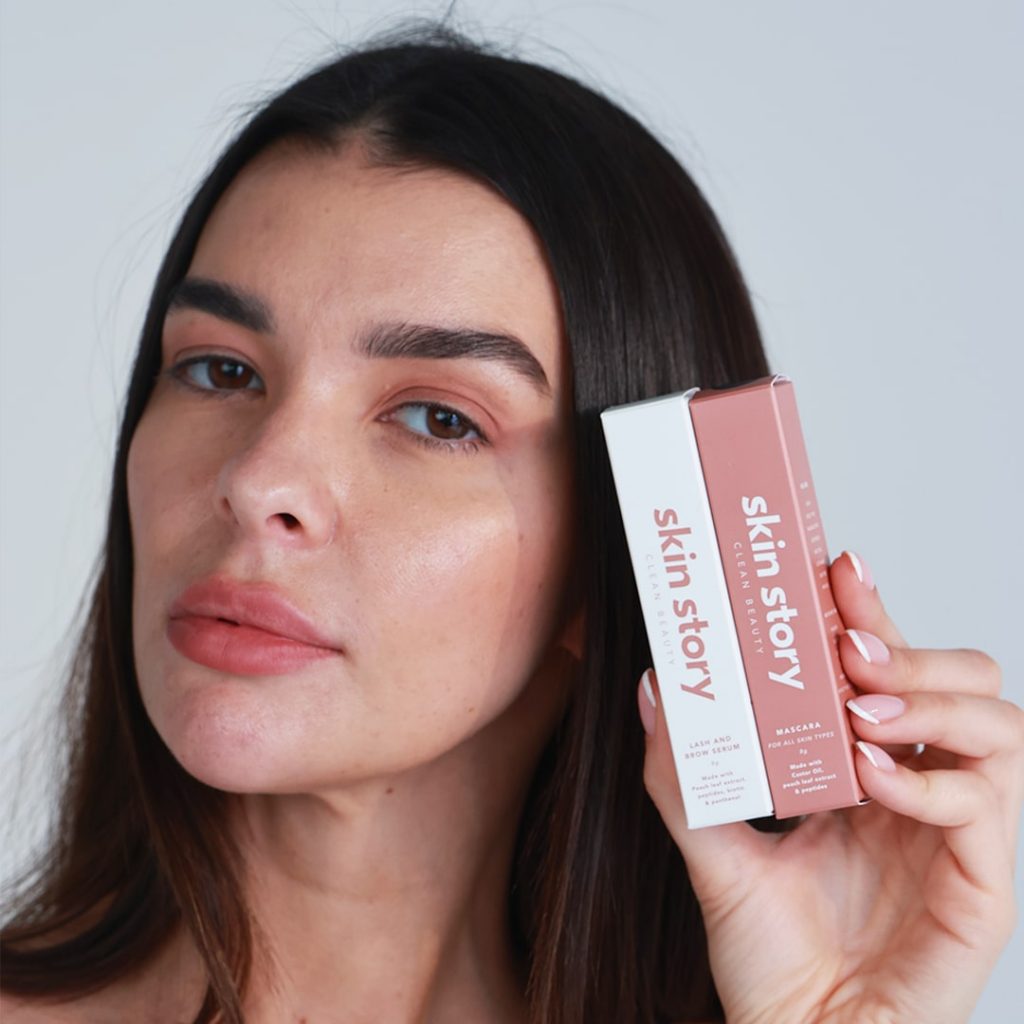 Rashi Sethi, the creative force behind Skin Story, highlighted the brand's dedication to sustainability, stating, "At Skin Story, we are deeply committed to providing clean beauty solutions that empower individuals to embrace their unique beauty while fostering a sustainable and greener world. Our thoughtfully curated products reflect our passion for clean and effective makeup enriched with skincare-loving ingredients."
Skin Story products will be available online on their website – Skinstory.me, and across all major e-retailers in India. So join the movement, and let Skin Story be your trusted companion in your beauty journey.
About Skin Story:
Skin Story is a Dubai-based clean beauty brand designed for makeup enthusiasts who cherish versatility, quality, and a commitment to the environment. With a diverse range of products suitable for all skin tones, Skin Story aims to redefine beauty by making it accessible to all while celebrating the individuality of every woman. Their clean, vegan, and multiuse makeup solutions provide the tools for self-acceptance and self-expression, setting new standards in the world of cosmetics.
Website: Skinstory.me
Instagram: https://www.instagram.com/skinstoryme/?hl=en