Inspired by painter SH Raza's study of The Bindu, this collection of lehengas by Shanti Banaras reimagines the spiritual iconography that became the epicenter of the artist's universe. In an exploration of circles, triangles, and lines, there lies a contemplation of the source of energy and creation. In Raza's art, this is interpreted as order and proportion, and in Shanti Banaras' expression in handwoven Rangkat organza, it is interpreted as one moment in a life of many living moments.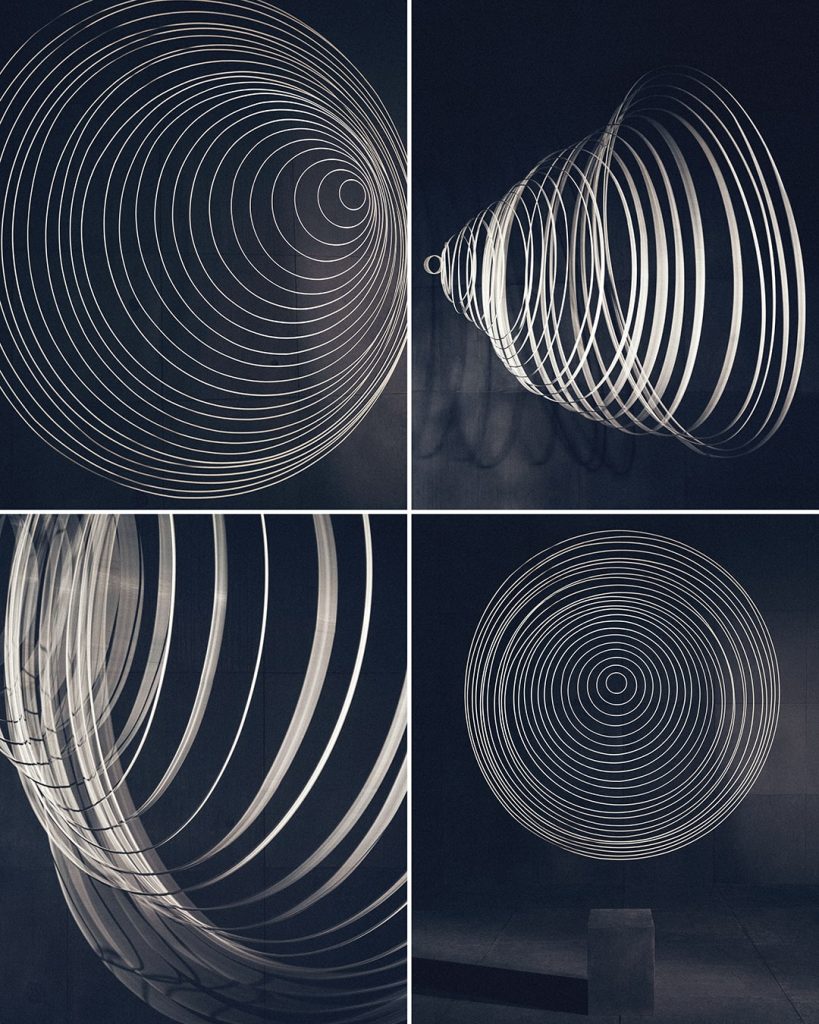 The oldest Indian scholars studied the earth's centrifugal force, a Bindu, and correlated it to the lifeforce within us; A pinpoint that is both the start and reason for life. In this collection, the Bindu is embraced as the epicentre of a maze of geometric patterns and abstract landscapes. In Raza's own words, the patterns are, "visible form containing all the essential requisites of line, tone, colour, texture, and space". The world's greatest thinkers Pythagoras, Plato, and Plotinus engaged in creativity through these same eternal symbols, each confluence reflecting on life and death. Interpreted in whole they form the very essence of life – Earth and Sky.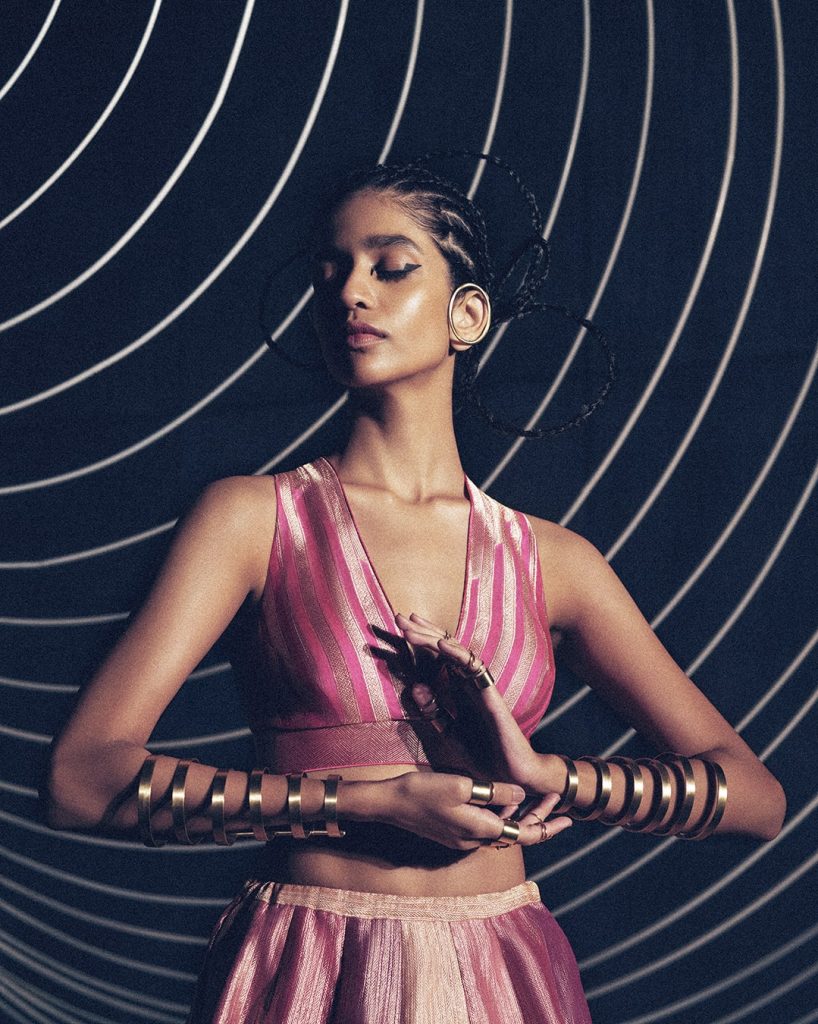 Our oldest wisdom refers to the Bindu and its sacred geometry as the blueprint of all creation, while at the same time explaining the energy patterns that unify all things. It is said that every natural pattern of growth or movement comes back to one or more geometric shapes. The molecules of our DNA, the cornea of our eye, snowflakes, flower petals, crystals, a shell, the stars, the galaxy we spiral within, the air we breathe, and all life forms are created out of geometric codes. Says Khushi Shah, Creative Director Shanti Banaras, "The beauty of The Bindu is its simplification of that forever question of what sustains life. In the celebrations that lehengas are worn to, this symbolism is a powerful prayer towards a new beginning. This collection provides a modern look and feel to the lehenga while adding a traditional viewpoint to SH Raza's motifs".
Displayed within custom-made installations, 'Bindu' by Shanti Banaras is accessible in its flagship stores. The collection uses rich zari work in dramatic Rangkat– bright oranges, yellows and lime greens.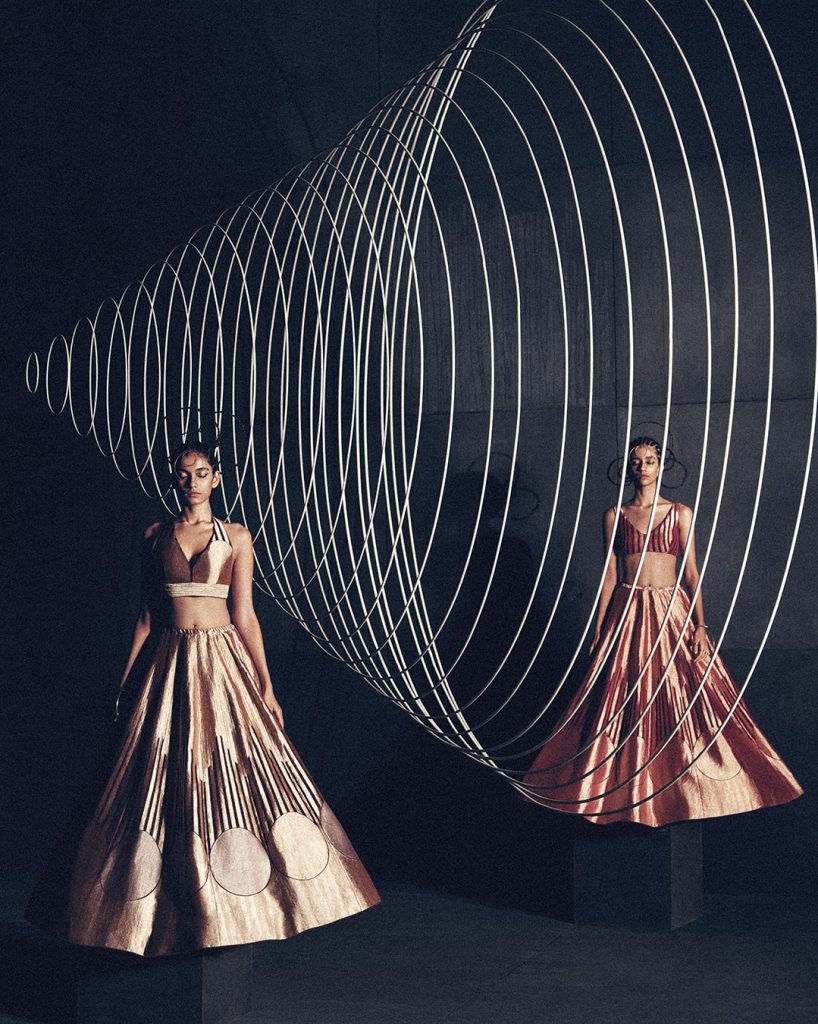 https://www.instagram.com/shantibanaras/?hl=en