Kiehl's since 1851, the creator of fine quality skin and hair care has now completed a year-long journey with its eCommerce. They have recently launched the new features of virtual consultation and Live chat and  Whatsapp shopping, bringing the shopping experience to your doorstep. The website offers tailor-made services to provide one-on-one personalized consultation and a skincare routine. WhatsApp shopping can be done at the given contact: 8826100852. The website was launched in June last year with an aim to cater to all skin-care needs of the Indian consumer with effective and tested Dermatologist Solutions and Men's Grooming ranges in addition to the iconic formulas like Calendula Range,  Clearly Corrective Range, etc.

The new E-Boutique is intuitive, user-friendly, and takes Virtual consultation to new heights. With a sophisticated user interface designed to make shopping online a fulfilling experience, the website is optimized for mobile phones and desktops. The E-Boutique gives various segments into separate sections such as Bestsellers, New Arrivals, Brightening, Anti-ageing, and Gifts.
Some of the key features of the newly launched website include Virtual Consultation, Whatsapp shopping  Kiehl's Koncierge and Healthy Routine Finder, Chat with Us along with the exciting Always on Offers functionality.
Virtual Consultation Kiehl's India introduced the complimentary virtual consultation from the comfort of your own home. The consultation is purely personalized. One can ask all skincare queries, over one on one format with our coveted skincare experts. Steps to book the virtual consultation: Go to Kiehls. in then https://kiehls.in/bookings enters the time and location.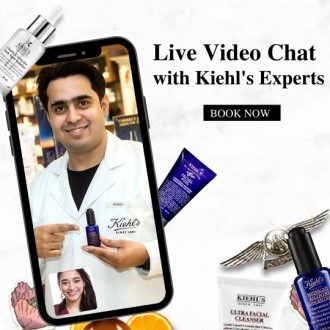 The 30 minutes hassle-free session by simply choosing a date and time
Whatapp Shopping Kiehl's India added one more feature to its digital services. Now Kiehl's offers WhatsApp shopping. The number to redeem the services is 8826100852. The expert from Kiehl's India is available over WhatsApp for assistance. The customer service is extended and taken to new heights with Kiehl's India.
Kiehl's Koncierge is a Live Chat feature that provides E-consultations and elevates the online customer experience through complimentary and individualized skincare consultations by providing them with tailor-made skins solutions according to the concerns shared with the E-Kiehl's Customer Representatives.
The Chat facility is from Monday-Friday, 10 am -4 pm.
Always On Offers: The brand has always embraced its patrons through various exclusive online offers on every purchase and continues to do the same on its digital platform through the Always-on Offer This offering enables consumers to have access to their favorite Kiehl's products and exciting offers whenever they visit the site. The driving force of Kiehl's vision is the 'try before you buy' initiative, which allows clients to try products before they purchase. The brand continues to uphold the policy with its E-Boutique by offering complimentary samples and free shipping pan India on every order.
Healthy Routine Finderis another key feature where one can take a quiz to find skincare solutions best suited to their needs. This tool is broadly categorized into two parts which suggest simple and advanced routines respectively.
With respect to the launch of the website, Shikhee Agrawal, AVP, Kiehl's India said, 'We are elated to bring finest apothecary skincare right at the doorstep. The Virtual consultation and Whatsapp features will strengthen Kiehl's commitment to offering the best-personalized experience and contactless shopping for our brand customers. The new features will enhance our services, especially in the E-boutique segment. We are delighted to be Asia's only brand to be approved of giving Virtual consultations with our KCR'S.
Kiehl's recapitulates to connect generations through memories, tradition, and skincare with its time-proven formula, we are indeed grateful to embark on this journey with you, digitally.
Link to the website: kiehls.in
About Kiehl's India:
Kiehl's extends to its consumers the finest skincare apothecary and at the same time ensures that all safety guidelines are met as the brand launches its E-Boutique to refill one's skincare digitally through its newly launched E-Boutique.
The driving force of Kiehl's vision is the 'try before you buy initiative. Allowing clients to try products before they purchase, this 92-year old initiative has won hearts and has led to loyal patronage over the years. Kiehl's journey from humble beginnings in 1851 as an old apothecary in New York's East Village neighborhood to 250 stores around the world including 14 flagship stores in India is one that deserves attention and applause standing true to its commitment to provide unparalleled skincare, all Kiehl's stores promise unwavering customer service. Taking a cue from the success of Kiehl's stores across the world, it's no surprise that all Kiehl's customer representatives have the technical know-how to guide clients and leave no stone unturned to provide unmatchable service and expertise. Kiehl's was founded as an old-world apothecary in New York's East Village neighborhood. Its unique, extensive background represents a blend of cosmetic, pharmaceutical, herbal, and medicinal knowledge developed and advanced through the generations. Kiehl's India is providing safe home delivery options, contactless delivery to its customers. The stores are all sanitized and safe for shopping purposes. Kiehl's provides gifting options for friends and family and has a great range of corporate and individual gifting options for celebrating occasions.
Website Link: www.kiehls.in