'Aaya Re Bappa Morya', this time to the streets of Holland.
While we all saw a grand star-studded celebration of Ganesh Chaturthi by Ambanis at their Mumbai residence, Antilia last week, Bollywood actor Arjun Rampal gave us a view from the streets of Holland recently.
The actor shared a small video over his official social media account in which huge idol of Lord Ganesha is seen, while people have gathered around it, to enjoy the festival. Holland, known as the orange capital of the world, celebrated the festival in a unique way where locals celebrated by offering their best products of the year.
From the video, it appears that the idol along with the decoration is made up of oranges. Arjun shared the video with the song 'Bappa Morya' from 'ABCD' and wrote, "Holland is the orange capital of the world. Every year the locals celebrate the Ganesha festival there, with their best produce. #ganeshchathurthi #Ganpatibapamorya".
The moment Arjun shared the video clip, chef Vicky Ratnani appreciated the actor for giving an idea to the orange capital of India to recreate it. He wrote, "🙏🙏🙏🙏🙏 Nagpur is also the orange capital of India !!! Can they do this AR 🙌😂💪🏽💪🏽. Let's give them some ideas. Bappa Moriya 🙏🏾".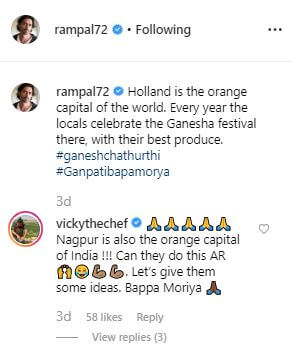 Earlier, Arjun Rampal was seen sharing the pictures from the celebration of Ganesh Chaturthi. Posting a series of pictures of her daughter, Mahikaa, he wrote, "Love festivities, especially when someone so special have a knack of giving them something extra. #ganeshchaturthi #mahikaa #beautiful".