After the success of the 'Dastakein' tour, Anuv is set to perform across India from November 2023 to January 2024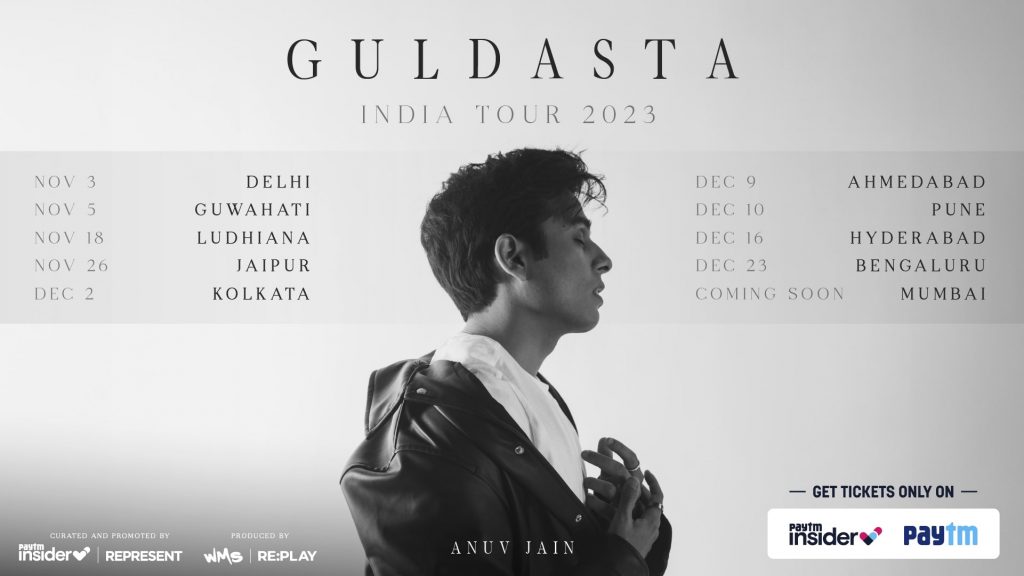 Singer-songwriter Anuv Jain will bring his 'Guldasta' India Tour to ten cities: Bengaluru, Guwahati, Delhi, Jaipur, Hyderabad, Ludhiana, Ahmedabad, Kolkata, Pune, and Mumbai, starting November 2023. 'Guldasta', translating to bouquet in English, perfectly encapsulates the essence of this musical journey that promises to be a blossoming delight for fans across the nation.
Talking about the tour, Anuv Jain said, "I am so excited to be going on tour again after almost 2 years. While I had been performing across different cities over the past year, this tour combines these bunch of cities into a bouquet leading to the 'Guldasta' tour. I am looking forward to giving my fans a unique and extraordinary experience with this tour, with quite a few new cities on the lineup where I've never performed before including my hometown, Ludhiana. So really pumped to bring in this tour, perform new songs and explore and meet new people along the way!"
This 10-city tour will mark Anuv's second India tour following the resounding success of his debut tour 'Dastakein' in 2021 which witnessed back-to-back sold-out shows within 48 hours of tickets going live. After receiving a flood of enquiries and requests from fans, Anuv is back to create a live show experience like no other and mesmerize audiences with his soulful voice and heartfelt lyrics.
This tour has been curated by Paytm Insider in partnership with Represent along with WMS and Replay Agency as the production partner.
Paytm Insider's Business Head, Varun Khare expressed, "We're stoked to announce our collaboration with Represent and our production partners, WMS and Replay Agency, for this tour. It's going to be an intimate and captivating performance that'll leave you craving for more. The last time Anuv hit the road with us was his first ever 10-city tour and it got sold out within 48 hours. Now, two years later, we're totally tuned in to how massive Anuv's fanbase has become. This time, we're going even bigger with Anuv himself in the spotlight and an anticipation of 60,000+ fans across multiple cities joining us for an unforgettable experience."
Aayushman Sinha of REPRESENT said, "We are thrilled to partner with Paytm Insider for the 'Guldasta' tour which marks Anuv's second India tour as a widely popular independent artist. Seeing the insane response to his debut tour in 2021 which witnessed multiple sold-out shows across major cities, we are gearing up our efforts to make this tour even bigger than the last. We have built this tour to lend fans one of the best fan experiences that they will witness accompanied by a series of heartwarming performances by the boy with a guitar himself."
Anuv Jain is best described as "a singer-songwriter for every human experience". The 28-year-old from Punjab, India went from being an online sensation to becoming one of the most popular artists in the world. He first came into the limelight with 'Baarishein', which has now surpassed 100 million streams on Spotify, further bolstering his standing in the indie music realm. Such achievements have allowed him to enjoy a cult following who have popularised his songs on every acoustic playlist. His music, a blend of honest lyrics and evocative melodies, has led him to garner over 10 million monthly listeners with hits like 'Gul,' 'Alag Aasmaan,' 'Mishri,' and his 10th release, 'Antariksh.'
His first all-India tour in October 2021 sold out across all 10 cities — a significant feat for a young independent artist during the pandemic. In 2022, he drew an awe-inspiring crowd of more than 20,000 people to the Delhi Beat Street Festival. Anuv was also among the select few artists to feature on the lineup leading to international singer Post Malone's performance in India. Beyond his musical feats, he has been recognized for his influence and impact, getting listed on 'Forbes 30 under 30' and earning a spot in GQ's 2023 '35 Most Influential Young Indians list.'
Tour Schedule:
● Delhi – 3rd November
● Guwahati – 5th November – Casa Bacardi on Tour
● Ludhiana – 18th November
● Jaipur – 26th November – Casa Bacardi on Tour
● Kolkata – 2nd December
● Ahmedabad – 9th December
● Pune – 10th December
● Hyderabad – 16th December
● Bangalore – 23rd December
● Mumbai – Coming soon – Special Tour Finale
For more details and to book your tickets, log on to Paytm Insider now!
About Paytm Insider:
Paytm Insider is one of India's leading live entertainment and digital experience platforms. It helps the audience discover and find tickets to exciting live and online events. The company has welcomed fans to over 150K events across the country and sold over 23 million tickets to some of the most exciting and unforgettable experiences.