By Apoorva Shroff, Founder and Principal Designer, lyth Design
Delving into high-end/ celebrity home design offers a captivating journey into crafting spaces that not only reflect opulence but also embody the unique personas of their occupants. This requires a delicate blend of architectural finesse, artistic vision, and cutting-edge technology. From opulent materials to avant-garde concepts, the design should encompass premium materials, exclusive amenities, and meticulous attention to personalization such that every corner exudes exclusivity.
A pivotal factor involves acknowledging the evolving lifestyle of the clients and tailor the spatial layout to functionality and accommodate their changing needs. In the case of Madhuri DIxit and Ram Nene's home, the decision to upgrade was prompted by the inconveniences of their previous divided-level dwelling. This underscored the importance of a design approach where a harmonious flow between spaces were central. A balance between seclusion and sociability through clearly defined private and public areas within the home to ensure privacy for residents is significant for accommodating the many social interactions that are past of a celebrity's lifestyle. Thus, bedrooms are discreetly positioned away from the den and living room in Madhuri's home to maintain seclusion.
Ensuring both aesthetic appeal and practical viability is crucial to cater to the occupants' refined lifestyle.. Design for entrances should streamline the movement of residents, guests, and staff to create a welcoming feel while maintaining efficiency. Also important is to streamline circulation for utility areas like laundry and kitchen vs for private and common areas or home offices.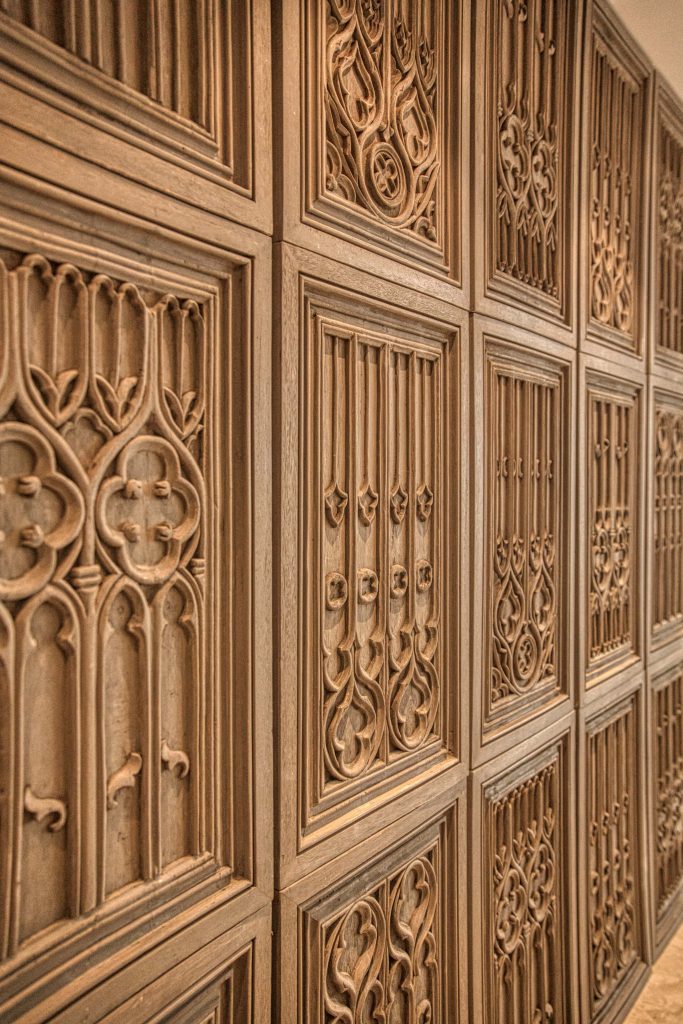 Be attentive to unique preferences or requirements that your client may have, and incorporate tailored solutions to accommodate them. For instance, in Madhuri's home, a den with a collection of musical instruments enables impromptu performances. This space is backdropped with softly textured wallpaper to balance acoustics. Such dedicated spaces also contribute to celebrating the occupants' talents and interests daily.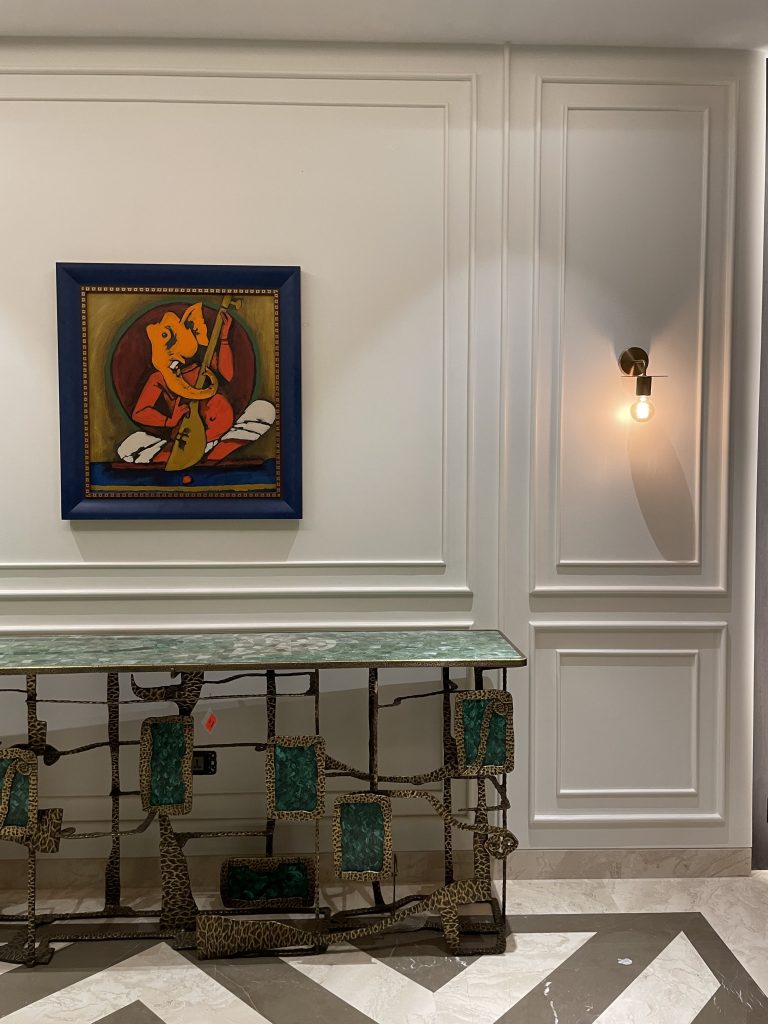 A vibrant colour palette and bold design elements have the power to create a dynamic visual impact, showcasing how the infusion of hues can breathe life into a space. A nudge towards exploring this vibrancy brought out the best in the space for Madhuri and her husband, resulting in a pleasant shift from the neutral tones that they were accustomed to. Pushing a client's boundaries and helping them realise new limits in terms of design is also a part of the designer's job.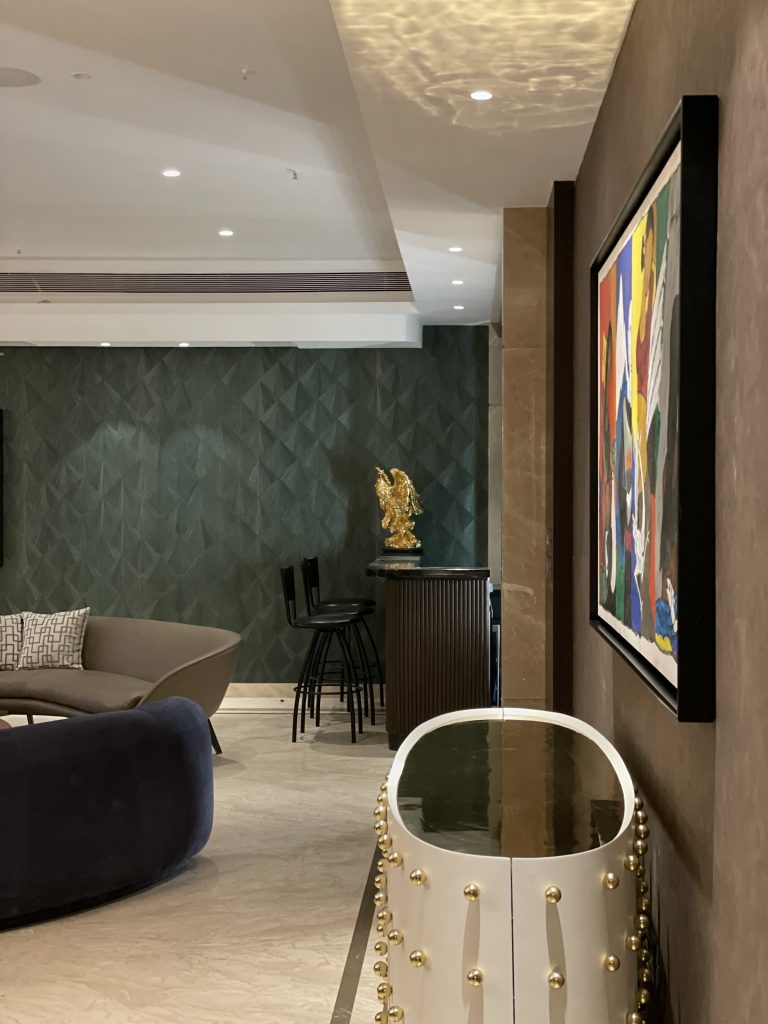 Another prime factor in a high end home is the integration of technology which not only elevates the aesthetic allure but also augments comfort and security. Automated systems govern an array of functions – from lighting and climate control to security measures and even curtain movements – placing unparalleled command directly into the hands of the occupants. These intricate automated systems curate an environment of exceptional ease and convenience. Immersive entertainment spaces adorned with state-of-the-art fittings, smart appliances and other cutting-edge innovations, effectively merging luxury with advanced functionality, thereby redefining opulent living in the modern era.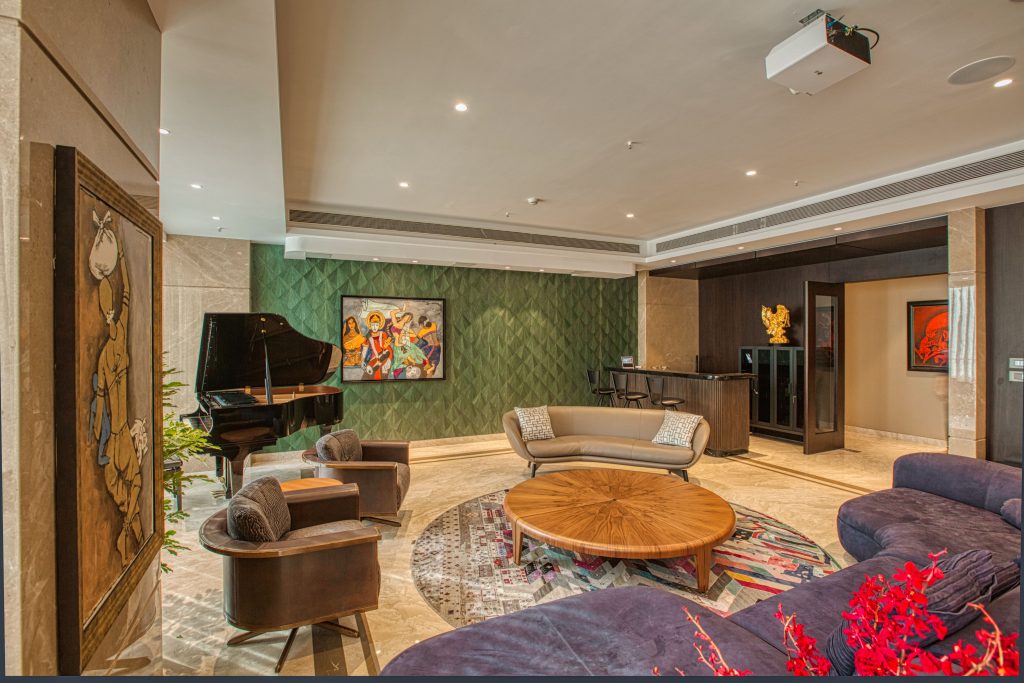 Designing a high-end or celebrity home involves a delicate balance between luxury, functionality, and personalisation. The insights from Madhuri Dixit Nene's residence project highlight the significance of spatial planning, colour coordination, functional access, and the seamless integration of the occupants' lifestyles and preferences. The result is a space that not only reflects their glamorous persona but also embodies an exquisite blend of practicality and aesthetics.

Spokesperson: Apoorva Shroff, Founder and Principal Designer, lyth Design.
Apoorva Shroff is the founder of lyth Design, a boutique design studio based out of Mumbai whose work spans the disciplines of interior design, architecture, product design and graphic design. At lyth, she brings together over two decades of experiences resulting in lyth's adept process of spatial storytelling that is driven by pragmatic solutions resulting in enigmatic yet straightforward spaces.