At the International Cricket Council meeting held in London, it was decided that India will be the host country for the 13 edition of ICC Cricket World Cup in 2023. This will be the first time that India hosts this tournament on its own. On three different World Cup tournaments, India co-hosted with Pakistan, Sri Lanka and Bangladesh.
The World Cup will be held in India from 09 February to 26 March 2023. Ten teams will participate, top seven teams will automatically qualify, while the remaining will qualify through the qualifier round.
Last night, the International Cricket Council, after seeing the performance of cricketers of all the teams, announced the team of the tournament. ICC World Team is a team formed with the best players from each team who played in the World Cup 2019. Eleven players come together to form the squad.
This year, the team will be headed by New Zealand captain, Kane Williamson and only two Indians have been included, Rohit Sharma and Jasprit Bumrah. Surprisingly Virat Kohli is not a part of the ICC world team.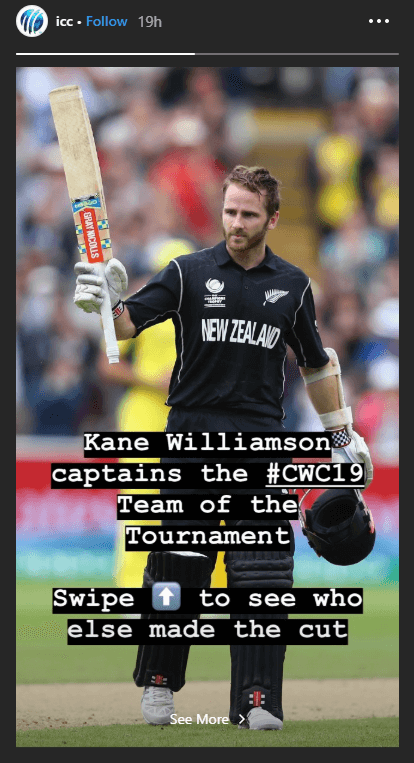 Since, Rohit Sharma is the leading run-scorer in the tournament with 648 runs at an average of 81, he has been selected in the team.
Jasprit Bumrah, the world's No.1 ODI bowler who lived up to that billing with 18 wickets at an average of 20.61 and played a key role for every win of India in the World Cup, has been selected in the ICC team.
The ICC team of the World Cup was selected by former internationals and commentators Ian Bishop, Ian Smith and Isa Guha, along with cricket writer Lawrence Booth, while ICC General Manager Cricket, Geoff Allardice, was the fifth member and convener of the committee.
India's exit from the World Cup semi-finals has raised a lot of questions. A functionary of the   Board of Control for Cricket in India (BCCI) while speaking to Indo- Asian News Services (IANS) said, that talks have started about where the team lacked and how they were dependent on skipper Virat Kohli and Rohit Sharma for scoring runs. Another keen area is that the BCCI wants to discuss the idea of split captaincy.
Eyeing on the next campaign, India is looking at the option of having Rohit lead the team in the shorter format while Kohli continues in tests. As per functionalities, it is the right time for Rohit to take over the captaincy. They need to take a look at the lacks of the team and Rohit is considered the right man to lead them.
But, at the moment, the biggest concern is the rumours of a rift between the Kohli and Rohit. The matter will be discussed at the review meeting with coach Ravi Shastri, captain Kohli and chief selector MSK Prasad in the presence of the Committee of Administrators (CoA).