On Valentine's Day, the last thing you want to do is get stuck in a Netflix, so why not get set for a quixotic experience at JW Marriott Hotel Bengaluru. This special day, take your loved one to a cherished Valentine carnival at city's finest luxury hotel. Select your preferred cuisine and restaurant to enjoy some of the signature cuisines for the day. Sounds perfect, isn't?
# At JW Kitchen, relish some spendthrift dishes like Oyster Rockefeller, Lobster Thermidor Tart, and Fondue Station with Wine Poached Seafood, Chocolate Coated Strawberries, Tiramisu, Strawberry Lemon Curd Trifle, # Crème Brûlée and many more.
Location: JW Kitchen, Lobby Level | Price: INR 3999++ per pair
CTA: 08884494035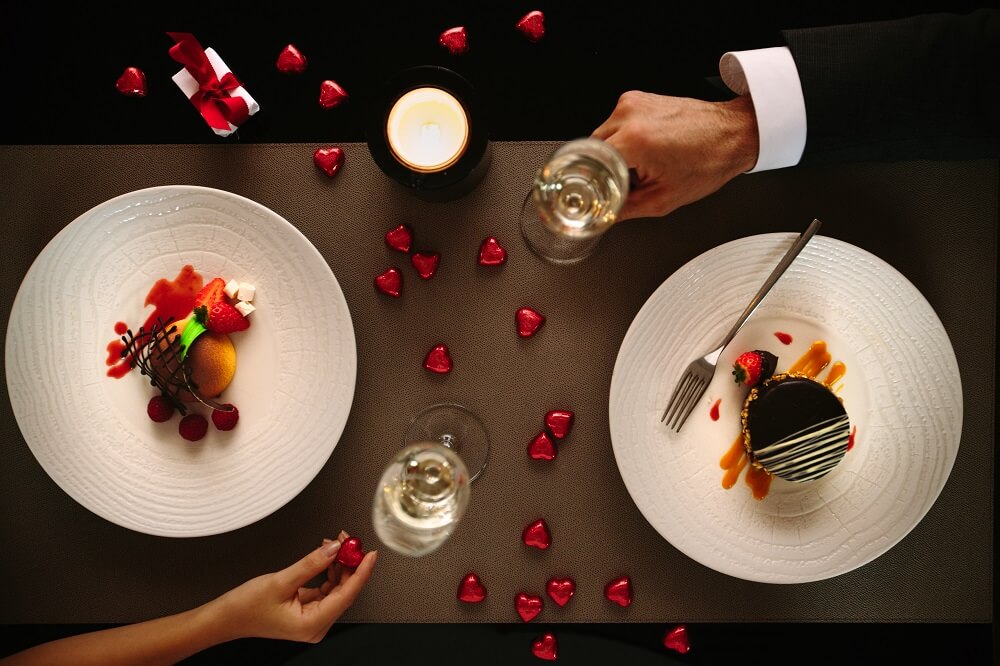 # Italian Food is all about love and on this exceptional day pamper in Chef Eliya's signature plates like Flavoured Lobster, Spinach Tortellini, Strawberry & Ti Amo Risotto, Red Velvet Lamb, and Love Cheesecake with Exotic Berries at the award-winning restaurant ALBA.
Location: ALBA, Level 1 | Price: INR 4999++ per pair
CTA: 08884944330, 08067188533
# Party the special event at the poolside microbrewery and open-air eatery, Spice Terrace, with exclusive Indian cuisines like Charred Kadhai Pineapple, Masala Boursin and Spiced Chocolate, Nashila Dhungar Laal Maas, Gulab Kesar, and Lime Sorbet.
Location: Spice Terrace, Level H | Price: INR 4999++ per pair
CTA: +91 88844 94058
# Enhance added vigour to your feast with 6 particularly blended cocktails at INR 1999 per guest and a bottle of champagne at INR 8000.
Time: 7:00 PM to 11:00 PM
Absolutely lip-smacking! Book your tables soon.