The sold-out live show on 8th October drew fans from all corners of the globe, marking a day in history for Indian Comedy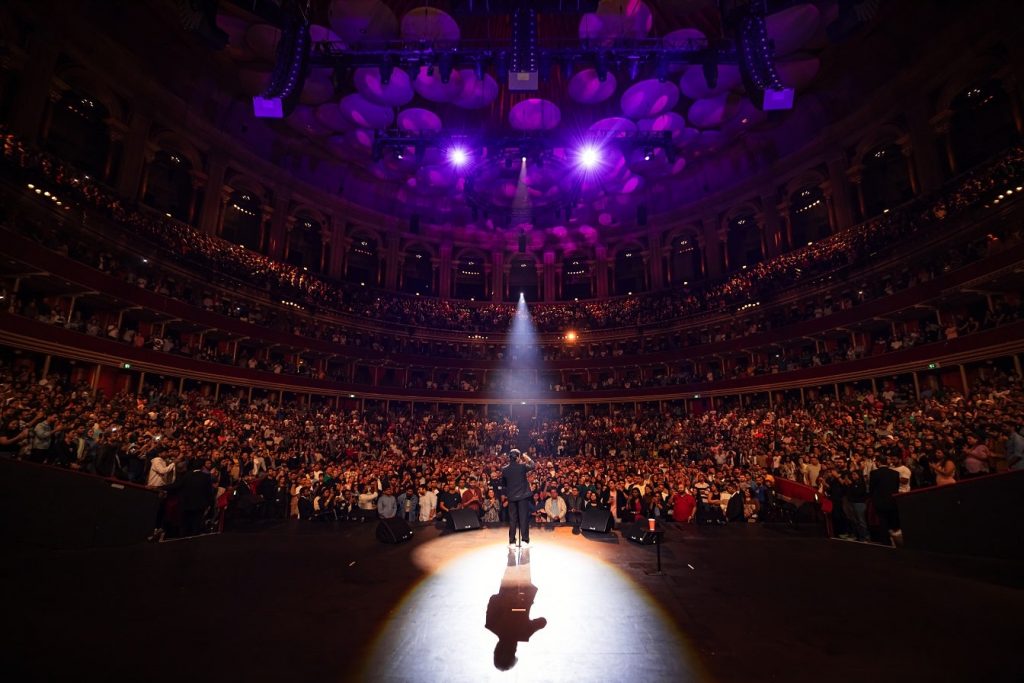 Zakir Khan, achieved a historic milestone in his illustrious career by becoming the first Asian comedian in the world to headline the iconic Royal Albert Hall in London with his show "Mannpasand". Zakir's shows at such prestigious global venues marks a significant moment for the Indian entertainment industry, which drives a shift in for the industry.
This show was Zakir's first biggest single indoor show that was held at the 152-year-old, historic Royal Albert Hall with an impressive turnout of over 5000 fans.
The Show was supported by the talented Sindhu Vee, an UK-based Indian stand-up comedian, actor, and writer whose comic deliverance had the audience in splits, setting the perfect tone for the night. Following her act, India's 'Sakht Launda', a true icon in the world of storytelling and comedy, Zakir, delighted the audience with his sharp wit and captivating on-stage poetry. The performance elicited an extraordinary response, with the longest standing ovation lasting that made it seem like a football arena with roaring fans! This live performance solidified Khan's position as an entertainment icon, inspiring and paving the way for other Indian comics & artists to grow while putting India's entertainment industry on a global stage.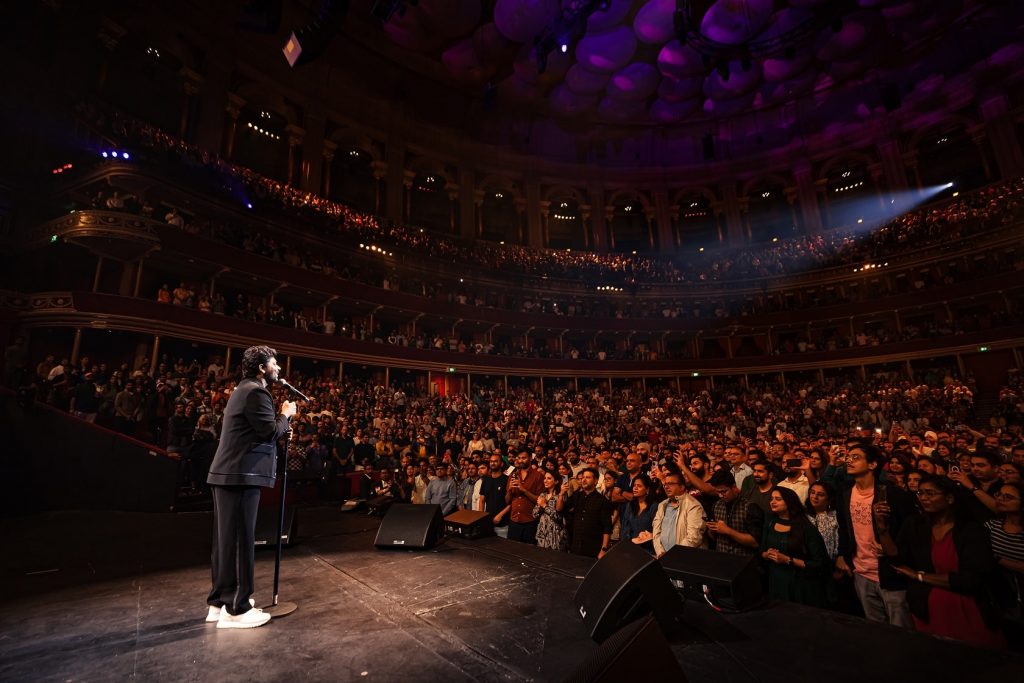 The diverse crowd in attendance of the live show was a testament to Khan's universal appeal, drawing fans especially from across the South Asian diaspora, including Indians, Sri Lankans, Bangladeshis and Pakistanis, Audiences travelled from Paris, Amsterdam, Birmingham and Dublin to watch the show. This marvellous occasion represented a momentous celebration for the South Asian communities as they united to celebrate an accomplished Indian, Hindi-speaking comedian on a world-renowned culturally enriching venue and stage.
Zakir Khan said, "I am deeply grateful for the opportunity to perform at this historic hall of Royal Albert, which has played host to world-famous artists over the years. It feels almost surreal to see my artistic dream turn into reality. In what has become one of the most significant shows of my life, I want to extend my heartfelt thanks to OML for their unwavering support in facilitating this grand occasion. I am grateful to entertain the attendees by spreading laughter and also overwhelmed by the immense love, and appreciation that I received from the fans. They have been with me through thick and thin since the early years of my career & I am eternally grateful to OML for enabling me to live my dream and share my stories and artistry with the world."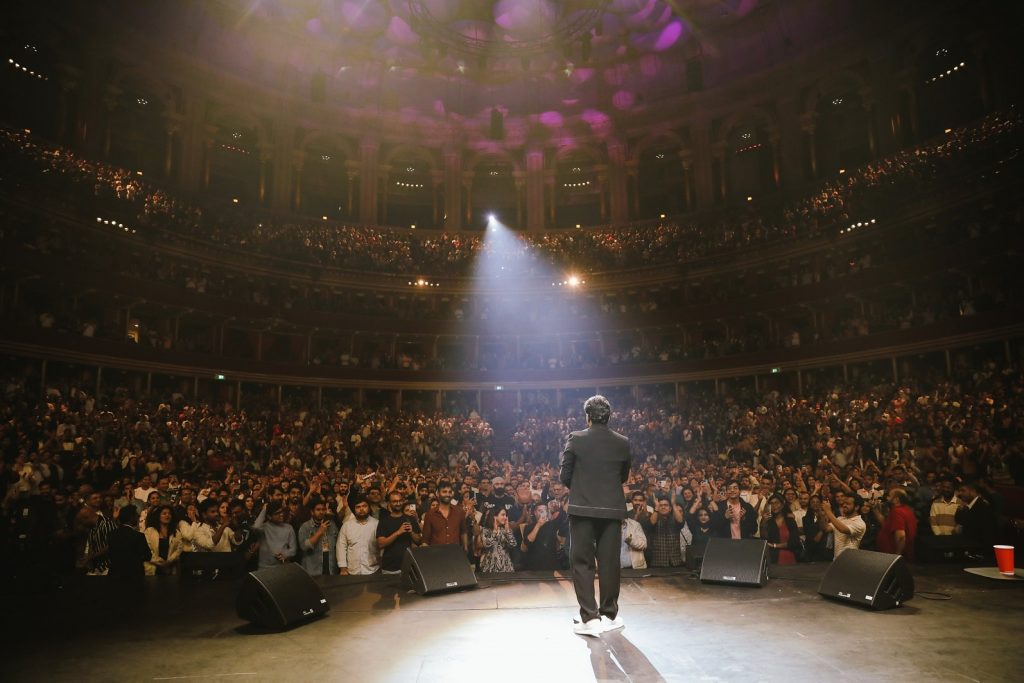 Gunjan Arya, CEO, OML Entertainment (Only Much Louder), stated, "This truly marks a historic moment for Indian entertainment on a global stage. Zakir Khan's sold-out performance at the Royal Albert Hall is not just a triumph for all of us at OML but a significant milestone for the entire industry. We're immensely grateful to our partners at AEG, UTA, and Soho Theatre, for their instrumental partnership in making this dream a reality. We're so overwhelmed with the responses pouring in… thrilled to see the entire community come together to celebrate this important feat. For all of us, this is just the beginning, as we look forward to more incredible venues and bigger milestones ahead."
Zakir's journey to London's Royal Albert Hall is nothing short of inspirational. Having more than 1000 plus shows under his touring repertoire, Zakir is a seasoned comedian. Zakir has performed at 120+ shows having sold 300,000+ tickets in India and 100,000+ tickets internationally. His rise to fame began in 2012 after winning the title of 'India's Best Stand Up' in a well-renowned comedy competition organised by Comedy Central. Since then, his widely acclaimed string of stand-up specials 'Haq Se Single' (2017), 'Kaksha Gyarvi' (2018), and 'Tathastu' (2022) and multiple seasons of 'Chacha Vidhayak Hai Humare' showcased on Amazon Prime Video, have further cemented his position as one of India's most beloved comedians, dominating OTT platforms and not just the live arena circuit.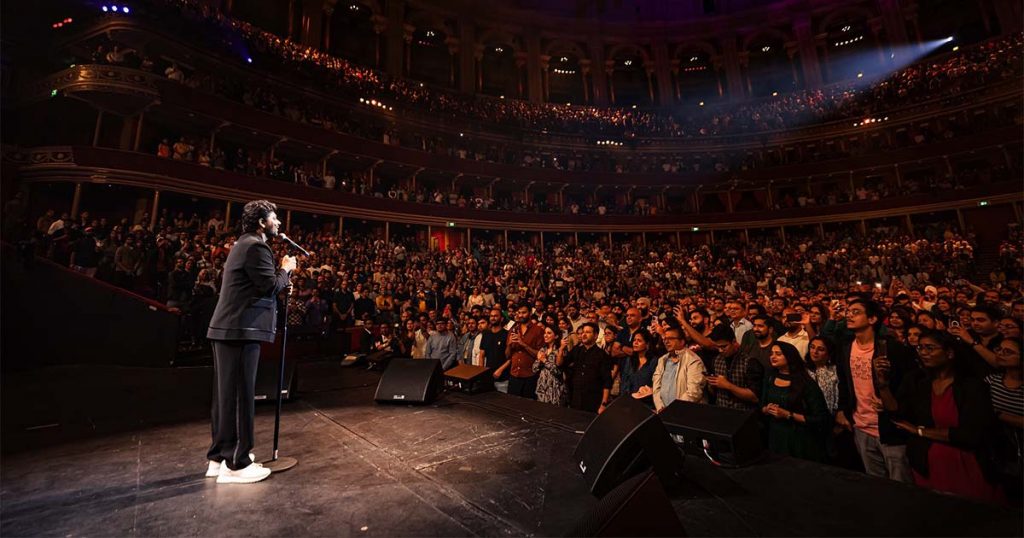 OML Entertainment is Zakir's talent management agency. Rooted in a steadfast commitment to nurture and empower creative talent in India, OML has dynamically transformed into one of the prime shapers of the creator ecosystem. The company's stand-up comedy talents have been further pushing the envelope, exploring diverse avenues with the aim to place comedy at the core and this step has allowed the platform to continue retaining its position as a pop-cultural mainstay in India. Furthermore, the past few years have seen a shift with Indian creators taking centre-stage at global events and Khan's presence at a prestigious stage such as the Royal Albert Hall is a testament to OML's relentless efforts in creating umpteen opportunities for its talent pool, catapulting their creators onto the global stage, and thus, effectively shaping the Indian pop-culture landscape.
About OML Entertainment:
OML or Only Much Louder is a clutter-breaking, market-leading media and entertainment organisation working across various media and experiential formats to impact pop culture. The organisation has been a pioneer in creating on-ground and online experiences that have resulted in lasting memories that shape how fans know their favourite artists and brands. Apart from continuing to be an artist management company in music and comedy, over the years OML has evolved to include a production house and has also moved into creating television and digital
content.