Dressed in a salmon pink sari with girly frills, a svelte Shilpa Shetty turned heads with her rather outlandish fashion choice at Young FICCI Ladies Organisation (YFLO) event in Hyatt Regency, Delhi.
The Bollywood diva wore a pink Jayanti Reddy saree, with an white embroidered patch and heavy ruffle detailing along the border, which is clearly not a taste for everybody. She accessorized her look with jhumkas teamed with patent smile, and kept her makeup minimal.
At the event – businesswoman, and arguably India's most well-known fitness guru – Shilpa, also spoke to listeners about the art of balancing a hectic social life with a health plan and shared inside details on how she knocked off 32 kilograms after having her baby!
Shilpa was the first Indian actor to have her own successful YouTube channel and will be launching her fitness and overall wellness digital subscription service soon.
At the event, she was joined by Luke Coutinho, the author of the globally acclaimed book, Eat Smart, Move More, Sleep Right – Your Personal Health Coach and The Great Indian Diet which he wrote in collaboration with Shilpa.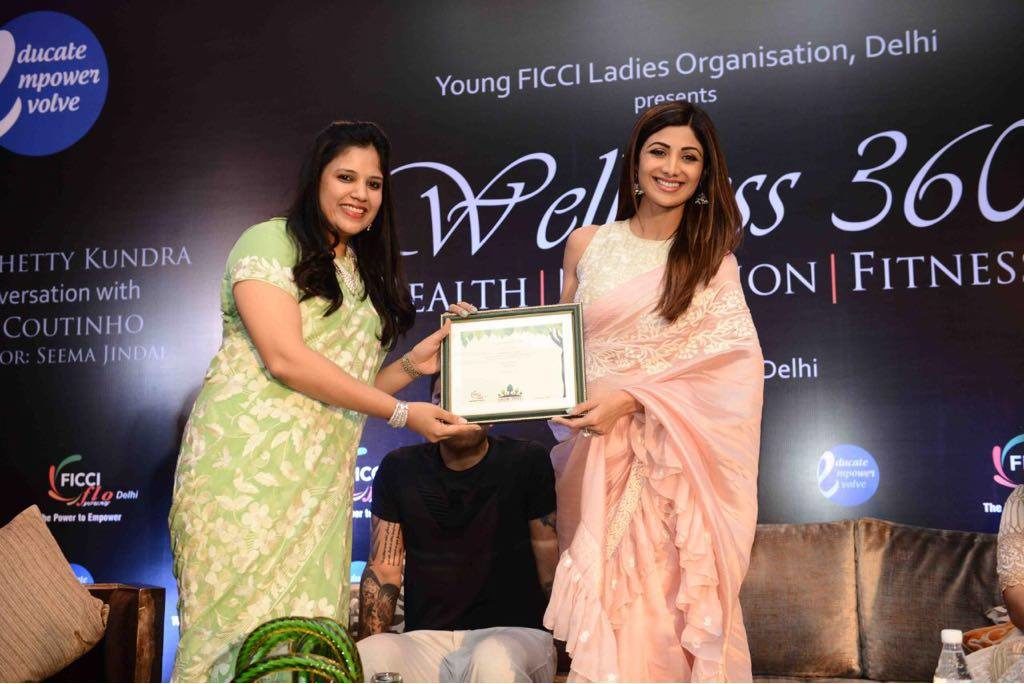 A holistic nutritionist qualified in integrative healing Luke helps people make 'shifts' in their lifestyle to accomplish and attain their health targets. Together the duo shared fitness mantras – like the best way to kick-start your day, the right time to eat fruit, how to get nutritious meals when you don't have time to cook – etc.
This was followed by a play on Waste Management by Lushin Dubey and Bubbles Sabharwal and a talk on Healthy Parenting by Vedanta Guru. There was also an Organic Bazaar where one could pick up some healthy treats to take back home, and make the switch to a more balanced and healthier lifestyle.
Atashi Singhania, Chairperson YFLO Delhi said, 'This year, the YFlO theme is Educate, Empower, Evolve which is what we are trying to achieve through this event. It's all about learning from the best and evolving into the best version of ourselves.'