With the resources becoming scarce, we have all seen a depletion in our water, be it the one we drink or use for cleaning purposes. In India we are well aware that our tap water is not safe enough for drinking, but is it safe enough even for our cleaning purposes?
The tap water that we use to wash ourselves can also have a bad quality, impacting our skin and hair. With COVID coming in picture we have been told repeatedly to wash our hands, but is the water we are using to wash hands safe enough for that?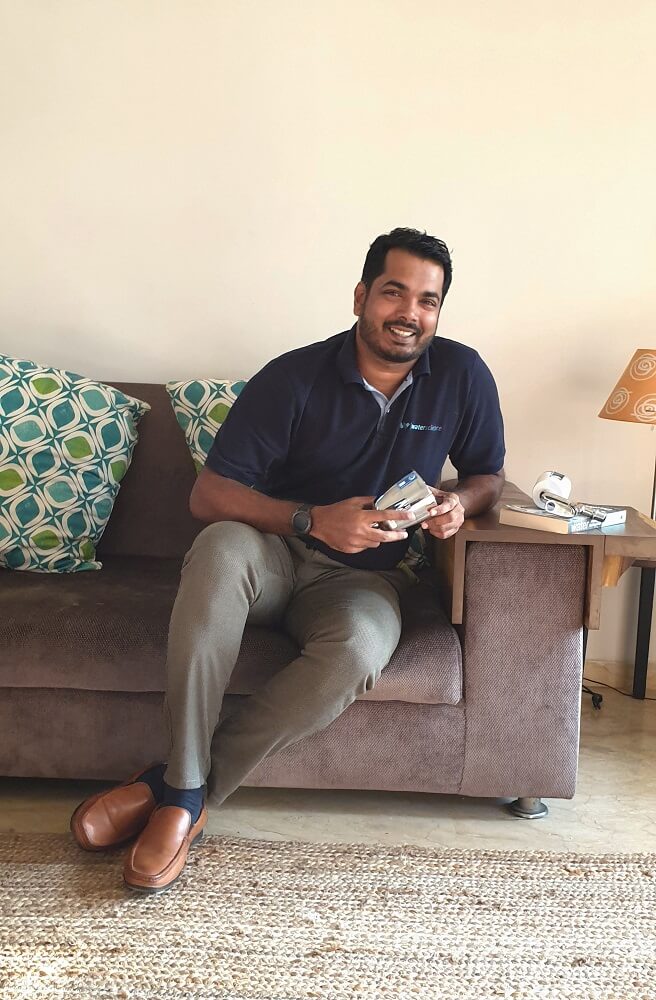 Becoming an answer to all these questions, WaterScience aims to make clean water available and affordable to all. Established in 2014 by Mr Mohammad Iqbal, and co founded by Ms Pavithra Rao and Mr Sudeep Nadukkandy, WaterScience products include the CLEO Shower Filters, CLEO Shower and Tap Filters, and the CLEO Multi-Flow Shower filters, which also save up to 70% water apart from purifying it. Purifying water not only helps in reducing varius health effects but it also helps in reducing various other dermatological effects.
In an attempt to get a better idea about this we had a chat with Mr Sudeep Nadukkandy, take a look:
How does hard water affect skin health and leads to hair fall?
We hear that term often when people lament on the bad quality of water at their location. It is true that hard water is extremely harsh on your hair and skin causing multiple problems such as premature hair fall, broken dry and frizzy hair and sensitive skin. Hard water is water that is high in mineral & salt content. This happens because rainwater seeps through different kinds of rocks when stored underground, and therefore contains minerals from those. It is usually this water that we receive in the taps in our homes – rainwater harvested via reservoirs or pumped up via borewells. Many of us use it daily, unaware of the damage it causes to our skin and hair. The common minerals salts found in water are magnesium, calcium, and sulphates. These salts, while not harmful in general, are extremely bad for hair & skin health.
How do I protect my hair and skin from hard water?
Dealing with Hard water used to be quite an impossible project. The options were home remedies like vinegar as a last rinse for hair wash or rinsing the hair with filtered drinking water. The other alternative was expensive hard water treatment plants in the home or apartment blocks which are never popular given the expense of set up and maintenance. Enter WaterScience – pioneers of India's "non-drinking" filtration category with affordable and efficient Hard water filters for your home. The products range from Tap filters, Shower filters, Washing Machine filters and Mainline filters. Products are easy to DIY install with no plumbing changes required. Prices start at an affordable price of Rs. 2,295 up to and come with a 5-year warranty. Maintenance is simple with the inner filtration cartridge needing replacement every 6 months.
How do WaterScience shower filters help reduce hair fall and skin issues?
Chlorine and hard water salts are among the leading causes for hair-loss. Chlorine draws away moisture from your skin and scalp leading to dryness, thinning, breakage and loss of hair. A 15-minute shower can absorb 40% more chlorine into your body than drinking 2 litres of the same water. This is because when you shower, heat opens your pores and allows the chlorine to seep into your skin – a process known as dermal absorption. WaterScience Cleo uses patented KDF technology from KDF Fluid Treatment Inc. USA to eliminate up to 95% chlorine* in your water. Even at high flow rates, KDF is exceptionally efficient at reducing chlorine. Additionally, the Nano Silver Carbon layer also helps in reducing chlorine – providing you with clean healthy water for hair and skin. The shower filters also help protect skin, prevents bacteria and bad odour.
What are the products offered by WaterScience?
We have several products which are suitable for every household and caters to every city. Some of the products are:
CLEO SFM-419 Multi-flow Shower Filter
CLEO SFU 717 Shower & Tap Filter
WaterScience Cleo SFA 520 Aroma Therapy Shower Filter
CLEO SFU 717 Shower & Tap Filter
Tell us more about the aromatherapy shower filter which has been recently launched?
Our Aroma Therapy Shower Filter eliminates chlorine and conditions hardness from water and offers the benefits of natural essential oils! Your shower now reduces hair fall, protects skin and smells fantastic. With a unique 4-layer filter which eliminates chlorine and conditions hardness, CLEO shower filters help one reduce hair fall and protect skin from hard water and treated water. Now the added benefits include Aroma Therapy, with a refillable aromatherapy pad infused with natural essential oils. Everyday can be a SPA day with an aroma therapy shower filter.