Every story is beautiful; so why not make yours exquisite because accessories are always a woman's armour!
This Valentine, break the norms, be bold and bewitching.
Glamour with a Twist:
What describes love better than Red? An ornate beaded clutch from Lovetobag is a perfect hint of glam to a classic date night look that is all about love! This bejewelled flap over clutch is decadently hand embroidered with an assortment of lustrous semi-precious gems, Japanese micro beads & crystals in an ombré pattern. It comes with a matching hand-embellished handle & a long chain, to style it with both modern and traditional outfits. The handle is delicately hand embroidered with lustrous micro-beads, crystals, and diamanté. The glittering radiance of the crystal tassels augments the elegant demeanour of this clutch.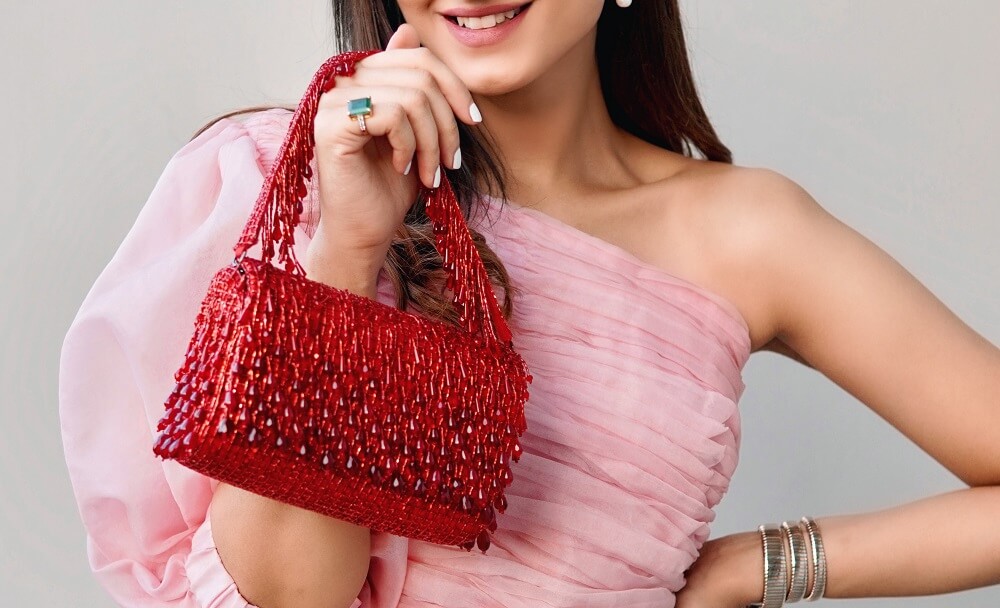 A Love Story to share:
Amaris by Prerna Rajpal brings a perfect way to portray emotions, love, and feelings!
The Amour Mystery Set is a signature and most beloved design for the women with the biggest hearts. It's only a matter of time before you fall in love with these radiating beauties blended with mystery-set red stones and diamonds. You will soon be in awe of these delicate beauties and the effortless ways in which you can style them.
Love, The Unconventional Route:
Define your soft and confident self with Eurumme's minimal yet strong designs. After all, less is always more!  The collection 'REWIND' focuses on everyday pieces that you can glam up or dress down with depending on what you're in the mood for, and pieces that can be paired with pretty much anything.
Love is Bold & Beautiful:

 Let this Valentine not be all hearts and flowers, but bold and beautiful with picks from Joolry by Karishma Mehra.
'Clara' is inspired by modern motifs. The layers of white and scarlet cubic zirconia diamonté necklaces and choker are immaculately finished with electro rhodium plating. They are paired with stacks of white & red arm candies that radiate sheer grace & contemporary style.
'Iris' expresses simplicity and poise. A sterling silver, diamonté & pearl mesh choker with an intricate setting & rhodium plating is paired with a long tassel jhumka necklace that truly fits and shines like a dream.
This season, let's redefine love!