by Integrative Nutritionist & Health Coach – Neha Ranglani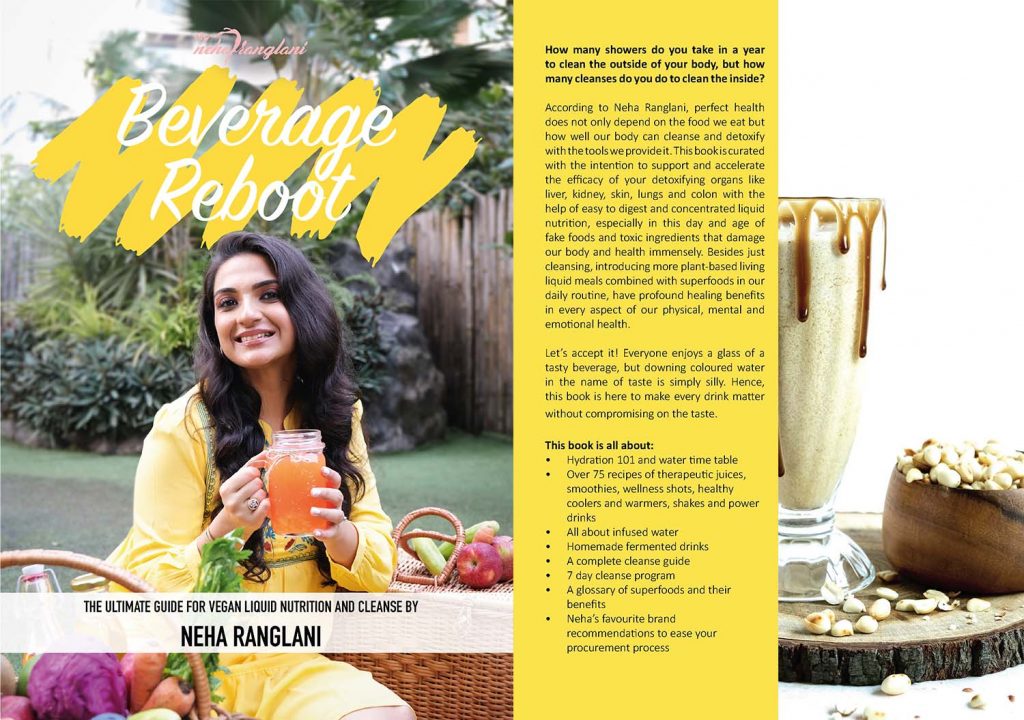 Started her journey in 2008 as a nutritionist, Neha Ranglani has been successfully practising being an Interactive Health Coach for over a decade. Neha Ranglani believes that knowledge increases when you share it and not hoard it. So she started sharing authentic content about nutrition, health, body, fitness, etc. through her blogs, media articles, videos, seminars and social media. While all this was doing what it was meant to do, there was still a void that she felt when she was consulting her clients, and that was the death of genuinely healthy and easy to follow Indian plant-based recipes. That's when she took her passion for trying new and exciting vegan recipes to the next level and wrote her first book "BREAKFAST REBOOT" in 2020.
After the launch of her first book in 2020, Neha is all set to launch her second book called The Beverage Reboot. This book is an all-in-one solution for your health liquid needs. The book is slated to launch by the end of May 2021.
About the book:
The new book gives us the knowledge of the healthy way of living life. It comprises of 101 hydration and perfect water time-table; recipes of 75 therapeutic healthy & tasty juices, smoothies, wellness shots, healthy coolers and warmers, shakes and power drinks; detailed information about infused water, homemade fermented drinks; a complete cleansing & detox guide to our body with 7 days cleanse programme, a glossary of superfoods with each one's benefits, and an important topic with Neha's favourite health brand recommendations to ease people's procurement process. This book helps to heal you through liquid nutrition, and the best part is the cleanse guide, which explains all the nitty-gritty about healthy cleanse to reboot you!
Why one should think of reading the Beverage Reboot?
Because our body has a built-in restorative ability and a capacity to heal itself, provided it's given the right tools to do so. Still, in this day and age, exposure to fake and foodless foods, and chemically toxic ingredients load our body issues such as gut problems, poor immunity, unwanted weight gain, fatigue, metabolic diseases, mental instability and hormonal havoc. All you need to do is, focus on the easily digestible liquid meals in this book and follow the cleanse to experience the new you.
The book will be available on: Amazon and neharanglani.com
Price: Rs. 450/-