1.Newly launching their Super Fluffy Pancake Mix, TBD is unleashing Sunday Brunch superpowers to radically upgrade your lockdown cooking quotient
2.TBD's Pancake Mix is certified by 100 Dads who all agree – this premix is capable of saving their face (and marriages) – across all Sunday Breakfasts at home, especially during the pandemic
3.All you knead is some oil, some water and oodles of love to create the ultimate Sunday brunch pancakes with perfect FFD quotient – Fluffy, Flavorful, and Delicious!
4.What's even better, you can make them carefree in ANY Indian home as they are eggless and preservative-free. Just like true love can and should be.
Pancakes enjoy an iconic history in the breakfast museum of the world. Researchers have traced the first 'primal pancake (or pancake-est item)' to the stomach of Otzi the Iceman over 5300 years ago. Even ancient Greeks and Romans celebrated Pancake Day as a day of feasting prior to Lent; and even wrote about them in their poetry. The famous Elizabethan playwright Thomas Dekker has also paid an early yet well-deserved homage to pancakes in The Shoemaker's Holiday, where Firk bellows in glee, "Oh brave! O sweet bell! O delicate pancakes! Open the doors, my hearts, and shut up the windows. Keep in the house, let out the pancakes."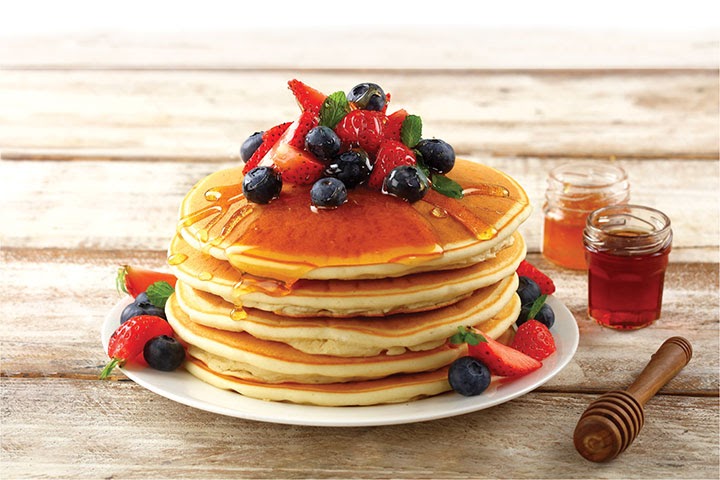 Having changed many identities over the years as flapjack, griddle cake, hotcake, slapjack, Pancakes definitely sit at the head of the world's breakfast table. So much so, that even the Merriam Webster thesaurus recognises the pancake as one of 13 breakfast foods that are universally considered as a verb!
In a more important and colloquially Indian context, Pancakes have fast become a catchphrase for one of the easiest breakfasts that Dads' can make on a Sunday Morning. The Baker's Dozen (TBD) spoke to 100 such Dads who confirmed our worst fears – there was nothing easy about Sunday Morning Pancakes.
"As a father to twins and being married to a superwoman who is a baker, the pressure on Sundays when Dad chooses to cook, is quite high," mentions Sneh Jain, co-founder at The Baker's Dozen. "The idea for our new premix was birthed in our very kitchen, when I realised that there must be a cheeky and innovative way to make 'Dad' the perfect Sunday breakfast protagonist. I love making pancakes for my kids, and we decided – why not create something that helps fellow non-bakers like me earn a memorable seat in the Sunday kitchen too."
Armed with this new goal, TBD began its expedition to make the fluffiest Pancakes India had ever seen. A lot of research, experiments and 1327 pancake mixes later, they were able to create the ultimate Sunday brunch pancake mix with perfect FFD quotient – Fluffy, Flavorful, and Delicious!
Sassy and filled with some gooey yet light hearted sense of humor, TBD's Pancake premix is made with the finest wheat flour, is eggless and preservative free, enabling anyone to make the 'The Fluffiest Pancakes You'll Ever Eat' EVERY TIME.
Remember the 100 dads we spoke to? Well, we have each of them certifying this to be 100 % true.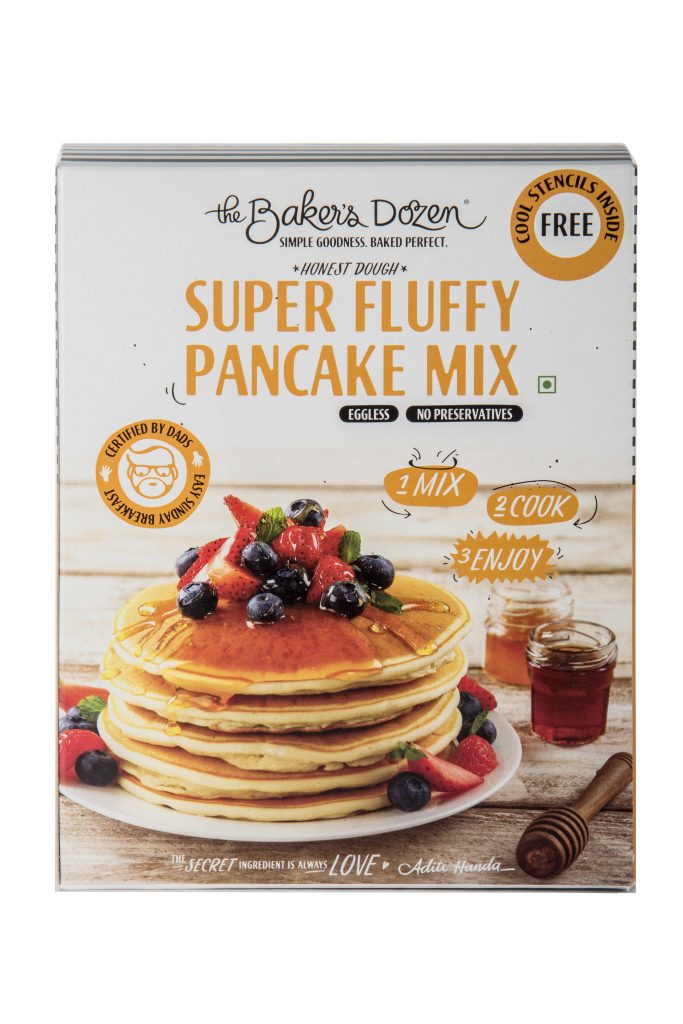 No Skill, just pure will – can earn you Best Dad Stripes.
Or Best Husband.
Or Best Friend.
You name it. 
Each pack can make upto 22 AMAZING pancakes that you can customise with super cool icing stencils, that come as an addition within the pack – a favourite with the kids for sure!
TBD makes it so easy, that your pancakes can LITERALLY take (on) the cake.
Who's the new masterchef now, Mom?
About The Baker's Dozen : The Baker's Dozen is a hand-crafted artisan bakery brand that uses only the most authentic ingredients, processes, and love! The essence of The Baker's Dozen is that it is led by the bakers who are passionate about the craft of baking. They bake for the joy of baking and share that joy with you. Each bread, each cake is special, baked with love and attention almost as if it were baked in your own oven! That's also the reason why they are different from everybody else. No two loaves might look exactly the same. Just like no two pieces of art when made by hand are ever exactly the same.
Website | Instagram | Facebook