Here are some tips on how you can experience one of California's most beautiful regions via an offbeat mode of exploration.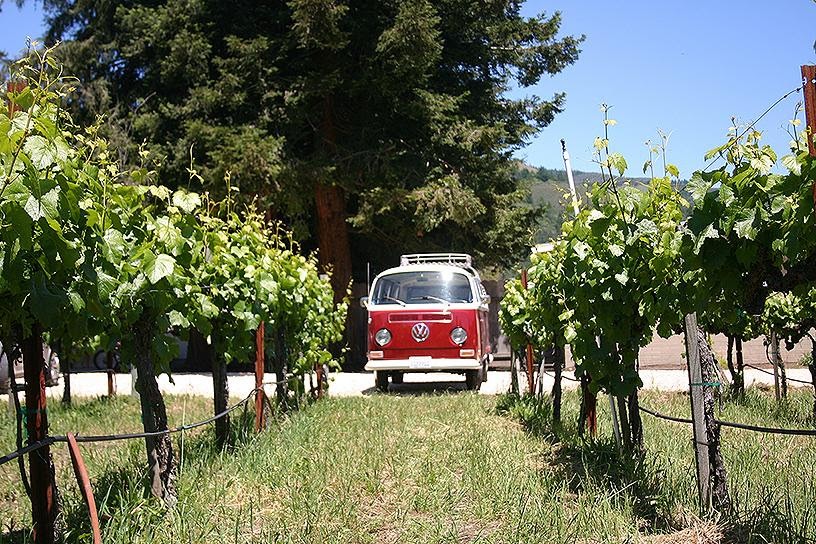 French-inspired chateaus, turreted castles, meticulously groomed vineyards, and wild redwoods—California wine country is home to countless sites that will take your breath away. Here are a few ideas to enjoy the area through a completely novel lens. Whether you want to channel your inner equestrian, thrill seeker, or Phileas Fogg, there's something to suit your taste.
Here are some tips on how you can experience one of California's most beautiful regions via an offbeat mode of exploration.

Float Through the Sky on a Hot Air Balloon
There is no form of transport more delightfully whimsical than riding in a woven basket hitched to a colorfully patterned balloon. Get a bird's eye view of the rolling vineyards with Napa Valley Aloft or Napa Valley Balloons. Both companies offer group trips or exclusive flights (two people).

Travel to Wineries in a Vintage Cable Car
Both Napa Valley Wine Trolley and Sonoma Valley Wine Trolley whisk guests all around the region in an authentic replica of a turn-of-the-century California streetcar. The all-day tours stop at a few premier wineries and serve a gourmet picnic lunch. For more historical elegance in the evening, book a dinner reservation on the Napa Valley Wine Train.
Freefall at 120 Miles Per Hour Over the Russian River
Watch the Alexander Valley come into quick focus during a tandem skydive. NorCal Skydiving in Cloverdale offers drops anywhere from 8,000 to 15,000 feet. Choose your own adrenaline dose with the more mellow parachuting option or the accelerated freefall program which allows you to build up to a solo jump.

Horseback Ride Through Acres of Vineyards
The Triple Creek Horse Outfit provides guided rides through the state park that once served as the author's home. Sonoma Valley Trail Rides also offers rides through a selection of local wineries, with and without tastings and dining. If you're staying on the other side of the Mayacamas, try Napa Valley Trail Rides.
Take a Trippy Tour in a VW Bus
Experience Sonoma 70's style with a wine-tasting adventure in a vintage Volkswagen van. West Wine Tours' five-and-a-half-hour tours take their crews to three different wineries throughout the day. Your guide will pick you up in Downtown Napa if you are booking single seats, or, if you book a group tour, will pick you up wherever you are staying in Sonoma or Napa Valley.
Ride a Gondola to a Hilltop Tasting Room
Come for the aerial tram; stay for the wine. Or maybe it's the other way around. Either way, Sterling Vineyards in Calistoga offers premium vintages paired with exceptional views. The five-minute gondola ride transports guests to the hilltop winery where they can enjoy a tasting 300 feet above the valley floor.
Cycle Through Napa on Protected Path
Sip, roll, and repeat on the Napa Valley Vine Trail. The first phase of this lovely path opened in the summer of 2016 with 12.5 continuous car-free miles stretching from Yountville to South Napa. Borrow a set of wheels from Napa Valley Bike Tours or BYOB and visit wineries along the route, including Silenus, Laird Family Estate, and Domaine Chandon.
Cruise the Vine Trail on a Glide Bike
If a wine country cycling trip sounds like one of those let's-not-and-say-we-did ideas, there's another option: the 100 percent electric, no-pedaling-required Glide bike tours offered by Glidesdale Adventures. Zip along the roughly 15-mile route that follows the Napa Valley Vine Trail without breaking a sweat, stopping at three wineries along the way for tastings and a deli-served lunch at the second stop.
Send the Kids on a Nature Scavenger Hunt
Even though it's a winery, it doesn't have to be all about the grownups. At Belden Barns Farmstead & Winery above Santa Rosa, while you taste wine, the kids can be issued a scavenger-hunt-style "adventure" backpack filled with field guides to wine country flora, fauna, birds, and insects, as well as magnifying glasses and checklists to keep track of all they've seen.
Go on a Vineyard Farm Tour
Get a vineyard experience that goes beyond the pour on the Farm Tour at Dry Creek Vineyard in northern Sonoma County. Hop aboard a 4WD vehicle for an up-close look at sustainable farming practices and the Dry Creek Habitat Restoration Project. The approximately two-hour tour for two to four people includes a tasting of wines from the vineyards of your adventure.
Go on a Wine Country Hike
Active Wine Adventures offers two tours that will be a hit with any nature-loving oenophile. The Sonoma Hike & Wine Tours Nos. 1 & 2 lead attendees on hikes, one less demanding, the other more vigorous, past vineyards and through redwood forests, all with unforgettable vistas of Sonoma Valley. The group then refuels with a seated outdoor wine tasting and lunch.