From fried food, chocolate to dry fruit modak, Ganesh Chaturthi is all about love for Bappa and enjoying a delicious spread. If you cannot make modak at home this time, fret not, Hershey's lists 5 simple yet traditional recipes that are sure to be a delight as well!
1. Hershey's Nuts Barfi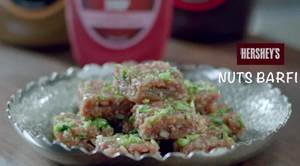 Ingredients:
1 cup cashew powder
½ cup sesame paste (toasted sesame ground, like tahini)
1½ tablespoons chopped almond
 1½ tablespoons chopped pistachios
1½ tablespoons chopped cashew nuts
 1/3 cup Hershey's Strawberry Flavor Syrup
Method:
In a heavy bottom pan, add ghee to heat a little
To the ghee, add cashew powder, sesame paste & chopped nuts. Cook all this together till the moisture evaporates, but ensure not to make the mixture brown
Add Hershey's Strawberry Flavor Syrup & cook till its combined & semi dry
Place barfi trays on your work platform & tip the mixture into the trays enough to fill the trays evenly
For garnish sprinkle pista on the tray. Overturn the tray, on your work table, & turn it back to let the pistas stick into the halwa
Set the hallway for a 3 – 4 hours
Cut the halwa into bite sized squares, plate & garnish with some more Pista
2. Hershey's Apple pie Gujiya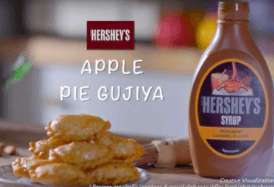 Ingredients:
For the dough
1 cup refined flour
A Pinch of Salt
1½ tbsp ghee
For apple pie Stuffing
1 tbsp butter
2 apples, chopped
1 tsp cinnamon powder
½ tsp apple cider vinegar
2 tbsp roasted almonds, chopped
3 tbsp Hershey's Caramel Flavored Syrup
 Other ingredients
 Method:
For apple pie Stuffing
In a pan add butter and heat it. Add chopped apples and sauté.
Now add cinnamon powder, apple cider vinegar, almonds, Hershey's Caramel flavored Syrup and mix until thick.
Remove and cool it.
For The Dough
Add refined flour, salt and ghee in a bowl. Rub and mix together with your fingertips until it resembles breadcrumbs.
Add a little water or as required and knead a stiff but a smooth dough. Cover with damp muslin cloth and set aside to rest for 15 minutes.
For Gujiya
Take a small portion of dough and roll it out. Keep the filling in the center then fold it and give it a gujiya shape.
Deep fry them in hot oil until golden brown.
3. Hershey's Chocolaty Sheera
Ingredients
Method:
Put a saucepan on medium heat, add the ghee and let it melt.
Once the ghee melts, add semolina and roast till the color changes to light golden brown.
Add water slowly followed by Hershey's Chocolate Flavored Syrup.
Keep stirring.
Cover the pan and let the mixture simmer for 2 minutes.
Garnish with sliced almonds and serve hot.
4. Hershey's Choco-Nut Kalakand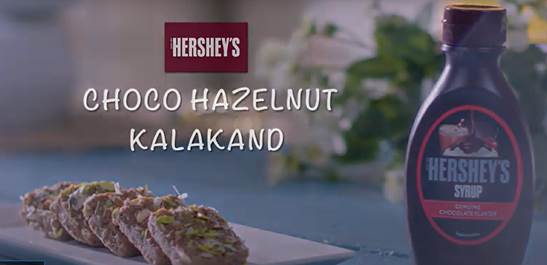 Ingredients
1 Cups Condensed Milk
1 Cups Paneer, crumbled
¼ tsp Cardamom Powder
¼ Cup Mixed Nuts, chopped (Pistachios, Almonds)
¼ cup Hershey's Chocolate Flavoured Syrup
 Method:
Heat a heavy bottom pan on medium flame.
Add condensed milk and cook till it is warm.
Now add in crumbled paneer, cardamom powder, Hershey's Chocolate Flavored Syrup and mix well.
Stir constantly to prevent burning.
After few minutes, it will turn to thick mass and will begin to leave the sides of the pan. This is the time to turn the flame off.
Take a greased tray and transfer the kalakand mixture to the greased tray, spread it to ¾ inch thickness.
Smooth the top evenly with the help of rubber spatula and top up with chopped nuts, pat lightly.
Refrigerate the kalakand for 2-3 hours. After chilling, cut into desired shapes and serve.
5. Hershey's Chocolate Payasam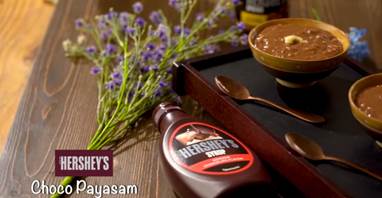 Ingredients:
2 ¼ cups Milk 4 tbsp Rice (Rinsed)
 ¼ cup Sugar 100 ml
Coconut Milk 50 ml
Hershey's Chocolate Flavoured Syrup
75 g Hershey's Spreads Cocoa
 50 g Chironji 50 g Cashew Nuts
Method:
Heat milk in a pot, bring the milk to a boil then put on simmer.
Add rice and allow it to cook till the rice becomes soft.
As it begins to thicken, add sugar, coconut milk and cook for a few more minutes.
Now add Hershey's Chocolate Flavoured Syrup, Hershey's Spreads Cocoa & mix thoroughly.
 Lastly, add in the chironji & cashew nuts and stir well. Turn off the flame.
Plating a dish is as important as making it. So use a beautiful serving bowl & pour the Hershey's Choco Payasam in it and top it with some nuts.
 Serve it hot or chilled.