When 'Avengers: Age of Ultron' was released, many fan theories started popping up about the Mjolnir, Thor's Hammer. Every Marvel fan, thanks to an enchantment from Odin, knows only someone who's worthy can lift it up. In the final release 'Avengers: Endgame', viewers saw Captain America picking it up and the scene drove everyone crazy.
According to the new post of Brie Larson, the Captain Marvel of Marvel Cinematic Universe (MCU), she has joined the exclusive club of Mjolnir worthy with Thor, Vision, Captain America and Hela, the evil sister of Thor . In her recent Instagram update, Brie is seen holding the hammer without much effort. "Not to be whatever, but….told you I could lift it 😇", she captioned it.
Earlier, Natalie Portman, who plays the role of Thor's ladylove Jane Foster, was seen lifting it in the San Diego Comic Con Festival held in July.
After noticing Larson's post, Natalie could not help but gave her an instant reply. She wrote "Hey muscles, easy with my hammer!!!❤️❤️❤️❤️".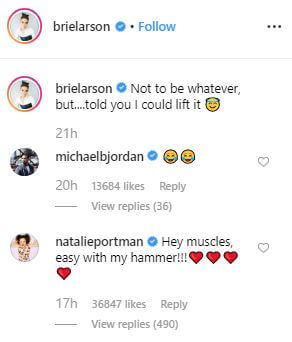 With Larson holding Mjolnir, many MCU fans are wondering if Captain Marvel could one day lift the hammer on-screen.