The Yoga Institute, Santacruz, launches Dr. Hansaji Yogendra's book, Sattvik Cooking – Modern Avatars of Vedic Foods
● Combining Yoga and Ayurveda for healthy and delicious Sattvik meals including burgers, chaat, tikkis, pancakes, wraps, dumplings, crackers, fritters, and more
● Available at The Yoga Institute bookstore and https://amzn.to/3hCAS0U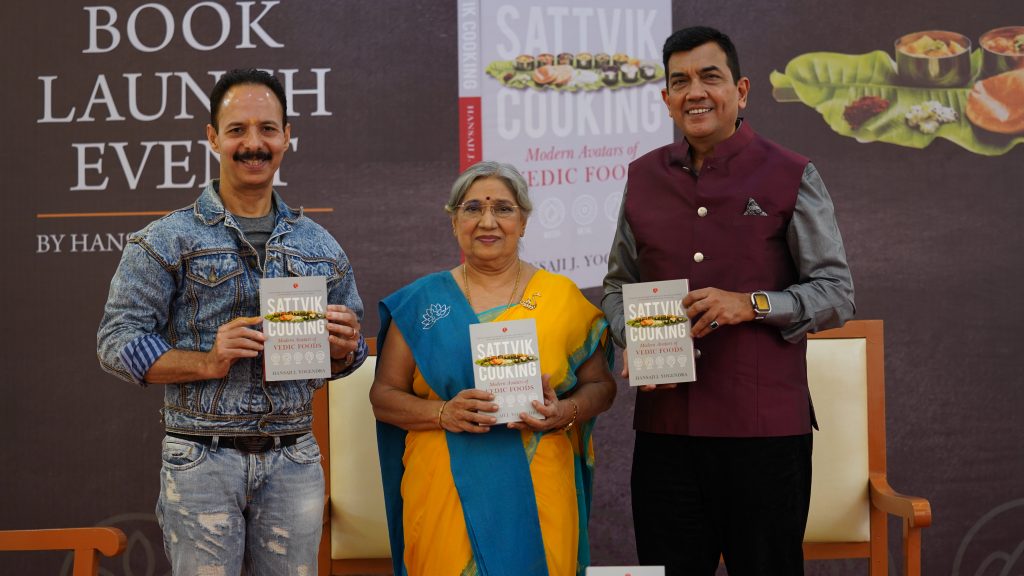 Mumbai, Maharashtra, 11 September 2021 – The Yoga Institute, Santacruz East organized an official book launch of Sattvik Cooking – Modern Avatars of Vedic Foods, written by Dr. Hansaji Yogendra. The event's chief guests were Sanjeev Kapoor, a world-recognized celebrity chef. Global leading holistic health guru, Dr.Mickey Mehta attended the event as the guest of honour. The launch event took place within the premises of The Yoga Institute from 12 pm to 12.45 pm. The event was open to all. The event was live-streamed on The Yoga Institute's YouTube and Facebook social media accounts.
Chef Sanjeev Kapoor said, "I feel privileged to be invited and visit the most prestigious yoga institute. I have read many books to date but must admit this book is refreshing, unique, and very informative. It has everything you would like to know about food, recipes and nutrition. The Yoga Institute is a place that nurtures simplistic life and has been influencing millions of people through its profound wisdom. I am sure this book has the same simplicity and profound wisdom to touch million lives. It has unique recipes which I would like share with many more people." Sanjeev Kapoor is a celebrity chef, entrepreneur, and television personality, who hosted Khana Khazana, Asia's longest-running cooking show, which was broadcast in 120 countries.
Holistic health guru, Dr.Mickey Mehta said, "This book has carefully maintained the three doshas – vata, pitta and kapha in each of its International and Indian cuisines. I have eaten the Sattvik Ahar at the institute and each time I have felt light and nourished, mentally and physically. The Sattvik recipes in this book will alleviate our staavikguna which are very essential for a healthy and happy life." Dr.Mickey Mehta, a renowned life coach to dignitaries and celebrities has an honorary double doctorate in Holistic Health & Life Sciences from International MedicinaAlternativa.
Dr. Hansaji said, "The food we eat impacts our mind. These days, everyone seems to be running after different things; people don't find time to be mindful and careful about their eating habits, and so they end up eating whatever is easily available. Also, unfortunately, most people incorrectly assume that a healthy diet will always be bland and unexciting. Through my book, I hope to help change this perception and demonstrate how tasty and enjoyable a Sattvik meal can truly be! The recipes are very easy to make, and are accompanied by calorie and nutrition details."
Sattvik Cooking – Modern Avatars of Vedic Foods details recipes that will help people derive the benefits of a yogic diet, using humble, easily-sourced kitchen ingredients to prepare delicious and appetizing dishes.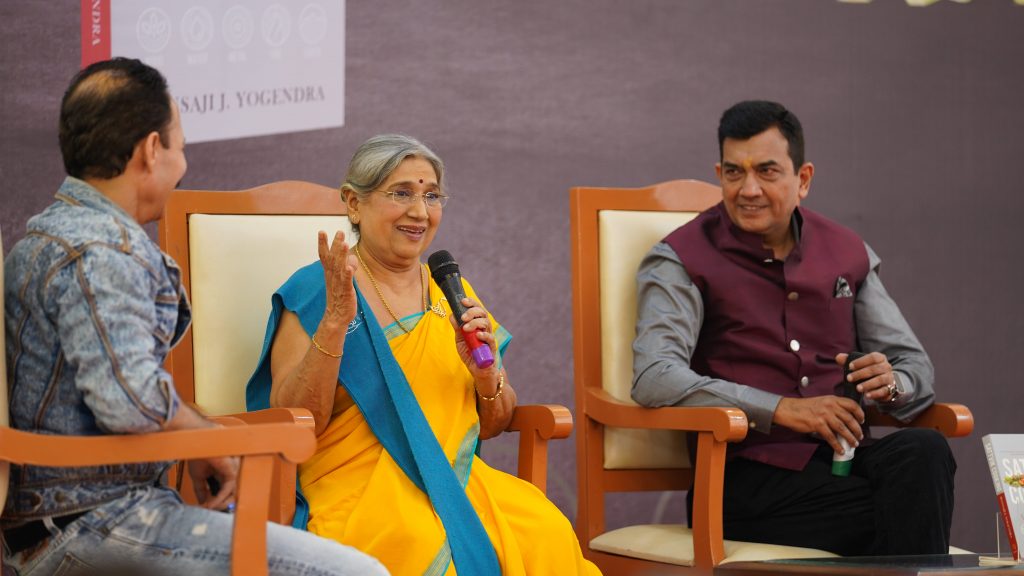 The book has the potential to change the way we eat, converting us from being slaves to our taste buds, to mindful eaters – of delicious food. In fact, foods that were predominantly thought of as a complete no-no have been revamped with a healthy nutritious touch, keeping their flavors intact. All favorite items like burgers, chaat, pancakes, wraps, dumplings, crackers, fritters, tikkis and more, can be made in a totally healthy and nutritious way.
Readers will find many modern-day recipes that will also appeal to millennials, who, today, are far more health-aware and taste-conscious than ever before.
We often feel tempted to just order our scrumptious meals from restaurants and hotels.
But now, we have a healthier and better alternative, with healthy and appetizing meals from the numerous recipes in Sattvik Cooking guiding us to positivity and a better way of doing things.
Director of the world's oldest organized center The Yoga Institute, Dr. Hansaji J Yogendra, is a distinguished Indian Yoga Guru, author and researcher, TV personality, and the leading face of householder Yoga.
Recognizing her contribution to yoga worldwide, Hon'ble Prime Minister of India, Shri Narendra Modi, felicitated The Yoga Institute with the Prime Minister's Award for Outstanding Contribution for Promotion and Development of Yoga. Every day, about 2000 persons visit The Yoga Institute for training and health consultations. Over the years, the Yoga Institute has also certified more than 55,000 trained Yoga teachers who, in 120 countries, have been helping millions live better holistically healthy lives with the help of householder Yoga.
The Yoga Institute was established in 1918 by legendary yoga guru Shri Yogendraji, also known as the Father of Modern Yoga Renaissance, and celebrated its centenary milestone on 25 December 2018. The 100 years celebration was attended by Shri Ramnath Kovind – The President of India, M. Venkaiah Naidu – The Vice President of India .
It is a non-profit organization and the oldest organized center for Yoga in the world. The Institute has a long legacy of carrying out ground-breaking work in the field of yoga, including the "householder yoga" movement, along with several social initiatives such as Annam Brahma (free meals for the underprivileged), free medical health camps, blood donation drive, military, and police holistic health programs, municipal and western railway staff wellness programs and much more.
Sattvik Cooking – Modern Avatars of Vedic Foods can be purchased at https://amzn.to/3hCAS0U and the bookstore at The Yoga Institute.