By Anjali Rao
Peacocks are such striking creatures, don't you agree? They are beautiful and graceful. There is something so magical peacocks. They are mesmerizing majestic birds.
And that is why I chose Peacock as my National costume at the Mrs. United Nations 2022 World Finals Pageant. This Peacock Costume is an absolute showstopper. It is imagination, creativity and glamour all wrapped up in one gorgeous Peacock dress!
Materials used: Satin Saree, Peacock feather print fabric, feathers, cardboard
THE MAKING:
Blouse/Skirt:
This form-fitting outfit is made out of luxurious soft Turquoise Blue Satin Saree fitting the vibrant peacock theme. The flattering material is soft against the skin and very flexible so it is comfortable to wear.
Peacock Tail:
A lot of love and creativity has gone into making this peacock featherless costume. The Peacock tail is made from affordable curtain fabric, printed with exceptional peacock feather graphics ordered online. The curtain is perfectly cut and sown such that it flaps and flutters about as the beautiful bird of paradise. The marvelous turquoise blue tail is tied around the waist at the front also has removable velcro. High-end, luxurious, super soft texture, flows beautifully and has a tad of sheen to it

Peacock Headdress:
This headdress is expertly handmade to strut your stuff in! This elegant feather collar is full and beautiful with blue, green, black and peacock feathers. All feathers are secured together on a cardboard cut-out as required. This headdress fastens with some ribbons that can be tied around the neck or adjusted to your preferred style. This headdress is very sturdy, lightweight and easy to wear.

Accessories:
Gloves are made out of left over curtain pieces and feathers to add to the look making this costume unbelievably sparkly!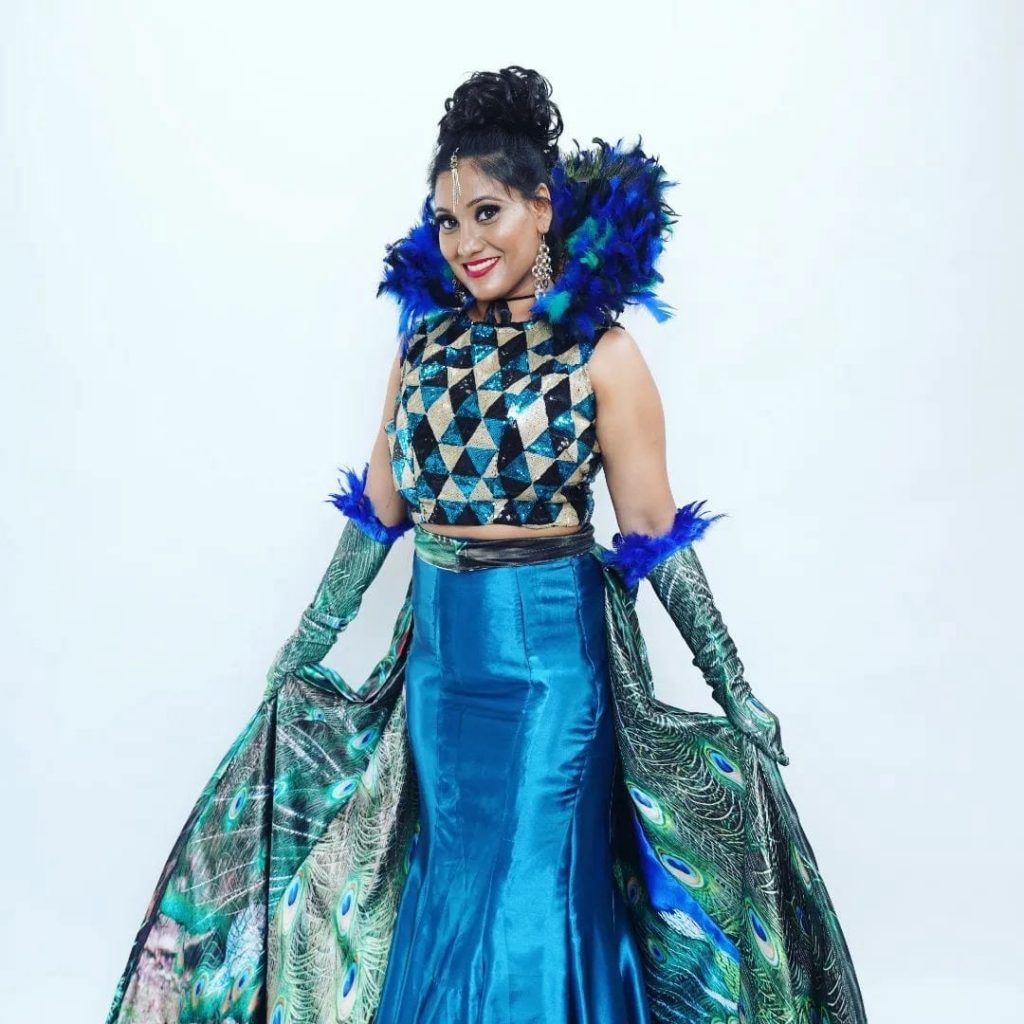 This mesmerizing Peacock inspired outfit is the perfect peacock costume for fashion shows or costume parties or anywhere you want to stand out from the crowd for all the right reasons!
I loved every minute of strutting around the ramp with my wondrous plumage at the pageant! So much fun to flap, fly and adventure in this colorful costume!
Anjali Rao — Currently working for a leading IT service provider as a Project Manager in Bengaluru, Anjali is the Winner of Mrs. India Earth 2019 — Face of South. She is also the winner of Mrs. United Nations Charity 2022 at the United Nations World Finals. www.instagram.com/anjalirao_officiall