Not So Pink is a body-positive, fashion-forward western workwear brand for the modern Indian working women, complementing all sizes with zero compromises on style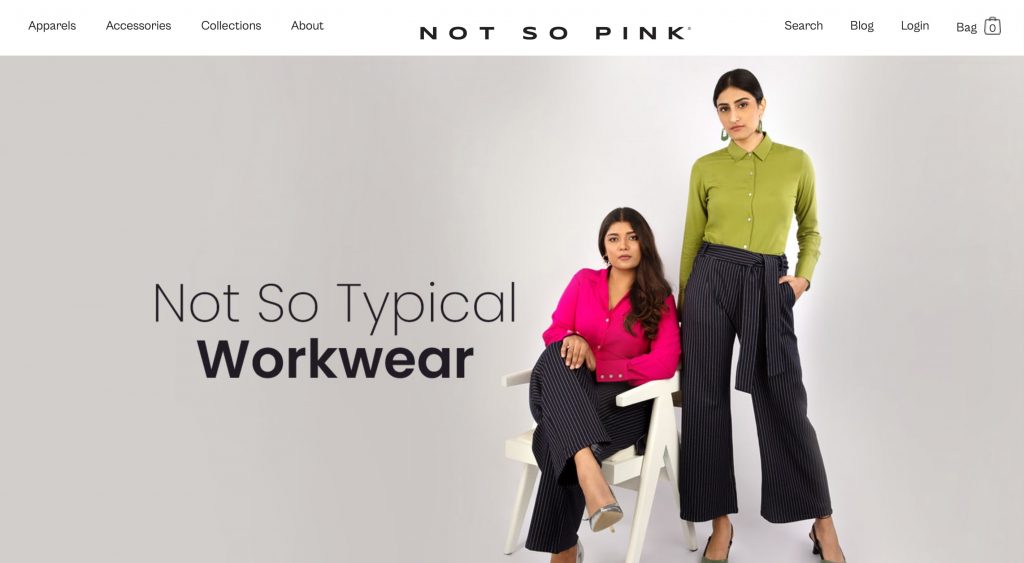 Offices are opening up and companies are going for a full or hybrid work model, allowing employees to get out of their home routines and adopt a contemporary work life, including getting back on the workwear bandwagon. Elevating the current business fashion scene is Not So Pink. Backed by an investment of Rs. 4 Crore, the brand redefines business fashion with a focus on tailoring western business ensembles to fit the Indian body type and sizes. The brand is a result of thorough research on the Indian body type and is delightfully unique in its offering – trendsetting designs available across sizes – right from XS to XXXL.
Focussed on having a robust online presence the brand currently retails from its own official website www.notsopink.in, and will soon be available on other e-commerce platforms. Not So Pink seeks to challenge the prevalent stereotypes regarding workwear for Indian women. Their business apparel & accessories have been created keeping in mind the various requirements when it comes to workwear that not only makes their products more appealing but their approach exclusively for Indian women makes their products suit every customer's fashion sense without compromising on comfort. Apparelsat Not So Pink are value-for-money, with prices starting from Rs1499/-
Founder Purvi Rohit Pugalia states, "The body type issue has been around for a long time. Before we could define the Indian body type for our brand, we undertook a study with multiple participants and realised that the western fashion fit was solely reserved for international sizes. We wanted to create something that would tick all the boxes when it comes to western business fashion for the savvy and bold Indian woman".
Not So Pink is redefining the size chart of workwear for Indian women.
In addition to Not So Pink, Rohit &Purvi are successfully running multiple businesses across sectors including premium granola brand Munchilicious (with presence in 550 retail stores across India), This Or That – India's first platform for only the most interesting, innovative & unique products exclusively by start-up brands, and The Rooted Co – a pre-workout meal brand for those looking to live an active lifestyle.
About Not So Pink:
Not So Pink is a fashionable western workwear brand that delivers contemporary yet comfortable apparel for the Indian body type, for her to be the most confident, bold, and classy version of herself.
Backed by thorough research on the Indian body type, Not So Pink has redefined the size chart for women's workwear. The brand has achieved this by keeping in mind the most common body types in India. This, combined with the right set of silhouettes and on-trend designs have led the brand to create stylish & chic workwear that suits the Indian woman of today just right.
Not So Pink, a fashionable workwear brand made exclusively for the bold & confident Indian working woman. Why 'Not So Pink'? You might ask. Pink has long been stereotyped as the go-to colour for all things feminine. Be it the colour of her bedroom walls or the next dress she's looking to buy. Society associates this colour with just about anything and everything in her life, including her personality, often described as "girlish", "soft", "overly emotional", and "lacking real ambition". However, she,s anything but defined by this colour. Her personality is far beyond preconceived notions and age-old stereotypes. As a matter of fact, with all her achievements, goals, and aspirations, she's anything but the colour pink!