Are you looking for a standout costume that are showcased in events like Burning Man, Tomorrowland, Coachella, Met Gala? Do you want an Egyptian look — Goddess ISIS, Cleopatra, Nefertiti? Do you want to look like a Goddess, High Priestess? Or simply a Gypsy, Bohemian or a Halloween look? You are unsure how to get that look? So how does one turn their fashion game up a few notches? Maybe — add a headpiece/headgear/headdress?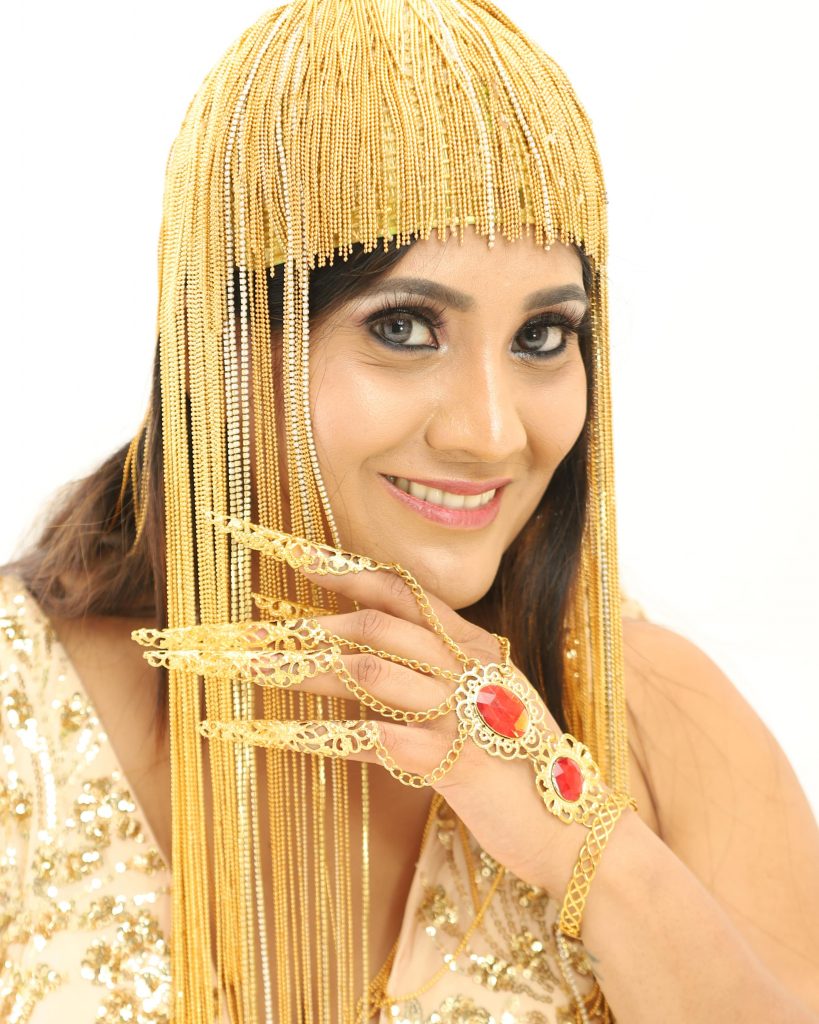 That is exactly what I did for my High fashion round at the Mrs United Nations 2022 Pageant. I chose a decadent golden headpiece that completed my Ancient Egyptian themed look.
This jaw dropping headpiece has a dramatic gold tone owing to hundreds of strands of gold bead chains. The dazzling gold chains makes it extraordinary and elegant. This incredibly beautiful headdress is majestic, luxurious and unforgettable and is the epitome of glamour and excellence.
You will definitely steal the show and stand out from the crowd. The handmade headpiece is the star of the show at any fashion event — and rightfully so.

Materials used:
This beautiful and sparkly headdress is comfortable to wear and is made from gold metallic fringes, gold chains, plastic pot to fit your head, Gold spray, Glue.
It took 2 days to design and complete this glamorous look and the result is beyond expectations.
I crafted a beautiful piece of headgear by transforming my vision of Goddess into beautiful piece of art. This exquisite handmade headgear is inspired by ancient Egyptian kings and queens. Meticulously handmade, this headpiece brings the spirit of Ancient Egypt. It is lavish, glitzy, and flashy, which is apt for this glamourous theme. The unique headpiece definitely got me noticed at my event. I found it ideal for a photoshoot too.

The Making:
The plastic pot is sprayed with gold paint and air-dried. Gold bead chains are cut as per length (your hair length). Hundreds of strands of gold bead chains, decorative chains or fringes are then glued together to cover the pot completely. Voila! Egyptian headpiece is ready!
Golden chains with beads swing from all sides of the pot, to compliment Egyptian hairstyle. This headpiece is extremely light and comfortable as long as you find a plastic pot that fits your head comfortably.
This very light weight but strong, stunning headpiece fit me with ease with the longest strand from the top of the head to bottom approximately 15 inches. I matched my entire outfit from head to toe. A gold gown to go with my gold headdress. I certainly did not skimp out on any 'gold' on the look. My gold gown was also covered in sequins and accessorized with several large gold pieces of jewelry. This ensemble was elegant and regal, and certainly made a statement.
Rock your inner JLo with this one of a kind handmade headdress. Make your own today!
Photo Credit: Saravanakumar Balusamy, shootinstudio
For more ideas and inspiration head to https://www.instagram.com/anjalirao_officiall/

About Anjali Rao:
Anjali is a true Wiproite by the day, and a multi-tasking genie by the night. After her short stint in Zee Kannada, Bangalore as a News Caster, she worked as Editor, Content Writer for several online portals in Singapore. Anjali has represented the state of Karnataka at the Mrs. India Earth 2019 pageant and bagged the coveted title, 'Mrs. India Earth 2019- Face of South'. She went on to participate in the Mrs. United Nations Pageants and emerged as the winner of 'Mrs. United Nations Charity 2022