Raksha Bandhan is here! It's time to bring back the festive zest and enthusiasm that has been lost this year. Owing to these tough times, we're all going to be restricted to small scale celebrations. Although holding back on experimenting with hairstyles while the festive season is setting in a big no-no. Besides stocking up on Rakhis, sweets and your outfit, we present you the ace stylist, Adhuna Bhabani of popular salon chain, BBLUNT to line up some hairstyles that could come handy while you prep for decking up that day.
Braided Mohawk:
Prep towel dried hair with a dollop sized amount of BBLUNT's Repair Remedy Leave in Cream which tames frizz and readies the tresses for all the styling that follows.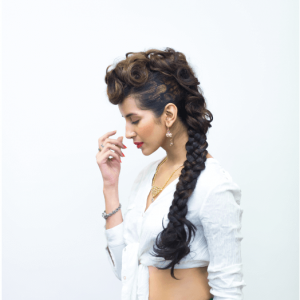 Step 1
Make a side part, and then section out good portion of your bangs at the front to form a mohawk later. Now take a section on front left side of your part to your left temple. Split this into three and weave together to make the braids on the side of your head.
Step 2
Braid the right over the centre, then the left over the right and continue braiding. Stretch out the braid to make it look thicker. Secure the end with a pin or small elastic.
Step 3
Now gather all your hair into a ponytail and secure with an elastic. Take the pin or elastic off the first braid such that it is now included as part of the ponytail. Take a small piece of hair and wrap it around your hair elastic to camouflage it.
Now moving to add volume and texture to the bangs at the top, use the floral variant of our Dry Shampoo Spring Fling. Style it to create light curls and set in place to form the mohawk.
The Top Knot:
This trendy, high fashion, statement look that can be worn from sun up to sun down!
STEP 1
Apply a small amount of Hotshot Heat Protection Hair Mist to the middle lengths and ends of damp hair. Then blast dry the hair using a hair dryer.
STEP 2
Use your fingers to direct all of the hair to the crown of the head. Secure with a bungee.
STEP 3
Using a teaser brush, loosely back comb the length of the ponytail from root to tip, to create volume & texture
STEP 4
Take the entire ponytail and literally tie it into a knot. Secure the hair with U-pins but maintain the messy mood of this look.
This Raksha Bandhan, if you are keen on going for a shine and experimenting with colour, our stylist has her expert take on that as well. While we have limited access to stylists and salons admits this lock down, you can choose to get a salon like gorgeous shiny colour in the luxury of your own home with the BBLUNT at-home range of high shine crème hair colour – Salon Secret. Developed especially keeping Indian skin tones in mind, you can choose from a variety of shades like Coffee Natural Brown, Chocolate Dark Brown, Honey Golden Brown or Mahogany Red and Deep Burgundy, if reds are what you prefer. For also a Natural black look for the conventional at heart and a blueberry Blue black for those who want to try something new can have these looks added to your Raksha Bandhan hairstyle mix. So pick any and get going!