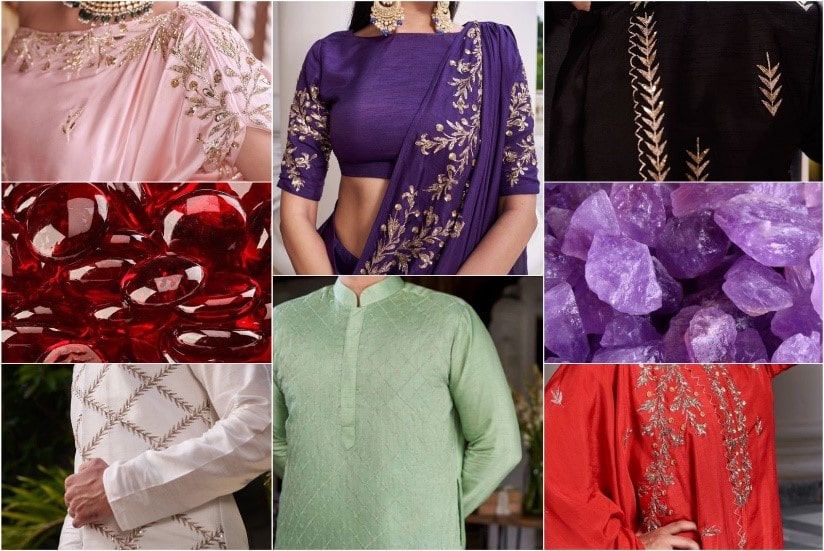 Talk fashion and one of the first things that inevitably comes to mind is a wide range of colours combined with illustrious designs and stylish patterns, embedded into yarns of excellence. Whether it is a traditionally rich ensemble like a saree, an indo-western attire, or an out-and-out contemporary garb, it cannot be denied that a striking colour palette can breathe life and glory into your clothing.
Epitomizing modern sensibilities and traditional flavours, Prathyusha Garimella's contemporary silhouettes and design intricacies, which include sequins, zardozi and gota pati, leave a lasting impression. To highlight the effect of the brand's colour choice in conjunction with its designs and cuts, we have put together some top ensembles by Prathyusha Garimella, to focus on the diverse jewel tones incorporated by the label.
The Amethyst Aura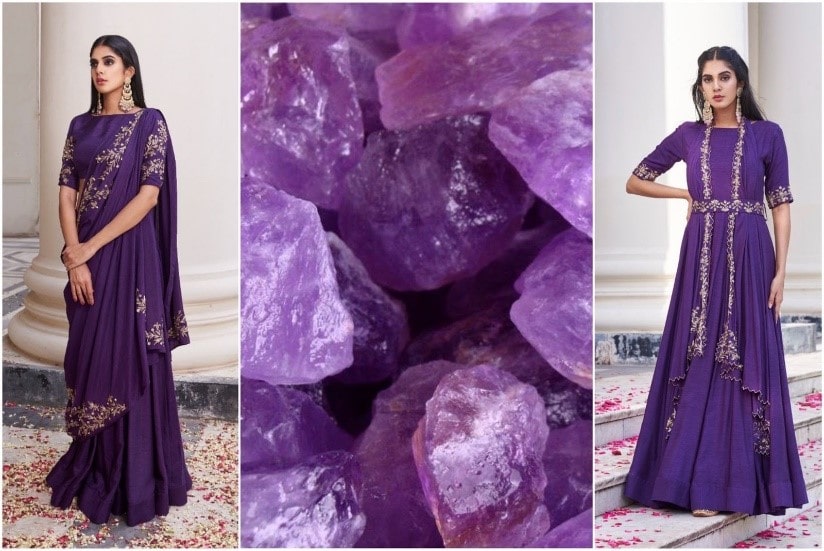 With well-crafted designs and elegance at its core, the amethyst-inspired ensemble by Prathyusha Garimella comes with well-defined cuts and a strong prêt effect. If the chic silhouettes, details and the flowy pattern lend a stylistic air to a given look, the colour tone on the other hand, further enhances the appearance, thus making way for a unique fashion statement.
The Black Onyx Magic
The vibrant minimalism of this hue catapults Prathyusha Garimella's prêt wear into masterpieces. With a combination of plush fabric, well-fitted silhouettes and classic detailing, incorporating black onyx elevates the exclusivity of an ensemble and makes for a charismatic fashion statement.
Amidst Contemporary Carnelian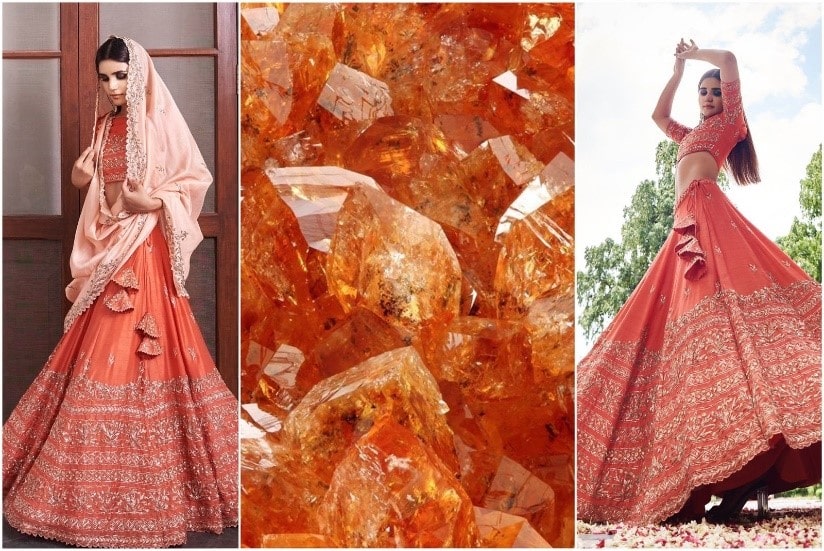 Inspired by the mystic and warm effect of a carnelian, the prêt ensembles by Prathyusha Garimella blend ethnic aesthetics with a contemporary vibe, to exude a naturalistic aura, whilst retaining elegance and minimalism. The articulate designs and breezy silhouettes further add to the extravaganza.
The Pearl Passion
Incorporating the exuberance of pearls in the form of a jewel tone, Prathyusha Garimella's raw designs and eclectic appeal, seep into every aspect of the ensembles, including the pattern, cuts, details and embellishments.
Of Priceless Peridot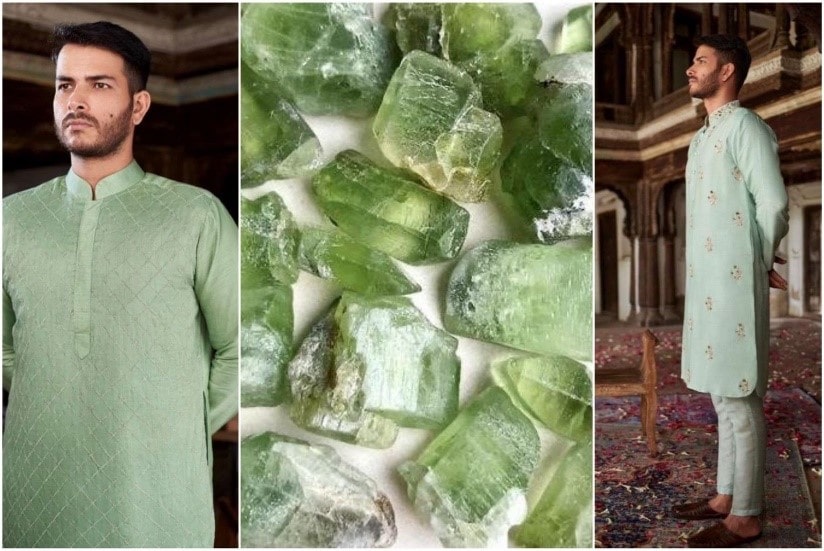 The magic of peridot lends a rather fresh, compelling effect to Prathyusha Garimella's statement garments, by infusing charm and creativity into every element of the prêt attires, whilst representing Indian craftsmanship with a dash of contemporary feel, and imparting classic excellence to a given look.
The Timeless Appeal of Rose Quartz
Redefining sublime fashion with signature embellishments, rose quartz personifies timelessness with its raw yet well-pronounced tone. Infuse the colour into Prathyusha Garimella's attractive creations and it becomes hard to beat the combination of chic craftsmanship and a cheerful colour palette.
The Radiance of Ruby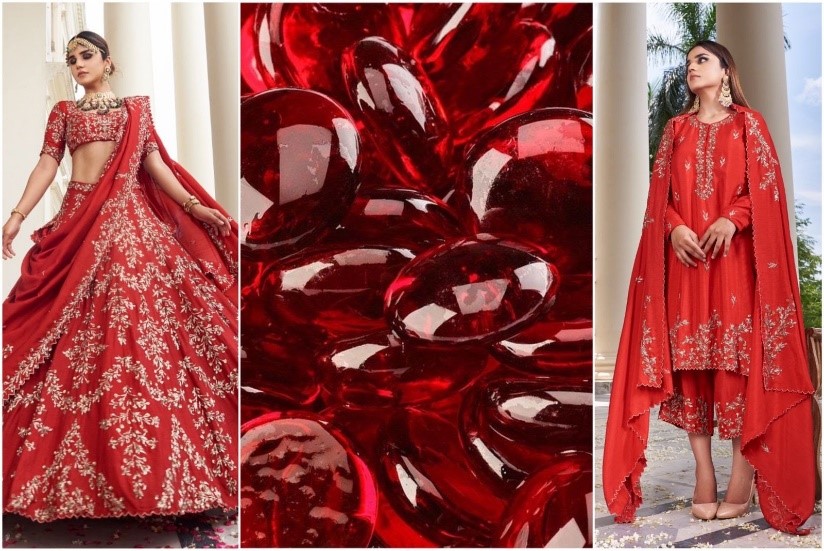 Very few hues can extend a vibe that is as elusive as that of ruby. Prathyusha Garimella aces the ruby effect with its tastefulness and a sophisticated spirit. While the unique patterns ooze a tasteful appeal, the regal intricacies and the silhouettes add to the radiant effect of ruby.