Forest Essentials launches two new Intense Solid Perfumes inspired by ancient traditions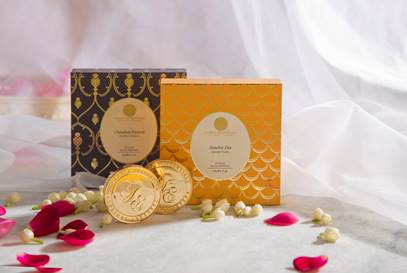 An ancient form of fragrance, solid perfumes come in the form of a balm. These fragrances were created at a time when our ancestors would use plants, herbs, flowers and spices to make fragrant ointments, dense pomades and scented wax tablets. These would be applied on the skin and hair or burnt as a resin to perform sacred rituals. Inspired by these ancient traditions, Forest Essentials launches two new Intense Solid Perfumes.
At Forest Essentials our Intense Solid Perfumes are made using a method called Enfleurage. This intensive method where freshly-picked delicate flowers are left to rest in a base of Mahua and Mango Butter — and then spread along with a glass frame for an extended period of time. After a couple of days, when the flowers' fragrances infuse with the butter, a fresh lot of flowers is added and this continuous change is done for over a month at timely intervals.
The latest addition to their fragrance collection, the Forest Essentials Intense Solid Perfumes are available in two scents, Sunehre Din translating to Radiant Days & Chandani Raatein or Moonlit Nights.
Forest Essentials Intense Solid Perfume Sunehre Din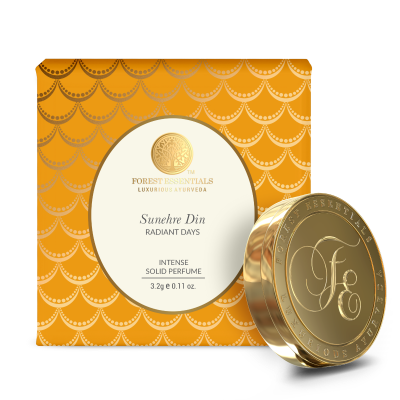 The delicate Sunehre Din or 'Radiant Days' Solid Perfume has a delicate floral fragrance that leaves a bright and refreshing effect on the senses. The Intense Solid Perfume contains a top note of Rose Absolute that is freshly plucked from the gardens of Kannauj – a region in North India, which is rich in white soil that acts as a perfect conductor for the growth of these Roses. Kashmiri Saffron and dazzling Marigold form the heart notes, adding a sweet note to the fragrance. Blended with woody Maulshree at the base, with creamy Beeswax and Microcrystalline Wax, this beauty balm is evocative of a bright and refreshing experience.
Forest Essentials Intense Solid Perfume Chandani Raatein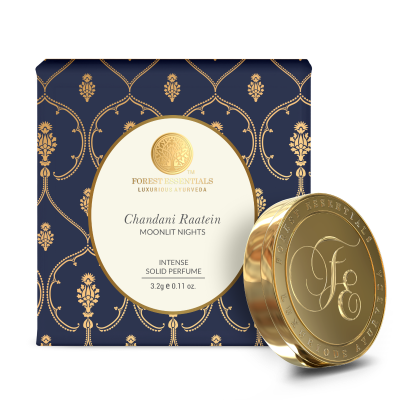 The Chandani Raatein or 'Moonlit Nights' Solid Perfume has a sensual and seductive floral fragrance that leaves an alluring and harmonious effect on the senses. Overtones of the Solid Perfume include Ruh Motia and White Jasmine (Nayamalika). Sourced from Madurai, Tamil Nadu and known as the 'Flower to the Gods', the flower is plucked at dawn when laden with dew as it reaches maximum potency. Intertwined with Golden Champa and Raat ki Raani, this creamy balm finishes with a base note of Sandalwood – creating a meticulously crafted scent with attention to artisanal detail.
The Forest Essentials Intense Solid Perfumes are the perfect companion owing to their velvety, creamy texture and convenience of use. Gently dab and massage onto your pulse points — your neck, nape, wrists, cleavage or anywhere that you prefer on your skin — for an intoxicating experience. Both Intense Solid Perfumes have a long-lasting aroma of essential oils that leave the skin scented for hours. The perfumes are 100% natural and paraben-free.
The Forest Essentials Intense Solid Perfumes are available in a standard size and retailed at INR 3,500 each at www.forestessentialsindia.com and in stores, from 1 February 2022.
About Forest Essentials
An authentic and traditional Skincare Brand with its foundations laid in the ancient science of Ayurveda, Forest Essentials is a pioneer in the Luxury Ayurveda segment. Today it has become the quintessential Indian beauty brand where secrets of ancient beauty rituals for skin and hair care have been brought to life through painstaking research and made available to modern day customers. It is the only Indian brand, which is involved in the conception, formulation, manufacturing, bottling and sale of the products through its own boutique stores. We cater to five major categories of products i.e. Facial Care, Body Care, Hair Care, Wellness and Makeup category. Each handmade product uses traditional methods in its making and adheres to the highest standards of purity, authenticity and quality. Forest Essentials is the largest player in the luxury hotel amenities and spa business catering to over 540 hotels and resorts including the Oberoi and Taj Group of Hotels.
Today, since its inception in the year 2001, Forest Essentials retails from 100 company-owned retail stores across the country and has a major online business, exporting products to over 120 countries worldwide through its web boutique www.forestessentialsindia.com.