PATHBREAKING SHOW IN DELHI – FATE LINES – TO SHOWCASE INCREDIBLE STORIES OF WOMEN MASTERCRAFTSMEN FROM INDIA'S CARPET CAPITAL – MIRZAPUR FROM JULY 10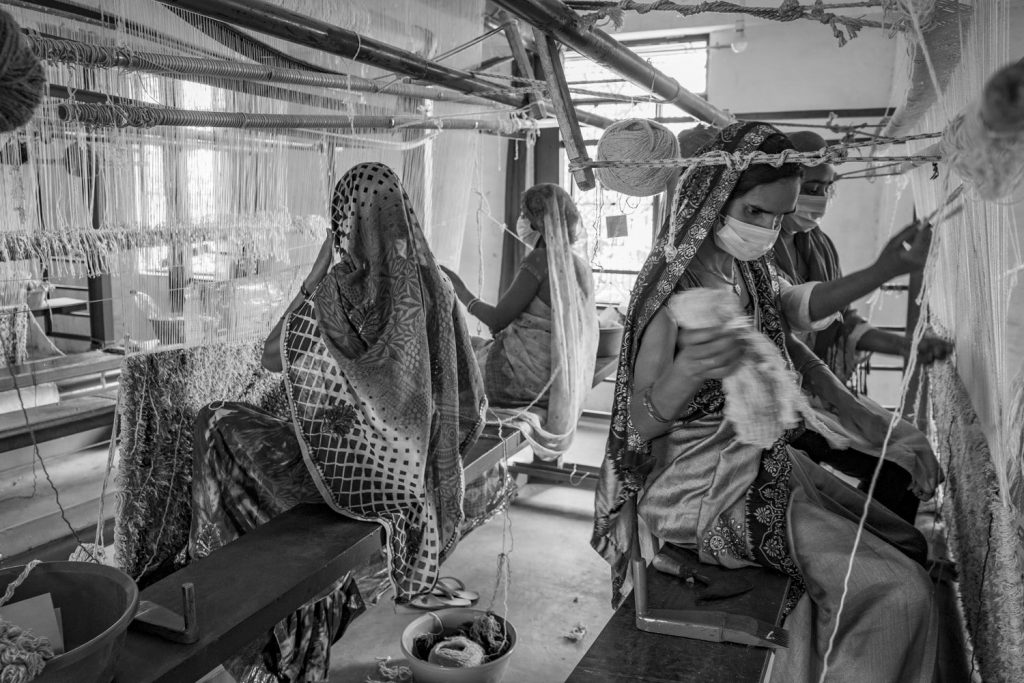 India's carpet capital has now emerged as one of the country's greatest cauldrons of resurrection for female employment, thanks to India's oldest carpet manufacturing company – Obeetee.
A path breaking female employment programme started by Obeetee in 2015 in Mirzapur in Uttar Pradesh has officially recorded over a whopping 400% increase in female labour participation – making it a poster scheme for financial freedom and self reliance among women in India.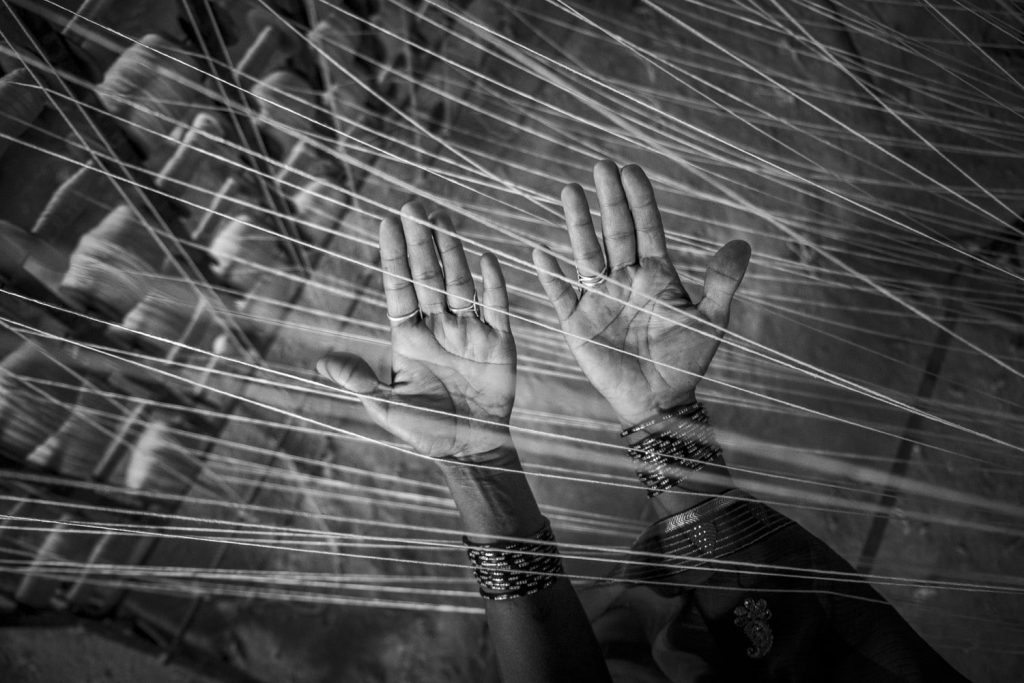 In just 7 years, over 1800 women from the villages of Mirzapur have fought societal hurdles and age-old patriarchal practices to come forward and become master craftsmen, weaving the most spectacular and intricate carpets.
Now, a phenomenal show of Mirzapur's female carpet weavers is all set to open in Delhi's Bikaner House on July 10 to unveil in front of the world some of the most iconic stories of women empowerment.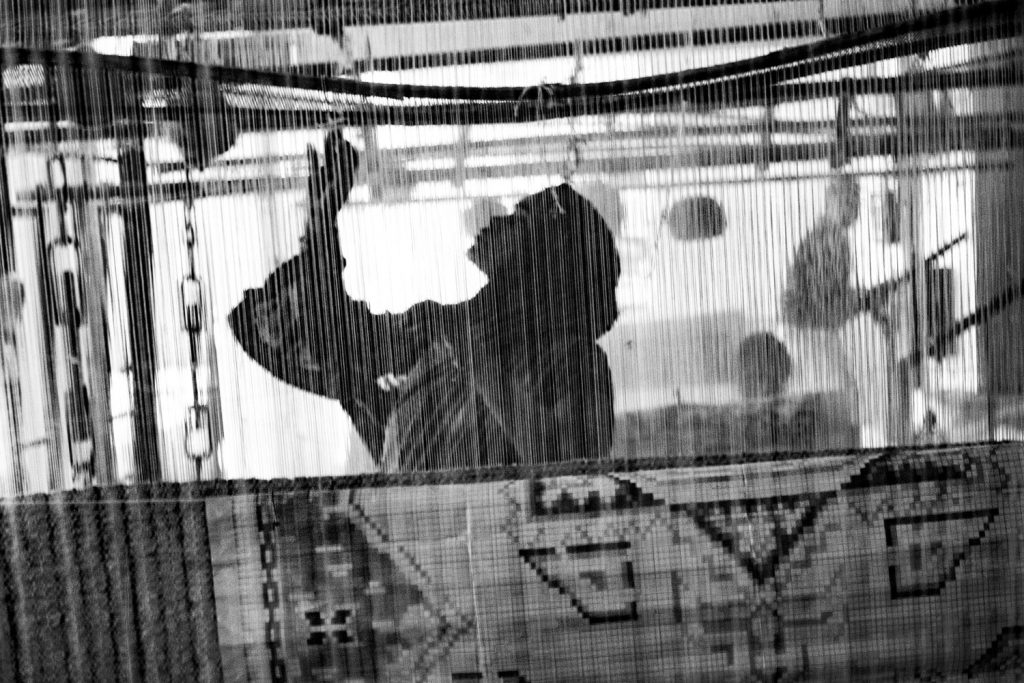 Called Fate Lines – How the Thread Changed the Destiny of Mirzapur's Women, 65 photographs taken by journalist and photographer Kounteya Sinha from the heart of UP's invisible villages will tell the story of an incredible journey of women empowerment initiated by Obeetee.
Mr Rudra Chatterjee, Chairman, Obeetee said "We at Obeetee have been committed for nearly a decade now to work alongside women in their quest to become skilled artisans producing fine hand knotted rugs. We have trained nearly 1800 women in the art of carpet weaving and all of them are now active weavers. Their example is important – to become self-sustainable and financially independent. Their dedication and hard work at display during this program makes us proud".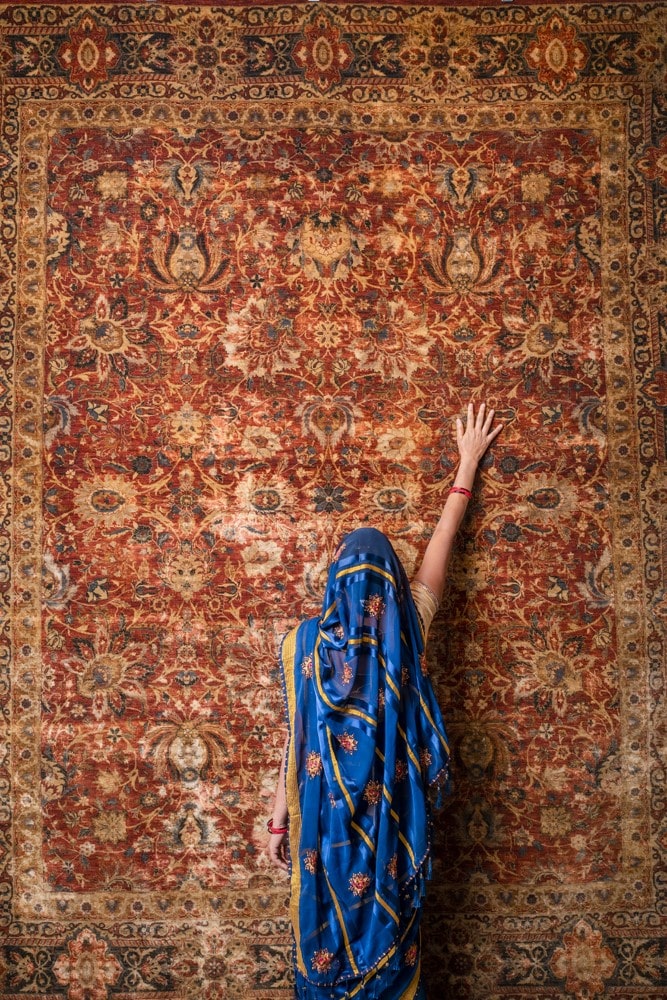 The humiliation had become unbearable for 31-year-old Rekha Devi from the village of Hirachak Dehria from the district of Bhadohi in Uttar Pradesh.
Originally from Nepal who became a mother of four children by the time she had turned 25 and a homemaker with no education, her husband was addicted to alcohol and gambling.
"We would go hungry day after day. My husband who was a weaver was very irregular with his work, thanks to his addictions. He would go one day and stay home for the next five. I didn't understand the local language and was desperate to find a way to get food in the house. I couldn't see my children starving," said Rekha Devi.
"I would go from home to home, asking for a loan to buy food. Nobody helped. They told me I would never be able to pay back. It was humiliating and exhausting. It was then that I found out how Obeetee was training women in the fine art of carpet weaving and also paying them money to learn the craft.
"I decided to go for it. The resistance was tremendous at first, both from within my household and fellow villagers. They questioned me on how a woman can go out of her home and work. But I fought it," she added.
Today Rekha Devi is a master weaver who can tie a whopping 8000 knots a day on average and works 8-12 hours in an Obeetee run weaving centre.
"I run the house now. All my four children now go to school. Now I help others with money to run their house," she said with a big broad smile on her face.
Rekha Devi is just one of the incredible stories that is set to come out from the closet in the phenomenal show that will be open to the public till July 13.
Mr Gaurav Sharma, Managing Director of Obeetee says when he joined the carpet industry nearly two decades ago, he was amazed to find that there were hardly any women weavers in the workforce.
"This was partially because weaving was traditionally taught to boys and not to girls. But most crucially, it was because of the rigid patriarchy that governed village life. To me personally, this was untenable. As I began to understand village norms, I realised that because they considered it improper to sit in close proximity to men who were not from their family, women would never be able to work on commercial looms".
That was when Obeetee thought of a program to train women weavers.
"It was not purely altruistic. We were facing a worrying attrition in the weavers' workforce with many of them migrating to the city in hope of a better life. What we did see was that when these men left, the women were left behind in the villages. These women were smart, had a desire to work, needed the money but had no opportunity. That's when we started the women weavers training program. It was not an easy journey when we started the program. Even though we were offering free training along with a stipend, women were not coming forward to learn. We had to work hard to convince the elders in the village to let/encourage women to come forward. We decided to provide an attached crèche to make it easier for young mothers to come forward. Once the first few training centres became successful, the program took off," Sharma said.
He added "Over the years we have watched this program grow from strength to strength and it never fails to fill my heart with immense hope and optimism. Nearly 1800 women have been trained and the majority of them are now phenomenal weavers. We have also found that women spent a large part of their earnings on their children's education and tended to also invest heavily in the education and health of their daughters. The women's programme is the beating heart of Obeetee today and it represents the value that we place on working towards a more equitable world".
Most of these women can tie up to 9,000 knots a day, so intricate that it ranges from 15 knots to 300 knots per square inch, sometimes taking a year's laborious work.
Several such carpets adorn India's greatest residential address – The Rashtrapati Bhawan – one of which measure over 450 square metres and contains a whopping 100 million intricate knots.
Many of these women were just recently part of a record of sorts – to dress up India's most iconic bastion of democracy.
In what was the greatest endorsement of Prime Minister Narendra Modi's dream for India – an Atma Nirbhar Bharat (self reliant), as many as 900 weavers from the districts of Bhadohi and Mirzapur working for Obeetee spent a whopping 10 lakh man hours to carpet India's New Parliament building – both the houses of the Rajya Sabha and the Lok Sabha.
The New Parliament Building will be inaugurated by Prime Minister Modi on May 28.
Obeetee's weavers crafted 158 carpets for the Lok Sabha and 156 for the Rajya Sabha before stitching them into a single carpet in the form of a semi circle to sync with the architecture of each of the Houses spread across 35,000 square feet of area. The weaver's used the laborious and ancient art of hand knotting to create the magnificent masterpieces. The intricacies of the workmanship is so grand that as many as 120 knots per square inch were woven to create the carpets – amounting to over 600 million knots approximately in total.
Increasing India's female labour force has been a priority for Prime Minister Narendra Modi. According to him, empowering a woman is empowering a nation, especially true for a country like India where 2 out of 3 women are not employed. Modi recently made a clarion call to ensure more women are given the opportunity to become financially independent. According to him, women empowerment is crucial to India's growth. He said that days of seeing women as homemakers have gone, we have to see women as nation builders.
India does face a serious challenge with its female labour force participation. While the country has been on a high growth trajectory, women's participation in the economy continues to be limited. The Periodic Labour Force Survey (PLFS) 2020 found that only 18.6% of working-age women in India participate in the labour force. This is three times lower than men. According to Bloomberg, closing the employment gap between men and women could expand India's GDP by close to a third by 2050.
Ms Angelique Dhama, CEO, Obeetee Retail says "We are proud to have a gender-neutral workforce that recognises the skills of both men and women equally. At Obeetee, we provide the same high-quality weaving training to both men and women, and the results speak for themselves. All our weavers are exceptional at what they do, showcasing their individual sense of color and aesthetics. In the past, when women entering the workforce was not as common, Obeetee took the initiative to provide these women with opportunities for financial independence and moral support. By empowering women, we have not only contributed to their personal growth but also expanded our brand's offerings. The talent and creativity of our women weavers have allowed us to bring forth more exquisite and captivating art pieces for homeowners and space owners to cherish".
She added "Obeetee Carpets has always been committed to promoting gender equality and empowering women. We firmly believe that women should be treated as equals in every sector of society, not just our own. Our journey towards inclusivity began a long time ago, and we are dedicated to furthering it by continually employing more women weavers in Mirzapur and beyond. By expanding our embrace of female talent, we are taking steps towards creating a more equitable and diverse workforce"
Sinha says "In 2015, the women of this region were relegated to a life of anonymity and isolation – their destiny doomed there. But suddenly in 2016, women started going against their families – a rebellion of sorts and wanted to have an identity of their own. Some came forward and volunteered how to make carpets. Word spread like wildfire in all the surrounding villages and women after women started coming out. Today over 1800 women have become master craftsmen for Obeetee weaving the most exclusive carpets. The repertoire of photographs that have been taken by my team of photographers – Rajendra Mohan Pandey, Nilayan Chatterjee and Snehadeep Das will unveil to the world the invisible life of Mirzapur's women weavers who have greatly benefited from Obeetee's path breaking programme giving them a life of dignity and self worth".
The legacy of carpet weaving in Mirzapur dates back to Emperor Akbar himself. As the story goes, Emperor Akbar, known to be a connoisseur of beautiful things, had an exceptional fondness for carpets and decided to bring the finest Persian artists and weavers to India, nearly five centuries ago. During that journey, when they reached Gopiganj, a small town in modern Uttar Pradesh, their caravan was attacked by bandits. The weavers that survived that slaughter took shelter in villages around that area, making Mirzapur – the Mecca of carpet weaving.
Obeetee was founded around 103 years ago by three British entrepreneurs, soon after World War 1 – the name of the company resembling the initials of their three names. Today, Obeetee has become the most venerable address for the world's finest and most intricate carpets and rugs – working with over 20,000 artisans of the region
According to ILO data, India's female labour force participation rate in 2021 was lower than the world average at 25.1%. Prime minister Modi has set the government a target to increase it to a 50% female workforce by 2047.
According to the World bank, "no country can develop and achieve its full potential if half of its population is involved in non-economic activities. It is estimated that women in India contribute 17% of the national GDP, as against the global average of 40%".
India has the world's youngest working population in the 15–34 age bracket and is currently considered as the world's youngest country. Economists view women's employment as a key sign to India's overall growth in the future.