In the past few months, health has been the conversation that has shaken most of us up as
most of our near and loved ones have seen tough times. Immunity and leading a healthy
lifestyle have become a big switch that people are looking at making while fighting a global
pandemic. What we consume is directly related to our health and thus healthy eating and
enjoying the food we eat has become important while also staying indoors and convincing
ourselves that this is for a better tomorrow. Today we are going to make your favorite dishes
but in the healthiest way and that too oil-free by using the latest innovation in the cooking
space, a Frying Pan Foil.
1. Atte ka Malpua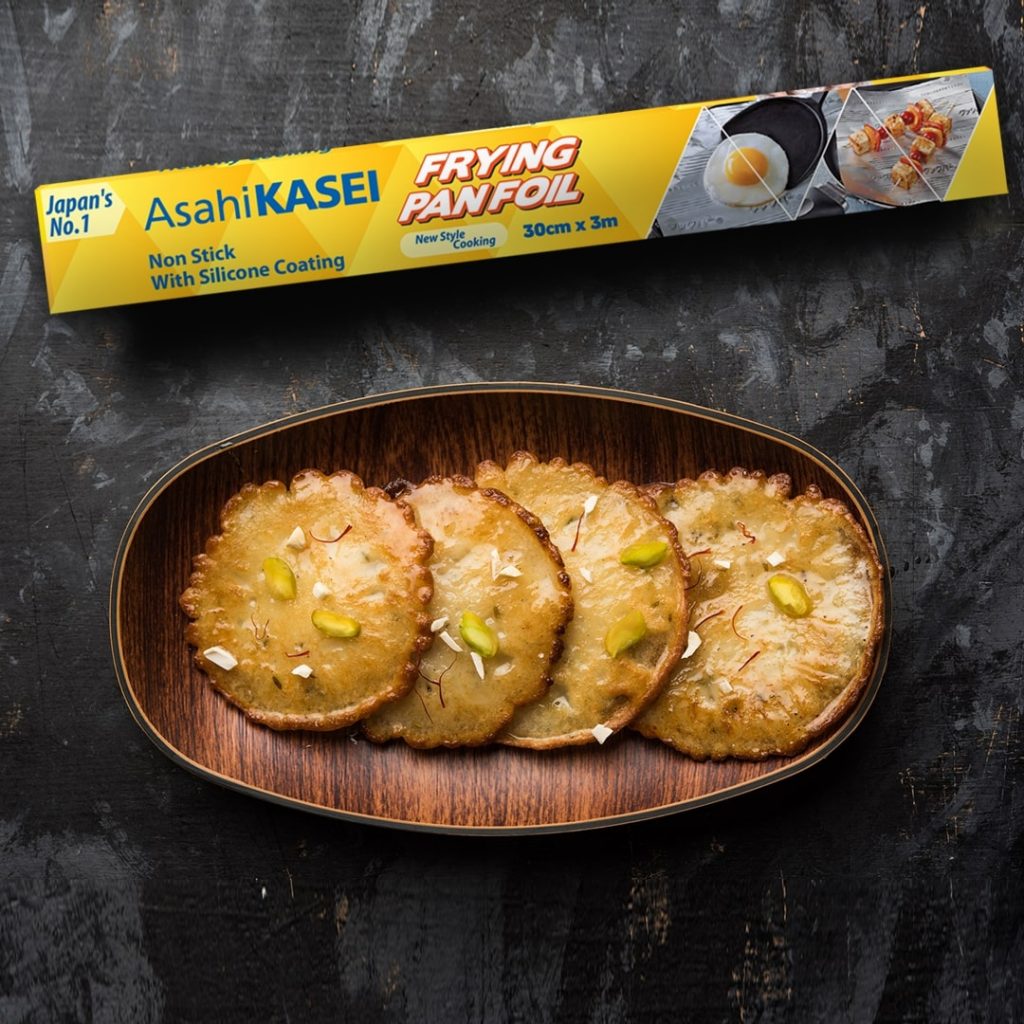 1.To make Atte ka Malpua, combine the sugar and 1 cup of water in a deep pan
lined with Asahi Kasei Frying Pan Foil and cook on a medium flame for 3
minutes while stirring occasionally.
2.Transfer the sugar syrup into a deep bowl and allow it to cool completely.
In a separate pan, boil 2 cups of milk and reduce it to half.
3.Transfer the reduced milk to a separate bowl and whisk in 1/2 cup mawa.
4.Then add the 1/2 tsp cardamom powder and 1/4 tsp fennel powder and mix it
in.
5.Add 1 cup of atta in parts and slowly whisk it in.
6.Then add 1/3 saffron milk to the mixture and mix it thoroughly.
7.In the same pan lined with Asahi Kasei Frying Pan Foil, pour a ladle of the
mixture one at a time, and cook on high flame till it turns golden brown in
color from both sides.
8.Dip the malpua in the prepared sugar syrup and serve hot.
2. Sugar Chapati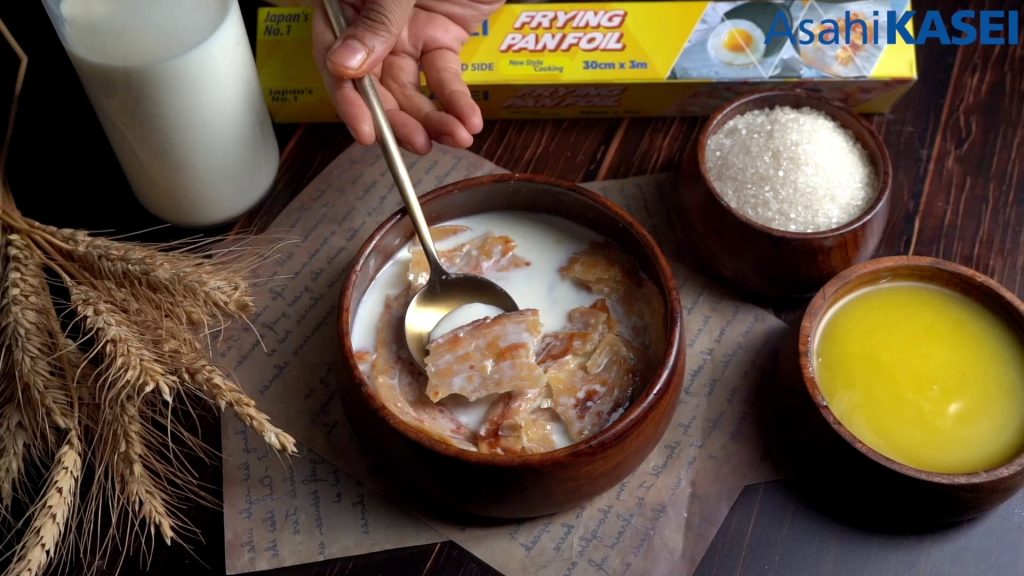 1.Prepare the dough by adding wheat flour, sugar, ghee, and a pinch of salt to a
bowl.
2.Add the appropriate amount of water required to knead the dough till it turns
soft.
3.Make small balls of the dough.
4.Roll out each portion of the equally divided dough by adding dry flour.
5.Apply a teaspoon of ghee in each roti and spread the sugar evenly.
6.Then fold it like a lachha paratha. Roll out again into a circle by using dry flour.
7.Heat a tava covered with Asahi Kasei Frying Pan Foil & cook each roti till
golden brown.
3. Pakora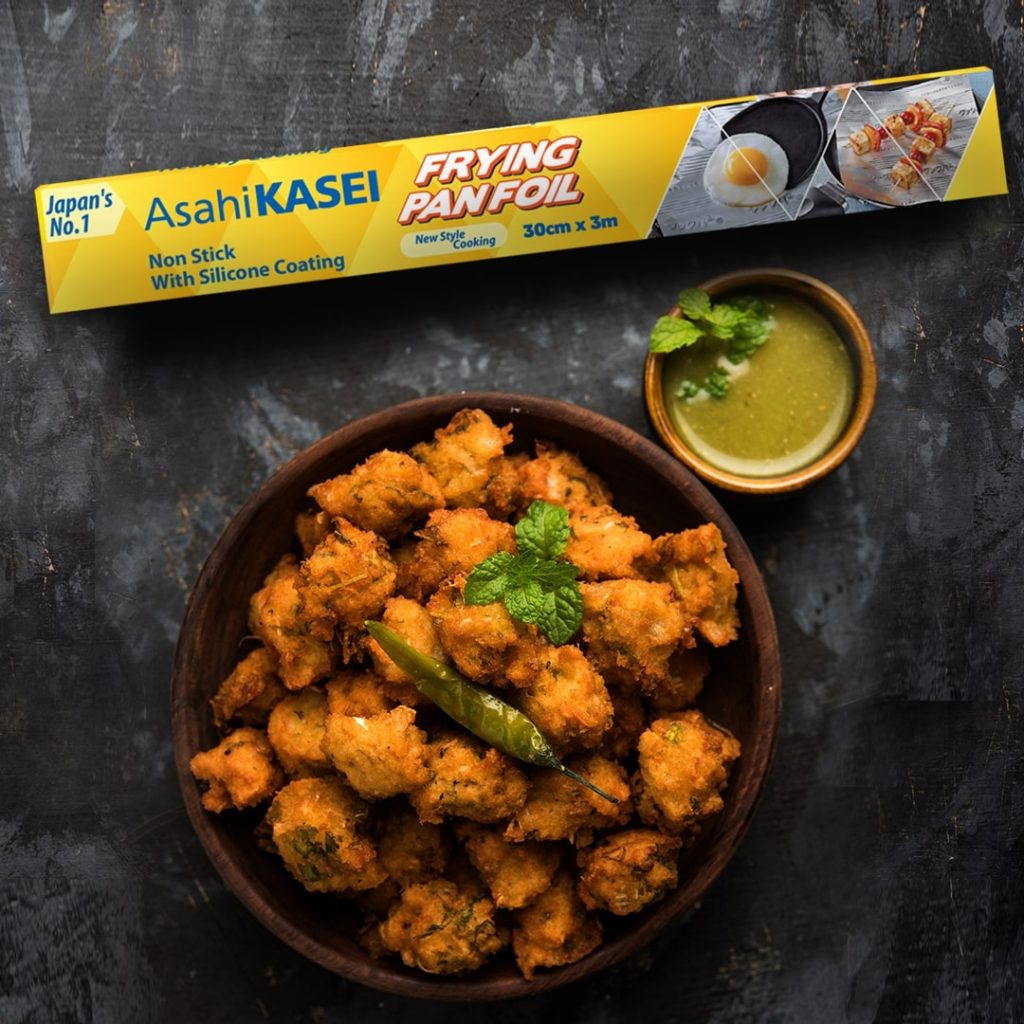 1.With the ingredients for the batter, make a batter of dropping consistency.
2.Adjust the water as required.
3.Mix the onions and potatoes into the batter.
4.Line a pan with Asahi Kasei Frying Pan Foil and heat it.
5.Now scoop the pieces of the vegetable out of the batter and place them on the
pan.
6.Cook over medium-high heat, to golden brown color.
7.Once cooked, remove from the pan and set aside.
8.Continue till all the onions and potatoes are used up.
9.Serve hot with green chutney on the side.
About Asahi Kasei:
Premium Wrap, Frying Pan Foil, Cooking Sheet and Zipper Bag are the company's four primary
food-related products in India, bringing the Japanese method of storing, cooking, and baking
to Indian kitchens. Each one a savior in their own domain. Asahi Kasei is a global giant in
chemicals and material science. It has a turnover of $19.7 billion (in FY2020).