"I am not only defined as a sportsperson. I am a software engineer. I was a banker, so I had worn multiple hats on my head", Manasi Nayana Joshi.
Manasi Joshi wants to bring a revolution in the mindset of people through sports.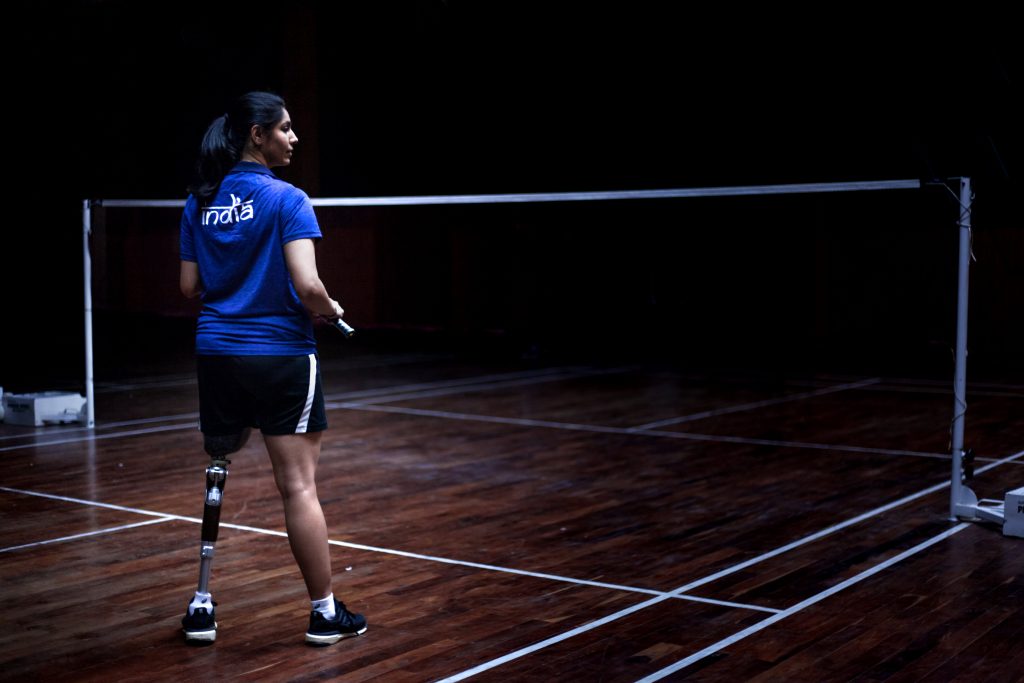 Hard work and strong will, the two magnetic forces that attract prosperity and fame in life, indeed, paid off Manasi Nayana Joshi, the SL3 Singles World Number 2 para-badminton player, in conquering over the difficult circumstances that she faced in the year 2011. With robust determination and encouragement, Manasi started her journey in sports which she took up just to develop strength on her residual limb.
Finding herself different from other athletes because of the multiple hats she has worn, Manasi knows how to procure the place she is on, meanwhile beating out the hurdles that as a paralympic player she faces.
With all the feathers she has added to her cap, she only gets encouraged to perform better every time she steps on the court and is eagerly looking forward to the Paralympics of 2021.
In a brief tete-e-tete with us, Manasi Nayana Joshi talks about her journey and how the infrastructure should evolve to develop a sports culture in the country:
1.You have been into sports since a very young age. How did you pick it up again after facing a difficult moment in your life?
I didn't start making any career in sports initially. I started it just to accelerate my rehabilitation and to have more of my balance while developing strength on my residual limb. I used to go to the training with my brother who himself is a badminton player. His encouragement helped me to play the sports and eventually, I started participating in corporate-level tournaments as my company always wanted me to represent at Mumbai level. I used to play and post about it on my social media which got attention from another paralympic player, Neeraj George, who motivated me to take para-sports. That's how I began my para-sports journey.
2.In your journey of beating out everyone, what all hindrances did you face? What obstacle do you feel para-athletes face and how should it be overcome?
As a para-athlete, we all face difficulty in procuring prosthetics that allows us to play and pursue sports. Mine is an electronic prosthetic which is very expensive and I used it till 2018 with a fear that I would damage it. Another issue is finance because only one tournament in the year gets supported by the Government fund. To maintain our rankings, we have to play multiple tournaments and accumulate points to reach the top. Luckily, I had sponsorship from two corporates; Welspun Group and Mallcom India, who took care of my finances, so I did not have to worry much.
Sports enthusiasts should keep writing to various companies and ask for sponsorship or CSR schemes. Also, write to government agencies for financial assistance for various tournaments and training. To procure prosthetics, approach various government agencies for plans like Members of Parliament Local Area Development Scheme (MPLADS) which deals with providing  funds for assisting people with a disability.
Always have the right set of people around you who are willing to work with paralympic players as rigorous training with muscle imbalance in our body, skin gets deteriorated and affects us physically. Having good prosthetists, orthotists and physiotherapists also help to achieve the dream.
3.Since the Olympics and the Paralympics have been shifted to the next year, what consequences will it bring in any athletes' life?
It hampers the athletes' mindset as we prepared ourselves for it. We set our mind according to it and we trained ourselves that way. Even tournaments have been postponed. We will have to participate and train harder so that we qualify again for the Paralympic game. Currently, due to COVID-19 pandemic, people don't have the opportunity to go out and train which affects players mentally as in spite of being physically source full they are not able to give their hundred per cent on the court.
4.What does your daily routine look like? How are you carrying out your practice during the lockdown time?
I do wall practice and physical training. My trainer is giving me the schedule for the day through an app where she updates it daily. I am exercising daily and doing more strength and conditioning workout.
5.As a para-athlete and a woman, what changes do you want to see in the perspective of society? What steps should the federation take to change the attitude?
If you see all champions currently in their own field are women sportspersons and this is the type of change I want to see even in our para-sports field. As a para-athlete and as a woman it is difficult because there are so many stereotypes that we have to break just to get out of our homes and train. But I think whoever is able to do it they have become champions in their own field. If you see Deepa Malik, Parul Parmar, there are so many examples who have been doing some amazing work and not get bothered by what society thinks. The pressure is there on women more and being a person with a disability, parents are more protective. I think we should go out and just show them that it's possible and encourage more people and more women to take up sports.
Encouraging more senior participation, more women with disabilities, to take up a sport, pursue and continue it. Another thing is to give financial support to women sports persons to participate at various tournaments. Organizing more tournaments and giving people the option that females with or without a disability can make sports a career option. If we see PV Sindhu or Saina Nehwal, we realise that we can pursue sports as a career option because money is involved in it and not only fame.
6.Many times commuting becomes a huge issue as Indian infrastructure is not very friendly for specially-abled people, how do you manage to cope up with that?
It is really stressful when people keep cancelling two to three rides a day. But you just have to deal with that because reaching the court is always the priority. There are times I spend more than thirty minutes just to book and rebook the cabs, as everybody wants cash and no one likes online money. Being a person with a disability, I am dependent on them, so I have no other choice.
7.What makes you stand out among all the athletes?
My disability (chuckles)! There are so many things. I am not only defined as a sportsperson. I am a software engineer. I was a banker, so I had worn multiple hats on my head. These all identities make me stand out as a woman athlete.
8.What other sports interest you and whose game you cannot afford to miss?
I love watching Tennis. If not a badminton match, I love watching tennis then.
If Roger Federer and Rafale Nadal are playing, I can't miss that game. (laughs)
9.What message would you like to give out to aspiring athletes?
Always concentrate on finishing your graduation because it is really important for an athlete to have a degree. Some PSUs hire after checking the degree and give you a post according to that.
When people are playing and pursuing the sports they should also look at the science behind the sports and once they decide to retire from it, they should pursue an education in the field of physiotherapy or sports science.
Always keep on pushing yourself and take extra training from coaches and keep putting hard work and time everyday till you succeed.