• 3 Ka Dream campaign is an ode to Team India's never give up attitude and unites India in its shared dream of witnessing the 3rd ODI World Cup victory
• The film features cricketers Rohit Sharma, Virat Kohli, Hardik Pandya, Shubman Gill, Ravindra Jadeja, Shardul Thakur, Mohammed Siraj, and Kuldeep Yadav, along with an original track sung by famous Indian rapper Raftaar who captures the emotions through powerful lyrics composed by Creativeland Asia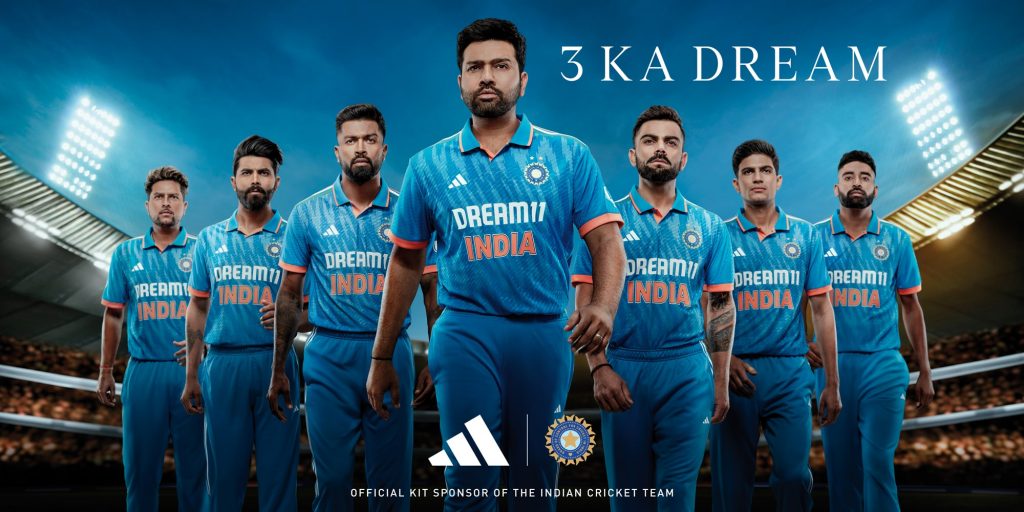 Rooted in the belief 'impossible is nothing', adidas sets the stage for the ICC Men's World Cup 2023 with its '3 Ka Dream' campaign. A testament to the country's unwavering support for team India, 3 Ka Dream gives words to over a billion Indian fans' dream to see their team win a third ODI World Cup.
With lyrics crafted to evoke a sense of unity, '3 Ka Dream' serves as a rallying cry for cricket enthusiasts, igniting a sense of belief to achieve the dream. While the track is sung by the talented Indian rapper Raftaar, the film features cricket's powerhouses – Rohit Sharma, Virat Kohli, Hardik Pandya, Shubman Gill, Ravindra Jadeja, Shardul Thakur, Mohammed Siraj, and Kuldeep Yadav alongside passionate fans.
Campaign Film – https://youtu.be/7ZwCzKMqPrY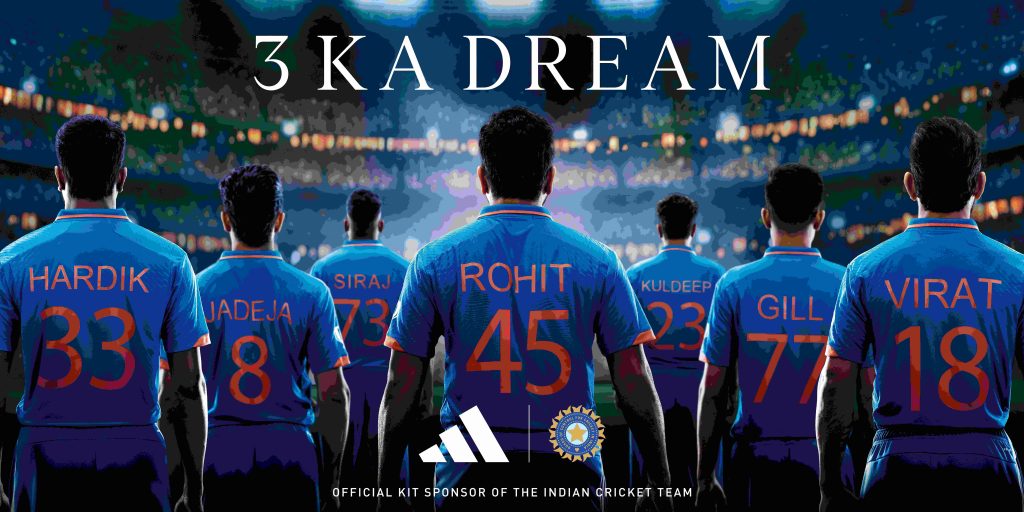 A beautiful montage of emotions of both cricketers and fans, the film brings alive the unwavering hope that every fan holds, as they cheer for their beloved team to bring home the 3rd ODI World Cup. The campaign is an embodiment of adidas' belief, where all it takes is passion to prove that Impossible Is Nothing.
Speaking on the campaign launch, Sunil Gupta, Senior Director, brand adidas, India said "Cricket holds a special place in the heart of every Indian. With the World Cup being held in India, the stakes are higher than ever and so is the desire to watch the team succeed. 3 Ka Dream channels the raw energy into an anthem that aims to unify India in its relentless dream for a third world cup victory."
Conceptualized by Creativeland Asia, '3 Ka Dream' is more than just a campaign; it's a nationwide movement that invites all of us to unite and dream boldly. To ensure that this powerful message resonates far and wide, adidas has employed a multi-pronged approach and will be leveraging a diverse range of media platforms, including digital, print, radio, and an on-ground retail activation that will give Indian fans a platform to showcase their support. Additionally, the heart-pounding anthem will also be available on all major audio platforms, including Spotify, Jio Saavn and more.
In celebration to the World Cup being held in India, adidas has modified the recently revealed ODI jersey. Now the three white stripes on the shoulders will be replaced with the tricolour, and the BCCI logo will have two stars representing the 1983 and 2011 ODI victories. While team India will be seen sporting the same on the field during the World Cup matches, the jerseys will also be available for fans in limited numbers. Additionally, to mark the occasion, the brand has launched 2023 pairs of the adidas grand court, a special World Cup edition shoe, where the first two stripes will have 1983 and 2011 printed and for the third stripe an insert with 2023 will be given separately to complete the "3 ka Dream". Both the limited-edition jerseys and adidas grand court shoes will be available for fans to purchase at all adidas stores and at https://www.adidas.co.in/cricket.
About adidas
adidas is a global leader in the sporting goods industry. Headquartered in Herzogenaurach/Germany, the company employs more than 61,000 people across the globe and generated sales of €21.2 billion in 2021.