It was a fan moment day for the 'Pyar ka Punchnama' actor on Sunday. The nation's new crush with big hair and a cute smile, Kartik Aaryan in his recent Instagram post shared a picture from the set of an advertisement shoot where he can be seen sitting along with the Shahenshah of the industry, Amitabh Bachchan. Writing, "Bucket list ✅ 🙏🏻
@amitabhbachchan Sir 🎥", Kartik shared his excitement with his fans and followers.
Kartik like a die-hard fan also shared a post on his official social media handle where Mr Bachchan is seen signing an autograph for him. Quoting the iconic dialogue of Big B, the 'Luka Chuppi' actor wrote,  "आज खुश तो बहुत होगे तुम !!
Die hard fan moment!!
Standing next to the Legend, @SrBachchan Sir and watching him sign an autograph for me… !
Had such a wonderful time shooting with you sir but ab ये दिल मांगे मोर..
Love you Sir".
आज खुश तो बहुत होगे तुम !!😏
Die hard fan moment!!
Standing next to the Legend, @SrBachchan Sir and watching him sign an autograph for me… ☺!
Had such a wonderful time shooting with you sir but ab ये दिल मांगे मोर..🤟🏻👐🏻
Love you Sir❤ pic.twitter.com/POWI0LCXss

— Kartik Aaryan (@TheAaryanKartik) September 23, 2019
Not only Kartik had an amazing day but Nupur Sanon too was blessed with an opportunity to find a place beside her favourite star.
Recently, Akshay Kumar started shooting for his upcoming music video with the Punjabi musician B Praak. The actor was seen shooting in St Xavier's College in Mumbai. Along with the students of Xavier's College, Kriti Sanon's sister who is working along with Khiladi Kumar had a fangirl moment and shared a series of pictures writing, "From being his fan to being blessed to be his co-star…what a magical feeling! Couldn't have asked for a better start than being paired opposite my favourite @akshaykumar ..sir.. you've been so warm to me, cracked me up (even during emotional scenes🙄) and just made me feel super comfortable with your dilli wali Punjabi. Thank you for being so so amazing! 🌼🙏🏻☺️✨🌈 •
Something really really special I've worked on..✨🙏🏻".
Soon her Instagram feed received a reply from the star himself. Writing, "It was an absolute pleasure to work with you @nupursanon …hope your innocent smile and spirit is a constant in your journey into the world of cinema :)", Akki welcomed Nupur in the Indian Film Industry.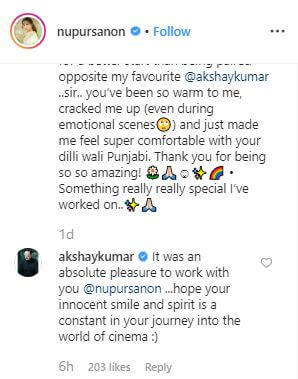 The newbie of the industry quickly took notice of her favourite actor's advice and thanked him for his beautiful words.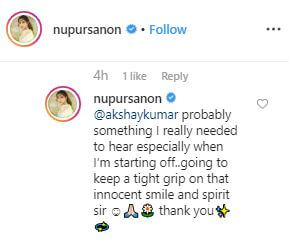 While the Indian film industry was soaring up with fan moment, former Miss Universe and Bollywood actress Lara Dutta's Instagram feed featured a fan-made photo of her old Instagram share. A few months back the actress was seen sharing a picture from her Miss India days where viewers can see Lara with Miss Asia Pacific Dia Mirza and Miss World and global icon Priyanka Chopra. A 20-year-old picture was shared by Dutta commemorating the silver jubilee of On Cue Productions which played a huge role in her journey.
The post was picked up by one of her fans and was given a twist of 'Then and Now' challenge by putting up the picture of the three actresses from the present.
Sharing the fan-made picture, Lara wrote, "I had posted the above picture a while ago but came across this edit on #instagram and really loved it! THEN & NOW! Coming up to 20 years you guys @diamirzaofficial @priyankachopra !!!!! I love you both loads!!! 💕💕💕. So happy we'll always have this that ties us together! 😘. One for the Motherland! 🇮🇳 🙏".
https://www.instagram.com/p/B2qm-X7Hs77/
The other two beauty queens took notice of the picture and showered their love for Lara. Priyanka Chopra also expressed her admiration towards both the actress and sent her love to them.