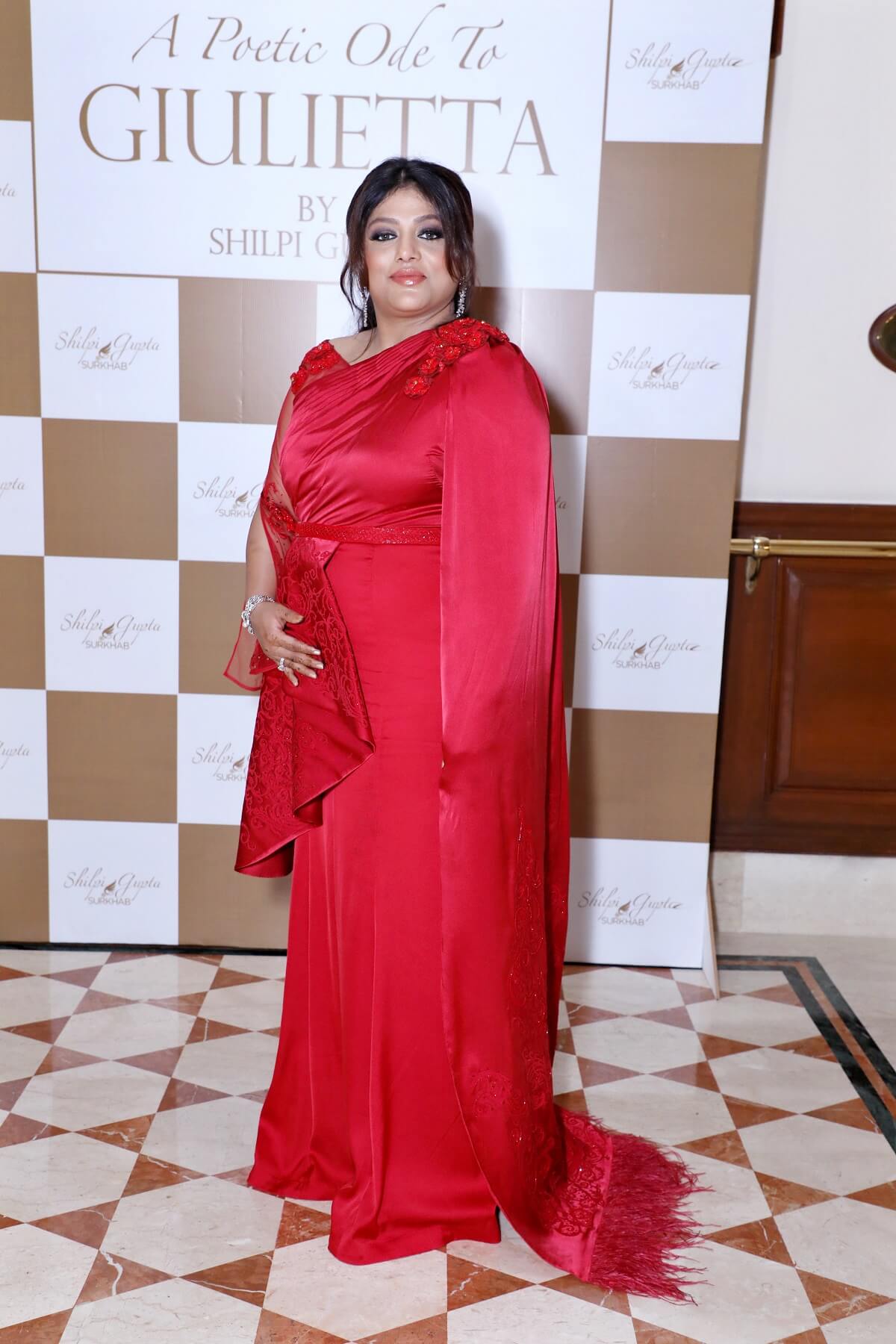 A couture collection is meant to showcase garments that amaze and invoke awe for their style, detailing and innovation. Shilpi Gupta's line-up of sexy evening gowns made for a super visual treat with their flamboyance, glitter and voluminous layering.  From poofy skirts, statement sleeves, to extravagant detailing, they had it all
Gowns have always had a glamorous appeal and is a dream garment for every woman. This princess look collection by Shilp Gupta Surkhab showcases her signature sense of luscious designs and classically beautiful sensibilities and presents an exclusive range varying from ballroom dresses to innovative Indian couture.
The gowns were shown to a select invited audience hosted by Shilpi and Rajeev Gupta at a musical evening with an opera and modern jazz performance that accompanied the fashion show titled A Poetic Ode to Giulietta.The collection enchanted the audience, as Shilpi showcased them thematically through her designs and unfolded a poetic world of a beautiful young woman, as she goes through different emotions and a journey tangled with love, lust, trust, loyalty and finally the essence of womanhood as an empowered and strong female protagonist. The talented line up of artists included Kabuki Khanna for vocals, Sonal Sikka on the piano, base by Ekaterina Aristova, Pritam Ghoshal on the sarod and the flute by Omkar Prasad. Seen at the event were Priya Jain, Meghali Gupta, Jai Madaan, Jamil Saidi, Mrs Simmi Singh,  Fareen Prabhakar, Shazia Almi, Kamaali Mehta, Shreya Bhatia, Sonali Kapur, Sonam Pall, Tanveey Kapur, Deepica Krishna, Chandni Kumari Singh, Sanjana Thadani, Simrit Tiwana, Chandani Chawla, Deepak and Neha Gupta amongst others.
Post the show, Shilpi Gupta who is based out of Dubai, said, "Fashion is an expression, it's a way of expressing yourself without saying anything. Giulietta is an ode to my love for fashion. The collection is very special for me as it's reminiscent of the beauty and the charm of my travels through Italy. With Giulietta, I've presented my views on the perfect woman of today, someone who is proud, beautiful, self-assured and enigmatic. I hope the collection resonates with the stylish and chic women of today and helps them make an extraordinary style statement. "
The jewellery was specially designed for Giulietta by 'Soranam by Sonia Malhotra'.