We all know Twinkle Khanna is known for her funny one-liners and whimsical satires that can shut anyone's mouth. While the audience always wonders how the actress has such qualities, we have de-coded it. It runs in her Kapadia gene.
Don't believe us?
Then check out the post of her cousin, Karan Kapadia.
Karan has made his debut earlier this year in Bollywood with the movie 'Blank'. In his most recent Instagram picture, Karan is seen donning a yellow T-shirt standing along with the famous Hollywood Director Christopher Nolan. The young actor had a fanboy moment and shared his excitement in a very witty way. Along with the picture, Karan wrote, "There's a reason I have pointy nipples in the picture , and Chris Nolan is only half that reason.
#christophernolan#tenet", and we literally can not stop laughing.
The Academy Award winner, Christopher Nolan, is in India, shooting his upcoming movie 'Tenet' in which veteran actor and Karan's aunt Dimple Kapadia is sharing the screen with Robert Pattinson.
Soon, his Instagram feed along with the witty one-liner was reposted by cousin Twinkle Khanna who appreciated the humour and wrote, "The cousin has also inherited some of the crazy Kapadia genes. @karankapadiaofficial keep the one-liners and those nipples 'en pointe' Repost @karankapadiaofficial
There's a reason I have pointy nipples in the picture , and Chris Nolan is only half that reason.
On receiving the encouragement from Mrs Funnybones, Karan quickly replied with another one-liner saying, "People may not understand my comment , maybe I should "nip" it in the bud ?"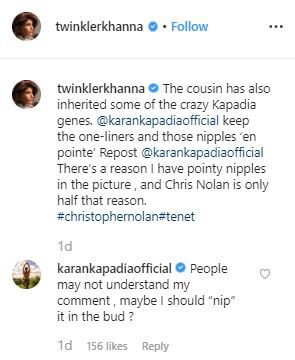 After reading his comment we are pretty sure that the guy is quite talented with the 'Crazy Kapadia Gene' and like a proud sister, even Twinkle could not resist but invite him to dinner for his on the point reply.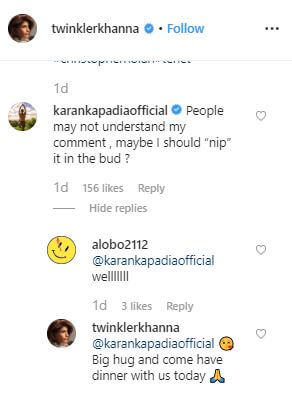 With Karan and Twinkle together, we can just wonder how much wit and humour was served along with dinner. May be Akshay's next biopic should be about his wife!