Label Devina Juneja is all about leather! A brand that chose to break stereotypes when it comes to styling leather is all set to give your closet a much-needed facelift.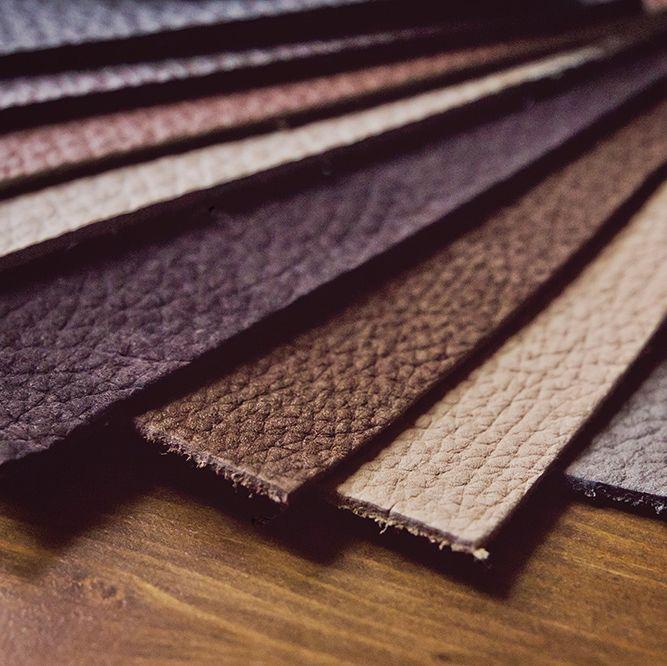 Creative and timeless define label Devina Juneja best! To create different textures and embellishments on their products, the label includes unique surface treatments of leather using hand painting, hand shading, weaving, crocheting, quilting, and cutwork. The brand features a variety of products including leather bags and belts, accessories such as scarves and shawls with leather applique, and prét garments in delicate fabrics like organza, tulle, and silk with leatherwork on it.

Designer & Founder: Devina Juneja
"Leather has been used as a substitute for embroidery in my designs. We design keeping in mind that our pieces can be re-worn and restyled in multiple ways. And the great thing about leather is that it comes in a variety of finishes and colors, and its applications are endless. I hope my work can give a fresh twist to leather," says Devina.
STYLE CHECK WITH DEVINA JUNEJA
Circle Vest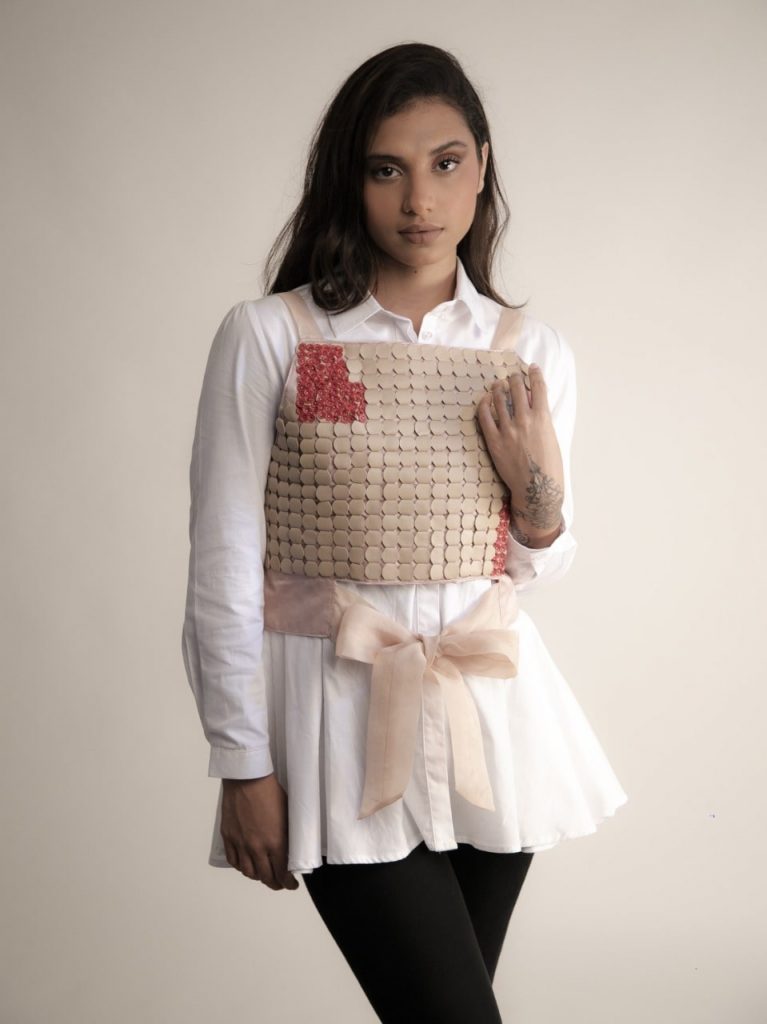 The circle vest is stylish and chic and makes for a fun outfit. The process of making the vest involves multiple hands punched holes made all along with the fabric, then sperm shaped leather that has been die cut is placed with the ends tucked into the holes. It is then glued and hand-stitched to keep it firmly in place. The work on the circle vest is extremely intricate and features small leather circles which are placed in clusters and secured with rivets. The garment is then finished with organza trims. It can be worn as it is or can be styled with a shirt or jacket.
Bangle Shirt
The bangle shirt was created with an idea to give an illusion that the wearer is wearing a bunch of bangles with the garment. Lucky for the wearer the accessory is attached to the shirt. Rope Dori is covered with leather to create leather piping, which is then twisted and stitched along one end to create an effect of multiple bangles. This is then stitched to a ready shirt. Made in pure cotton, the shirt comes in three designs and can be made in 15 different colors. The shirt can also be extended into a shirt dress on order.
Triangle Handle Clutch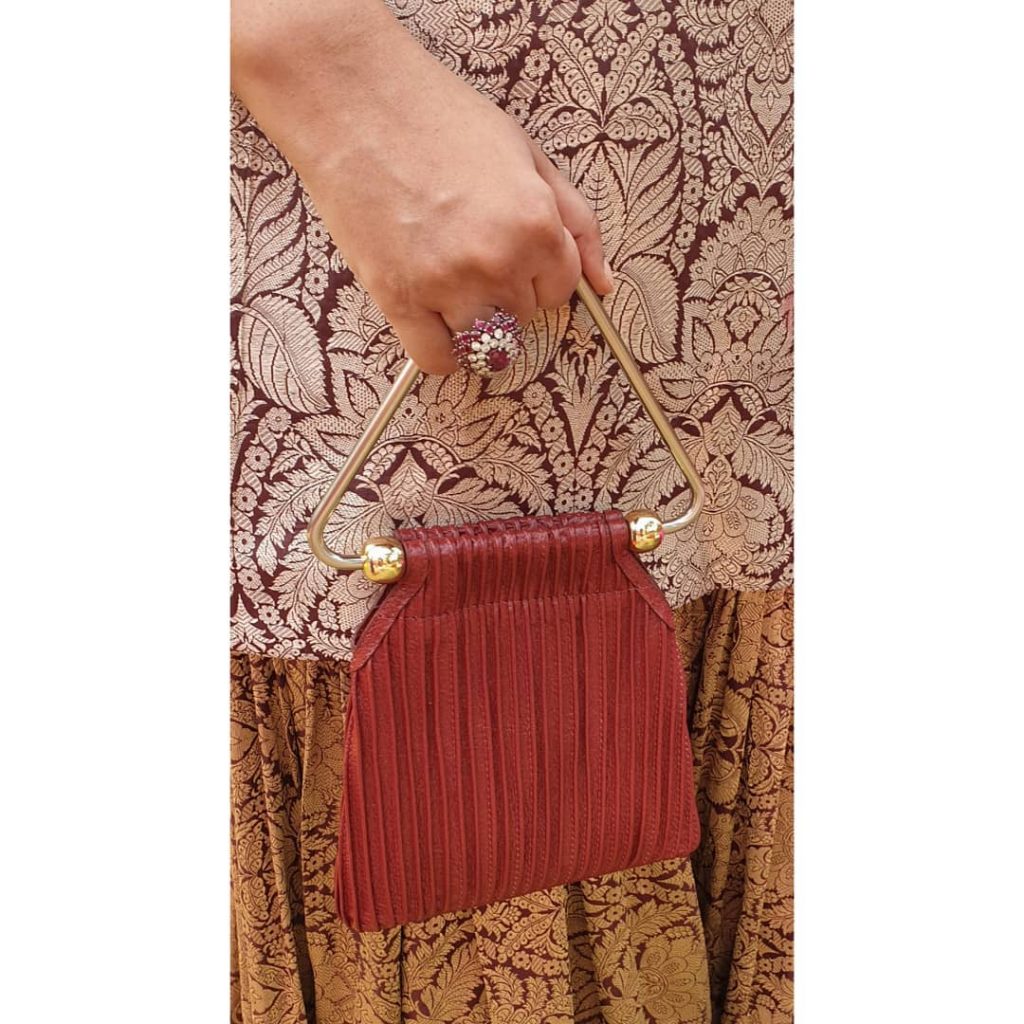 The triangle handle clutch is ideal for your phone, lipstick, keys, and cash. Available in two distinct colours including ruby red and emerald green, this clutch will go well with western as well as Indian outfits. The micro-pleating on the leather adds an interesting texture to the clutch and makes it a unique piece to own.
Check Weave long Jacket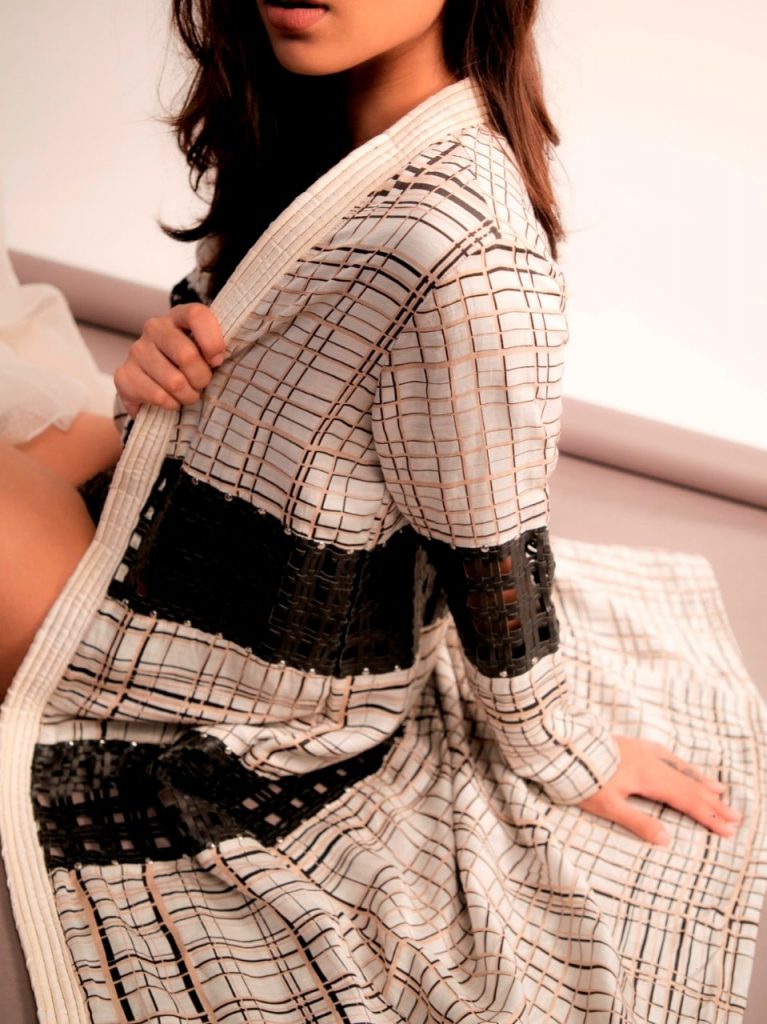 For the check weave long jacket, the label worked with a graphic design team to come up with the check print, which was a literal representation to the weave.  Also, to make a leather woven panel they needed to make a wooden frame to which the leather strips are then attached and woven. The weave is attached to the garments by tiny metal rivets. The same hardware is used in the making of bags and garments.
T-Weave Kimono Belt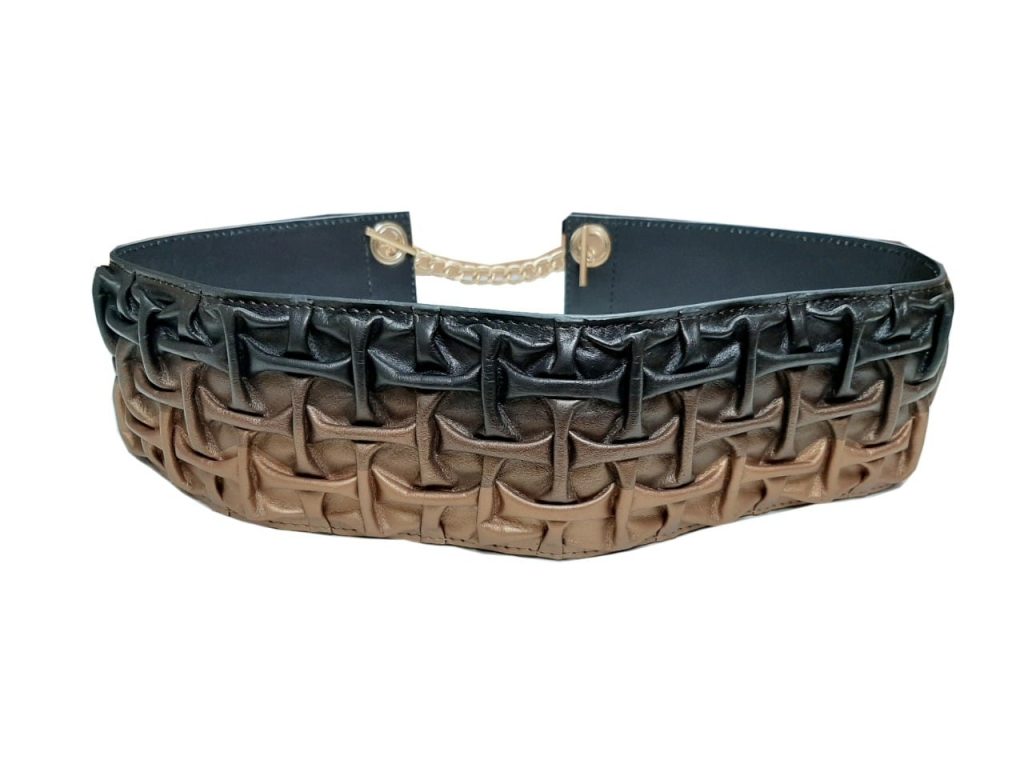 Technique plays an important role in the making of the T-weave kimono belt. The brand loves hand shading leather to give an ombre effect to their products. The leather is first, hand-shaded to get varying degrees of gold to dark brown. For this specially formulated leather, pigments are mixed and put in a spray gun. A steady and gentle hand is needed to get the shading on point. Once the leather is ready it is lacquered to prevent colour bleeding. The leather is then hand-stitched to create this T-weave pattern. An ideal accessory to go with the label's ensembles, you can try it on a simple white shirt or jumpsuit.
Crochet high-low Jacket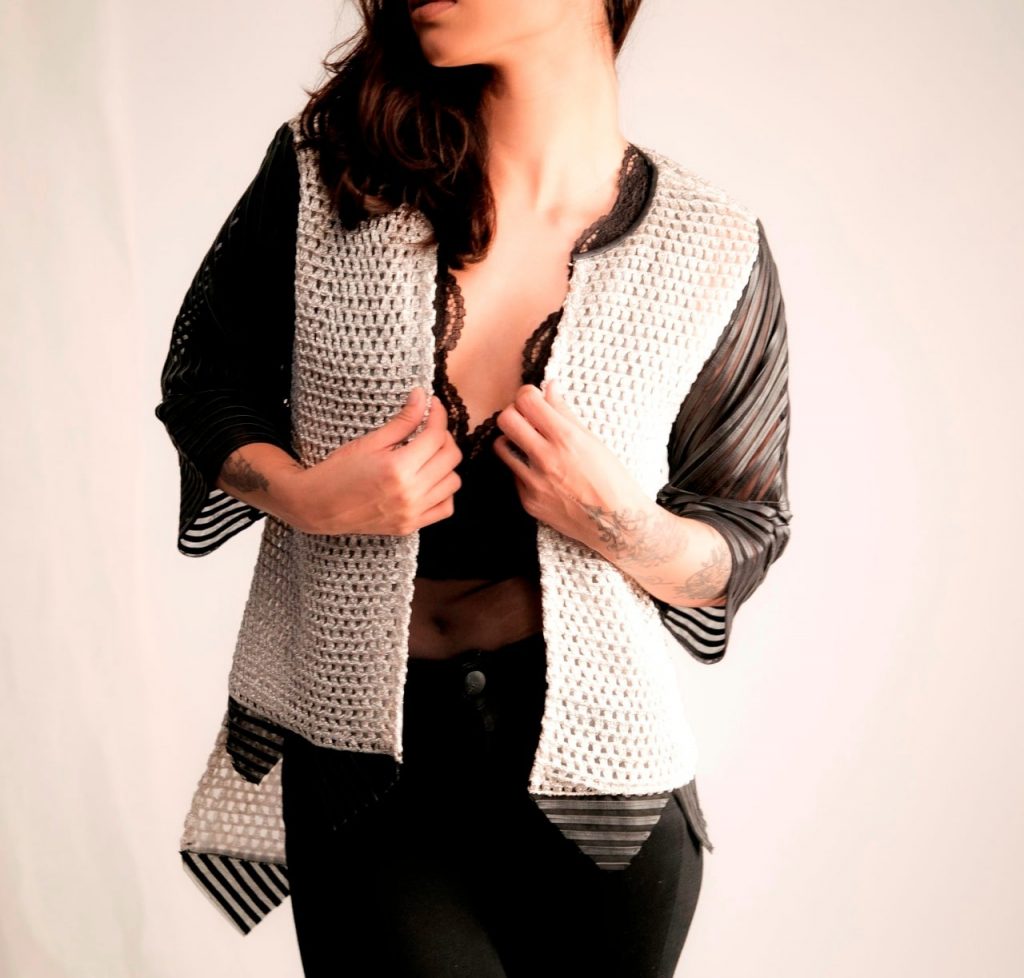 Giving leather jackets a creative twist is this crochet high–low jacket.  A stunning overlay of crocheted lace and leather, this jacket can be worn with a bustier, over a top, jumpsuit, dress or even act as a substitute to a sari blouse.