This National Stress Awareness month, as we aim to identify stressors and reduce them in our lives, it's time to give our skin its long overdue break.
Your skin reflects your internal health, as it is the largest organ and very metabolically active. You may notice that after a really stressful day, you wake up with a pimple. This is because stress releases cortisol, a hormone that primes your body to fight-or-flight. This is at the expense of your immune system's ability to defend and heal, while driving inflammation.
While it is impossible to not feel stressed out with everything being crucial and urgent in our fast paced lives, one can follow practices that help counter this constant pressure. A de-stressing routine need not be complicated, it can be as simple as indulging in some skincare to help soothe and calm your inflamed skin. Let SUGAR Cosmetics' extensive skincare range to assist you in this journey to find Zen.
SUGAR Citrus Got Real Cooling Stick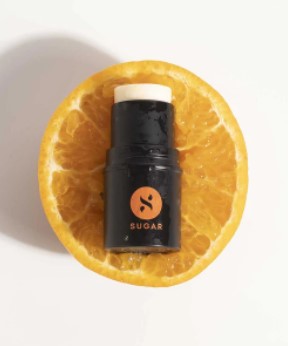 On days when you can't stop hitting the snooze button and need a skin hangover remedy, this energizing formula induces moisture, glow and instantly plumps up skin. Glow on the go with the super refreshing SUGAR Citrus Got Real Cooling Stick. Infused with the goodness of vitamin-C rich orange peel oil, glycerine and castor oil, this multi-use stick cools skin, de-puffs and hydrates dull, tired and lackluster complexion. This intensely nourishing formula calms dry, irritated skin and the zesty citrus scent leaves you feeling super energized, refreshed and gives a taste of summer sunshine! A hero ingredient in the Citrus Got Real skincare range, orange peel oil is known for its incredible skin brightening properties and helps combat acne, dark spots and hyperpigmentation leaving skin brighter, glossy and even.
Priced at Rs. 399
SUGAR Aquaholic Water Boost Mask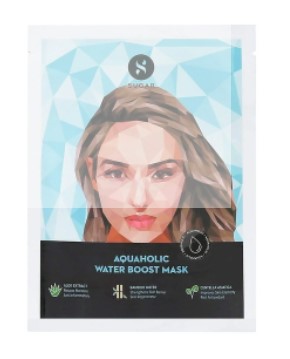 Deep hydrate your skin with this Aquaholic water boost mask which retains moisture, smoothens & replumps skin. It also maintains a positive oil-moisture balance and is perfect for keeping your skin healthy & radiant. The SUGAR Aquaholic Water Boost Mask contains inorganic nutrients to boost hydration. Birch juice and aloe retain skin moisture and possess anti-fungal, anti-microbial and anti-bacterial properties.
Priced at Rs. 149
SUGAR Power Clay Mask Stick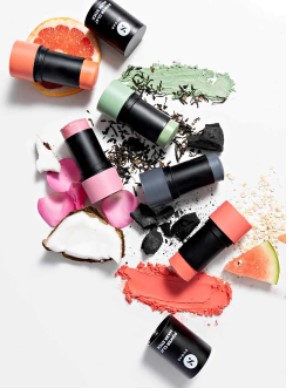 Say goodbye to skin dullness, open pores, oiliness, sun tan, dry skin and experience supple, smooth and baby-soft skin with these 100% cruelty-free and vegan clay stick masks. The SUGAR Power Clay Stick Masks tackle all skin concerns like a PRO! Formulated with skin detoxifying and gentle diatomaceous earth and kaolin clay blend, these solid clay masks lift away impurities, remove dead skin and make skin glow. These skin reviving clay masks are enriched with additional natural goodness of charcoal powder, watermelon fruit extracts, oat kernel oil, green tea and so much more. This new skincare BFFs are now available in 5 variants to choose from. Pick one based on your skincare needs or use them all for multi-masking!
Priced at Rs. 699
SUGAR Coffee Culture Lip Scrub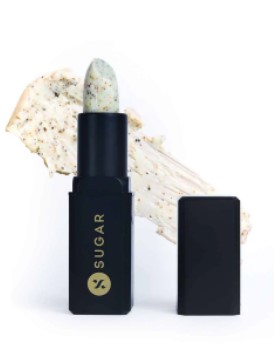 This unique lip scrub in a easy-to-use stick format is infused with tiny granules of coffee along with coffee seed oil which gently exfoliates your lips to reveal smooth, plump and hydrated lips. SUGAR Coffee Culture Lip Scrub with a creamy, wax-based formula polishes your lips, removes dryness and flakiness and leads lips extra softness and suppleness. It buffs away dead skin and lightens pigmentation, leaving you with smooth, pink lips. Expertly crafted with glycerin, olive fruit oil, jojoba seed oil and almond oil, this 100% vegetarian coffee lip scrub will leave your lips with a lasting shot of hydration!
Priced at Rs. 299
SUGAR Citrus Got Real Refreshing Mist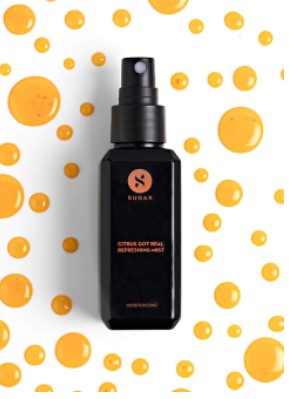 Perfect for rejuvenating skin on-the-go, one spritz of this lightweight mist delivers a burst of moisture and perks up dull, tired complexion. This vitamin C infused face mist has skin-loving ingredients like orange peel oil, purslane extracts, glycerine and castor oil which are delightfully revitalizing and nourishing for skin. A hero ingredient in the SUGAR Citrus Got Real skincare range, orange peel oil packed with powerful anti-oxidants and anti-inflammatory benefits, lightens dark spots, blemishes and promotes healthy skin. Perfect for all skin types, this power-packed face mist soothes and calms irritated skin, controls oiliness, preps skin well and keeps it fresh throughout the day. The zesty citrus scent uplifts you no matter what time and one quick spray works wonders for dull, dehydrated skin that needs your attention!
Priced at Rs. 499
About SUGAR Cosmetics (www.sugarcosmetics.com):
SUGAR Cosmetics, a cult-favourite amongst Gen Z and millennials, is one of the fastest-growing premium beauty brands in India. With its clutter-breaking persona, signature low-poly packaging and chart-topping products, SUGAR is the makeup of choice for bold, independent women who refuse to be stereotyped into roles. Crafted in state-of-the-art facilities across Germany, Italy, India, USA and Korea, the brand ships its bestselling products in Lips, Eyes, Face, Nails & Skin categories across the world. With a cruelty-free range that is high on style and higher on performance, the brand is obsessed with crafting products that are a perfect match for every Indian skin tone across seasons and around the calendar. Backed by the trust of marquee investors and the love of millions of makeup enthusiasts, SUGAR Cosmetics is rapidly scaling its physical presence with 35,000+ retail touchpoints across 500+ cities and a mission of reaching the doorstep of every makeup user in the country.