Everyone is doing their bit, be it an individual, organisation or companies, in spreading as much awareness as possible about Covid 19. Companies in their unique ways are planning campaigns or printing banners for spreading awareness.
1. Vistaprint India – As communication has become critical, Vistaprint India, an e-commerce personalised printing company which specialises in single unit customisation is offering customizable products, each designed to help small businesses share vital health and safety information with their employees and customers. As a part of this the brand has introduced COVID-19 related templates for banners, posters, signages, door hangers, stickers, standees etc with information about the virus and do's and don'ts. The company's website also has a link to the government website on the health advisory for Covid 19.
2. TradeIndia.com – In the wake of COVID-19 pandemic, TradeIndia, India's largest online B2B marketplace is offering global buyers and sellers a reliable platform to identify trustworthy business partners. The company is extensively contributing to the healthcare sector by working day and night in order to ensure a strong supply chain between the suppliers and the healthcare workforce. Also, the company has recently launched a special web page on their official website accommodating all essential medical equipment, such as N-95 masks, surgical gowns, hand sanitizers, oxygen cylinders, thermometer needles, disposable ventilator circuit, pulse oximeter, portable X-ray machines, nebulizers, hospital cots and many more. In context to the same, TradeIndia is providing a platform to the manufacturers and the suppliers to accommodate all such demands and amplify the procurement by hospitals and other medical agencies.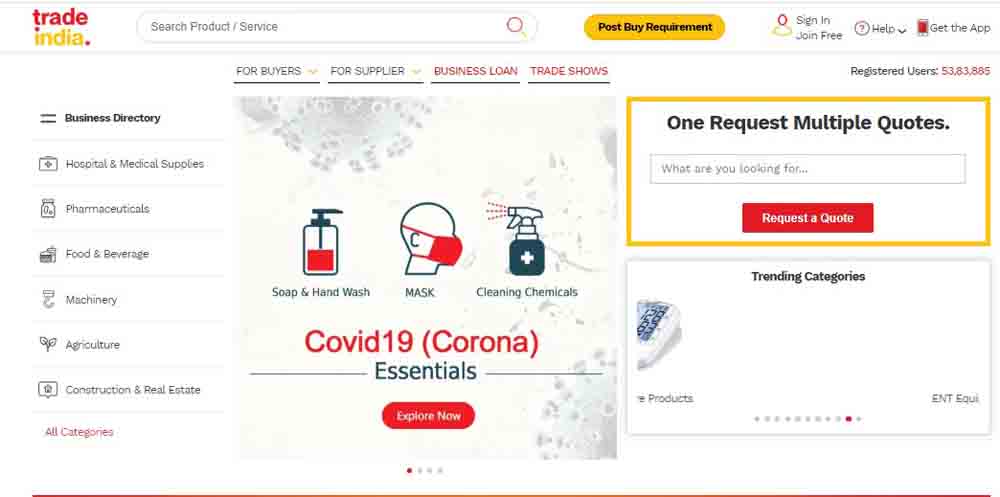 3. Brookfield Properties – Brookfield Properties has launched 'Positive Pulse, A Wellness Initiative'" to promote employee health and safety while they work from home during the lockdown. Under this month-long campaign, Brookfield Properties will be hosting a series of engagement activities, across its Commercial Real Estate portfolios, Candor TechSpace in Gurgaon, Noida and Kolkata; as well as for Powai Business District and Equinox Business Park in Mumbai.  It will be hosting two special webinars – one on Health with Dr. Shweta Fageria, MBBS – General Physician, to drive awareness around various precautionary measures to stay immune to the coronavirus and another on financial health with Ms. Monika Halan – best-selling author of "Let's Talk Money" & Consulting Editor, Mint Money, moderated by Ms. Manisha Natarajan,Head, Brand & Communications, Brookfield Properties. Cooking sessions with celebrity chef Abhishek Gupta of The Leela Palace Hotel Resorts. As well as a virtual skill-based CSR volunteering and rap/jingle contest, thus giving them a reason to stay healthy and entertained, and adding value and balance to the work-life of professionals even when they are away from their workplace.
4. Burgeon Law- India's leading boutique law firm Burgeon Law is on a mission to guide the distressed stakeholders of the startup sector, including promoters and entrepreneurs. It is proactively guiding promoters on the legalities of managing the uncertainty and extension of the runway in order to tackle various issues rising up with the lock-down and its impact on India's start-up ecosystem whereas many startup founders are consulting Burgeon Law to understand legalities associated with the force majeure. Startup ecosystem is quintessential to India's economy and Burgeon Law is contributing to reduce the negative impact of COVID-19 on this sector.
5. OZiva – India's first clean label plant based nutrition brand, OZiva is creating relevant content during the time of COVID on their website and social media to reach out to as many people as possible. They have started a series called 'Stress Mat Karona' because immunity to an extent is also related to stress and with the current situation people are stressed. They wanted to create something where they could bring a little joy to people, help them take a break and pause and share the lighter moments during quarantine. They have introduced a 21 days home workout challenge because workout is a great way to release the stress.
6. AgriBazaar –  To encourage social distancing and work from home benefits, the platform AgriBazaar platform has waived off its fee for both buyers and farmers to trade online on the platform. This has seen an increase in the number of farmers who feel safe while finding buyers in the app from the safety of their homes. Since the Government is discouraging people to crowd in local mandis, various state governments like Madhya Pradesh is also promoting the AgriBazaar app among its licensed buyers so that they can maintain social distancing and use it as an e-mandi. In line with the same, the platform also provides various vehicles like pick up trucks and jeeps to local civil administration for spraying and sanitation efforts against Covid19 in city municipal areas.