March is Women's History Month, and there are a number of ways to honor and celebrate women throughout Philadelphia in ways that are weaved into the very fabric of this historic city through several museum exhibitions, murals honoring influential women, special events, and more, including several ways to savor the menus at women-owned restaurants around the city.
Celebrate Women Throughout History At The Betsy Ross House:
The former home of Betsy Ross – believed to have sewn the first American flag – is dedicated to telling the stories of women. The Betsy Ross House in Old City is hosting a series of programs throughout March recounting the contributions of women in early America. On March 21 and 28, "meet" two suffragists, Alice Paul and Frances Harper, and from March 25-27, take part in an after-hours Tipsy History event, hosted in partnership with Art in the Age and featuring interesting insights from Betsy Ross herself. For more information and to plan a visit to the Betsy Ross House, click here.
Visit Exhibitions Honoring Women In Local Museums:
Several local museums have exhibitions on view featuring work by women artists and profiling key moments throughout Women's History in the United States. The National Constitution Center's The 19th Amendment: How Women Won the Vote recounts the women's suffrage movement and the ratification of the 19th Amendment with nearly 100 artifacts throughout the 3,000 square foot gallery. Nearby, the Museum of the American Revolution shares the little-known story of the time period between 1776 and 1807 when women (and free people of color) could legally vote in New Jersey, and what led to that right ultimately being lost, in the When Women Lost the Vote: A Revolutionary Story exhibit (also available to explore online). At the Pennsylvania Academy of the Fine Arts, Taking Space: Contemporary Women Artists and the Politics of Scale features works by over 30 artists, focusing on space, size, and repetition in the artworks and how these characteristics can be interpreted as political gestures.
Other exhibitions include the temporary Women of Change, Women of Protest at the Liberty Bell Center and Raising Their Voices for Women's Suffrage at the Independence Visitor Center, as well as virtual exhibits from The Rosenbach and Brandywine River Museum of Art. For more exhibits on view now, click here.
Tune Into An Online Program Honoring Ruth Bader Ginsburg Through Opera:
Opera Philadelphia has teamed up with the National Museum of American Jewish History (NMAJH) to present a special program honoring late Supreme Court justice Ruth Bader Ginsburg on what would have been her 88 birthday. The influential justice was an avid opera fan, and on 15 March the two Philadelphia institutions will present several of her favorite opera arias, including "Hai già vinta la causa" from Mozart's Le nozze di Figaro and "To this we've come" from Menotti's The Consul, performed in the NMAJH's Dell Theater and streamed online via Facebook, Zoom, and other services. The event is free, though an $18 donation is encouraged. To learn more, click here.
Celebrate The Women Of The Penn Museum With Virtual Events:
On March 20, the Penn Museum will host special virtual tours highlighting untold stories of women throughout history, as well as the contributions of women archaeologists and anthropologists. The two-hour tour travels through the museum's recently renovated gallery spaces to discover women featured throughout the collection, such as Queen Puabi of Ur in the museum's Middle East gallery, as well as artifacts excavated by women. The Penn Museum is also encouraging participants to support local women-owned businesses by purchasing to-go food or drinks to enjoy during the event. For more information and for a full calendar of events, click here.
Dine (And Drink) At Women-Owned Restaurants, Bars, And Breweries:
Philadelphia's culinary scene is bursting with women-owned and women-led eateries, and many are currently open for take-out, delivery, and even on-site dining. One such option includes Bridget Foy's along South Street, recently reopened with a new dining room, bar, menu, and more following a devastating 2017 fire. Rittenhouse-area options include El Merkury, specializing in Central American street food, Ellen Yin's a.kitchen and Aimee Olexy's The Love. In South Philadelphia, seek out the acclaimed Kalaya near the Italian Market or Essen Bakery and River Twice in Passyunk Square. Don't miss the Argentine menu of Jezabel's Café in West Philadelphia. For beer, check out woman-owned Triple Bottom Brewing or Love City Brewing in the nearby Spring Arts District, and for wine, consider a stop at Jet Wine Bar along South Street. To learn more about the vendors at the historic Reading Terminal Market, schedule a tour with woman-owned Taste of Philly Food Tours.
For more women-owned restaurants in Philadelphia, consult Visit Philly's list here.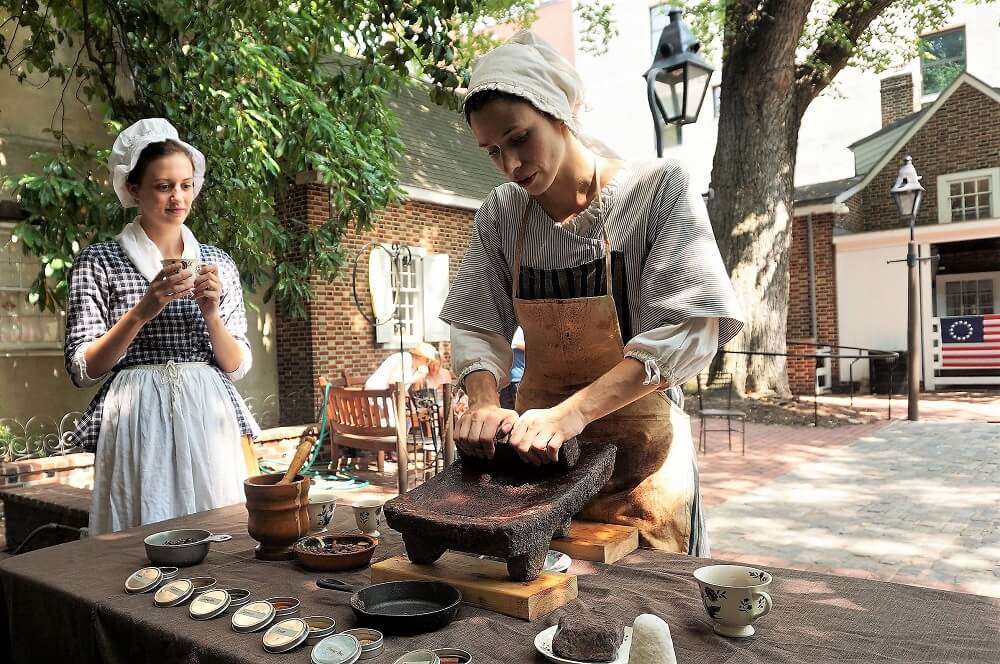 Engage With Philadelphia Women In Food Via In-Person And Virtual Events:
A new alliance, Philadelphia Women in Food, is comprised of women restaurateurs throughout Philadelphia – including Ellen Yin, Nicole Marquis, Jen Carroll, Bridget Foy, Jezabel Careaga, and others – who collaborate on local events including pop-up food fairs, discussions, and more. The group also participates in the Sisterly Love Food Fair, which pops up at different Philadelphia locations each weekend, such as the Headhouse Farmers Market, and features items from women-owned restaurants, bakeries, and more. In March, look for the food fair in Northern Liberties (March 13), Bridget Foy's (March 20), and Cherry Street Pier (March 27). For a full list of upcoming Philadelphia Women in Food events, click here.
Shop From Women-Owned Boutiques, Shops, And Businesses:
Philadelphia is home to an impressive collection of women-owned businesses, including many boutiques and storefronts worth supporting during Women's History Month (and beyond!). Shop fashion-forward, tax-free styles at Joan Shepp along Chestnut Street near Rittenhouse. Browse quirky gifts, home goods, and more at Open House or shop jewelry and accessories its sister shop, Verde – both found along 13th Street in the Gayborhood and owned by local entrepreneurs Marcie Turney and Valerie Safron. Aspiring chefs can stock up on quality kitchen utensils in the historic Italian Market at Fante's Kitchen Shop. Philadelphia Independents in Old City sells Philadelphia-themed, locally made items, such as pillows, candles, cards, and more. For even more gifts and home essentials, visit Occasionette along East Passyunk Avenue in South Philadelphia or The Little Apple along Main Street in Manayunk.
Explore Murals Honoring Or Created By Women:
Philadelphia is home to over 4,000 murals, many by women artists or honoring influential women throughout history. On the side of the New Century Guild building — once home to one of the nation's oldest and most prominent women's empowerment organizations and the future home of upcoming Guild House Hotel — and part of the Mural Mile, Women of Progress serves as a tribute to unnamed and under acknowledged women in history. Philadelphia-born singer, songwriter and Godmother of Soul, Patti LaBelle, is honored with a large mural in West Philadelphia. At 1415 Christian Street in South Philadelphia, Peace is a Haiku Song honors poet and activist, Sonia Sanchez, and includes a haiku written by Maya Angelou. For more murals honoring women, click here.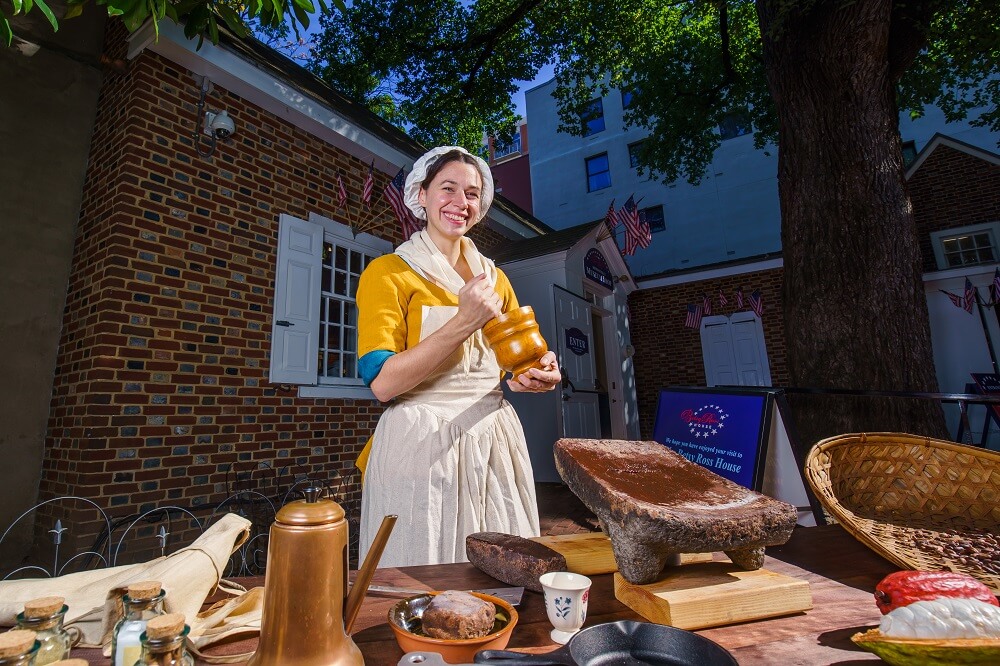 There are also plenty of artworks created by women on display in Philadelphia, including Philadelphia Muses by Meg Saligman, Convergence by Rebecca Rutstein, Untitled by Amy Sherald, and Folding the Prism by creative duo Jessie and Katey, to name a few. Each Thursday in March, Mural Arts Philadelphia will spotlight a different woman artist with work in Philadelphia via Instagram Live.