Vijender Singh believes in the power of dreaming new dreams every day and following them.
"I want to grasp every opportunity that comes my way. If somebody asks me tomorrow if I want to go to the moon, I will say yes, I would love that."- Vijender Singh.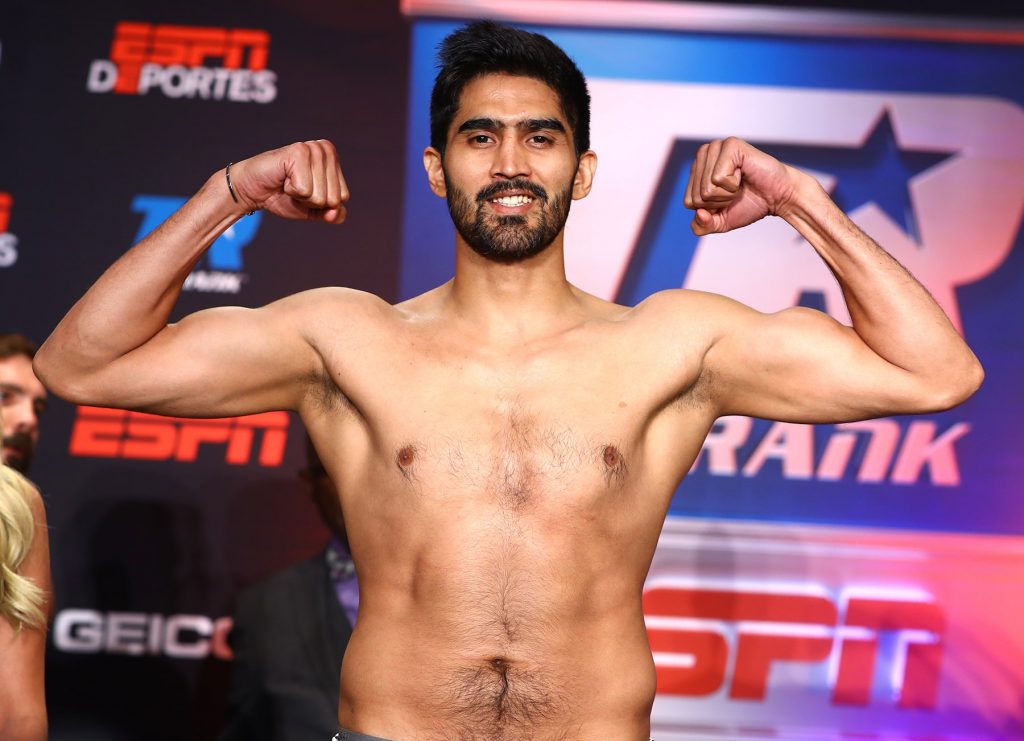 Vijender Singh, is one of those rare names from the sports industry that we all can associate with not only boxing but even with modeling and TV. This name has garnished many viewers across the country and continues to charm us with his handsome physique and breathtaking smile.
He started his career at an early age and as an amateur won bronze medals at 2008 Beijing Olympics, 2009 World Championships and 2010 Commonwealth games. The star boxer holds silver medals from 2006 and 2014 Commonwealth Games. He turned professional in 2015 and never looked back.
Taking his chances in Boxing to modeling to politics, Vijender Singh believes in grasping every opportunity that comes his way and has become an inspiration for many.
 1.You started boxing at an early age, how will you say your journey has been till now?
That's a long story because I belong to a small village which is 10 km away from Bhiwani town. I started in 98-99, but my first dream was to get a government job with the help of boxing. Although, when you enter the sport then you get to know that there is a level that you have to cross, like first go for the district level then you go for State level then National, International, then so many other competitive games like Olympics and Asian Games, which then make you start dreaming about them. The journey is slow but in between there will be many things that will happen, exactly how they happened during my journey, I got a job and got ample experience. It was a long journey and I can't describe it in words.
2.What was your inspiration to keep driving forward?
I think my dreams kept motivating me, I don't like to be idle. Everyone says that you should have an aim but I think you should not have only one aim, it should not be like that is my biggest aim, no, you have to dream new dreams every day and try to fulfill them. First time when I became a National Champion, I said I have to become an International boxer now, then I went to Germany and said I don't want to follow everyone else's path, I have to make my own way, then, hence my dreams kept motivating me to do more  And there is no shortcut, you have to work hard every day and be focused but never stop.
3.From boxing you took an interest in modeling and then politics, what made you take that leap?
I have always believed that we get this life only once and during this journey, sometimes you will win and sometimes you will lose, there is nothing bad about it. I don't belong to any political family, or a Bollywood star family; I belonged to a lower middle class family from a small town in Haryana and my grandfather was in the Army. My dad taught me that whenever you get any opportunity to create your own way, whether it's in politics, whether it's in Bollywood, modeling or a TV show, just do it. And why not. You never know what can happen tomorrow, or if you will ever get that chance again, and I don't want to become old with regrets. I want to grasp every opportunity that comes my way. If somebody asks me tomorrow if I want to go to the moon, I will say yes, I would love that.
4.What is your daily training schedule during the lockdown?
During this lockdown, sometimes I feel bored, sometimes I feel frustrated but we have to be at home and that's how it's going to be for everyone. There are many people who think it's nothing but they should understand the risks and be safe at home and take care of their family and spend time with them. Nowadays, I sleep and rest a lot, my life has taken a back rest and I do things according to my pace, I get up late and then do breakfast, have lunch and then do my training, in fact after you interview I will go for a home training session. I like to play video games and love watching movies.
5.What are your future plans?
My future plan is to get back into the ring and I hope that I will be okay, because my promoter is from the USA and we all currently know the situation there, so, I don't know when I will get the boxing card and when I will be able to enter the next fight now. See, it's going to be hard for everyone because the economy is really bad and a lot of people are getting laid off while everyone is going towards the digital formats. So, the next one or two years are going to be difficult for everyone, it is going to take time for all of us to recover from this pandemic.
6.Which is that fight you will always remember and why?
My 2003 fight was in Bengaluru against the National Champion Hari Krishna, he is one of the great boxers from India. I was a junior and participated in a senior national for the first time and I beat him and got the 'Best Boxer Award' from India. That was my first amazing fight and after that I never looked back.
7.What is that one ritual you always follow before entering a ring?
I always believe that everything will be okay and before entering, I always thank God and pay my respects.
8.Apart from training do you follow any diet?
Not at all. I love to cook and I try new recipes and spend my time playing video games.
9.If Vijender Singh was not a boxer, what would he be?
Because I am tall and fit, I think I would have ended up as an army soldier. Even my brother was in the army, but then he left.
10.Any advice for a boxing enthusiast?
Just start playing sports, don't think that it's boxing, cricket, football, or anything else. Every sport has money if you are on the top; so be a part of any sport and just work hard.