The festival of Raksha bandhan is around the corner and surely all the brothers and sisters out there are wondering how to make it extra special. Bold Outline brings you some exclusive gifting ideas, plus a special recipe to mark the auspicious occasion.
Bespoke Watches
India's first bespoke watch company – Jaipur Watch Company, has a range of exclusively handcrafted watches to offer. For any real luxury connoisseur, watch is the ideal collectible. Here are some to choose from
Ruby Ganesha Watch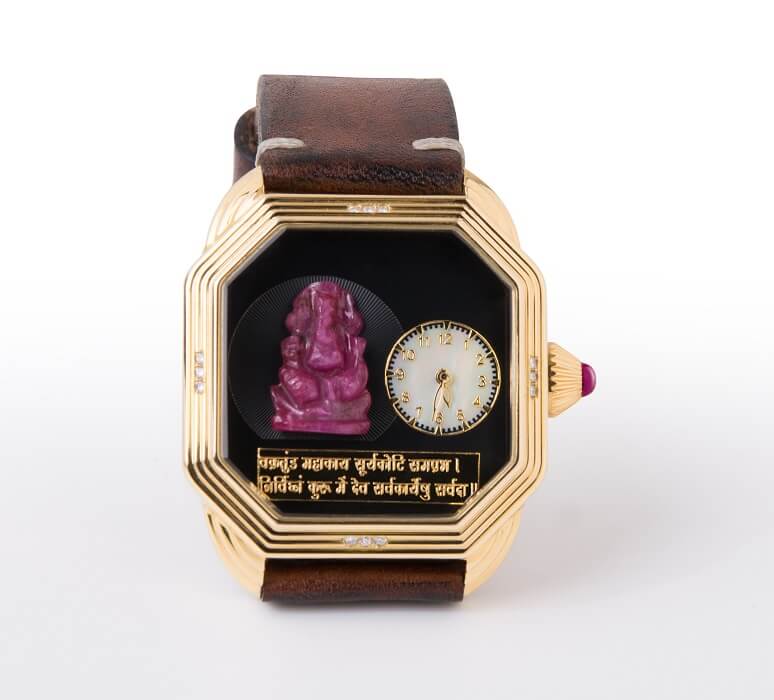 This is a unique shaped 18-carat gold bespoke watch. A solid ruby stone was hand carved over a period of 2 weeks to create the divine Ganesha figurine. The watch runs on a small automatic movement from the house of Seiko and the bezel has VVS1 Diamonds to give the timepiece an exquisite look. A ruby stone up on the crown adds to the appeal. The dial is mother of pearl and the strap is handcrafted.
Yuga Watch
This is meant for the watch aficionado who loves the technical "openwork" artistry that goes into skeleton watchmaking. This 18-carat gold watch is studded with 110 VVS 1 diamonds and 125 hand-picked sapphire stones all over the case. Housing an automatic movement with day-night complications, the watch is fitted with a handmade leather strap.
Liberty Watch
With 1 oz of pure U.S. Silver and a beautiful patriotic design, the Silver American Eagle has become the most popular bullion coin in the United States. This coin was sliced into two parts; the eagle side becoming the face of the watch and the Lady Liberty side embossed on the back to create this masterpiece. The case is made out of white gold. A beautifully textured white gold dial is visible once the case is opened. In order to see the time, a window has been cut on the coin without damaging the coin. A hand-made strap gives the watch a very unique look.
Make a Difference with Fabriano
The Fabriano boutique will surprise you with its unique offering on all things stationery.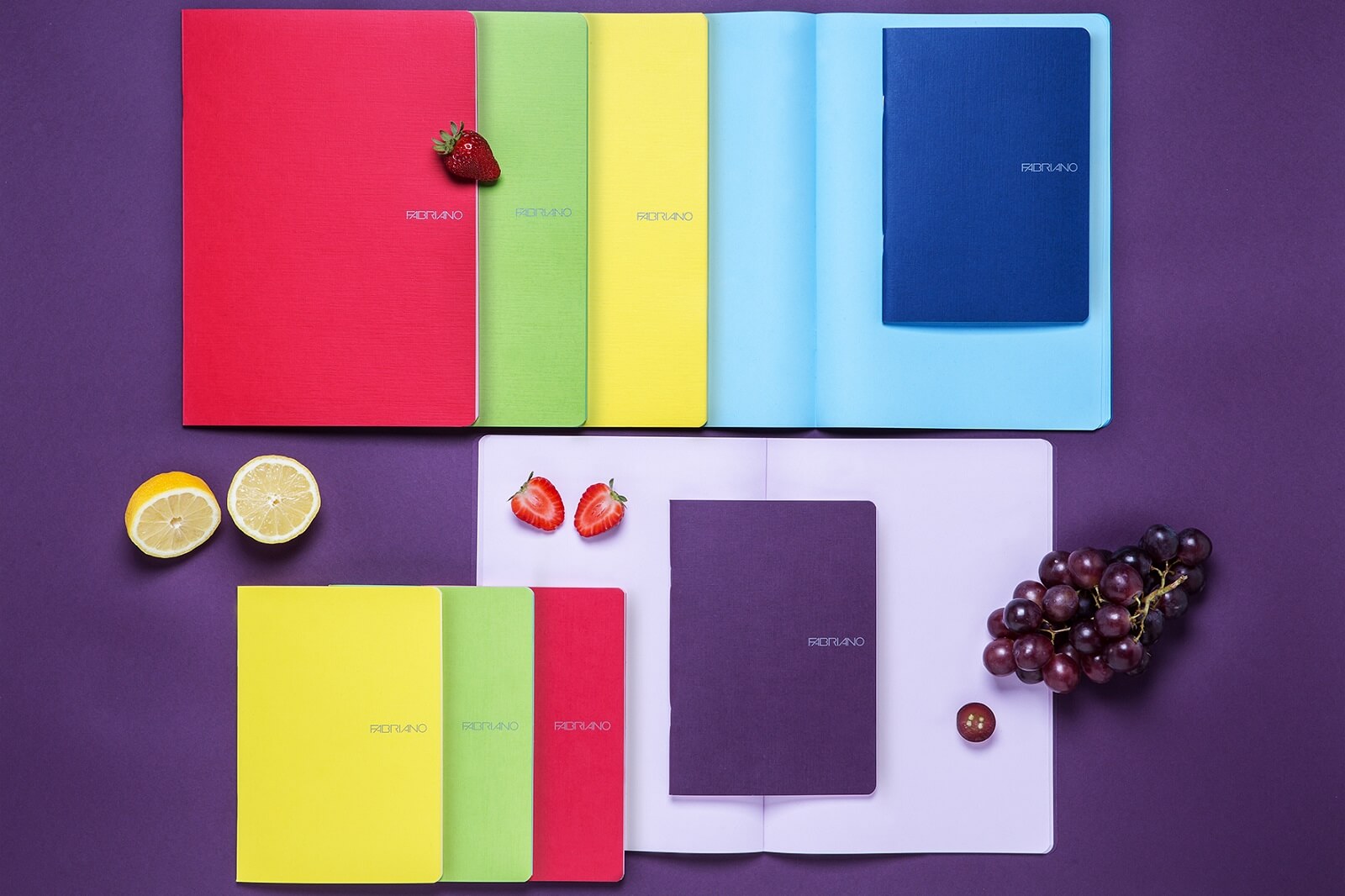 The PortaBlocco in A5 and A4 size comes in various colourways. It also has a refillable diary, notepad, construction Pencil and a key-chain.
If you like leather, Bluette is Fabriano's answer. Available in 7 different colours with various options, it has travel wallet, login and password keeper, passport wallet, Alexa credit card holder, Dr Light laptop bag with compartments. What's more, everything is handmade in Italy.
The Hetre Collection comes in various colour-ways and includes a photo album, notepad, diary, refillable diary, and mini wish notebooks.
The Hetre Collection in various colour-ways. Photo Album, notepad, diary, refillable diary, mini wish notebooks.
The Summer 2018 Collection is environment friendly and uses ecological materials. This exquisite collection is available in different colours with various options—pen and pencil roll, notebooks and diaries, colour pencils in linen roll, sketch pencil, mini wish notebook, egg shaped sharpener, etc, all handmade in Italy.
Another environment friendly option from Fabriano is the EcoQua Colore Collection. It is made of environmentally friendly 80 g/m² Copy Tinta paper, produced with 100% ECF cellulose pulp, is FSC certified from forests and managed in accordance with strict environmental standards. Once again, handmade in Italy.
Check out Ellement Co.'s easy gifting options to make this your most memorable Raksha Bandhan yet
These quirky coffee or tea mugs by Ellement Co., accessorized with offbeat quotes like 'more life, less rush', 'yasss' and 'y tho' will definitely put a smile of your sibling's face. If she/he is not a coffee or tea person, no need to fret. How about being their cheerleader by helping them plan the day with Ellement Co.'s daily planners? Still not sure? For your sibling's discerning taste, find a winner with the label's slogan sweatshirts. There is one for all types.
Say it with Sweets
Celebrate Rakshabandhan with these dessert recipes. Stomach is the way to anyone's heart, we believe. Here are some delectable recipes Chef Swasti Aggarwal, Food Strategist, Foodhall India, to impress your brother on Rakshabandhan. Who cares about the shop-bought sweets anyway, right?.
Coconut Laddoos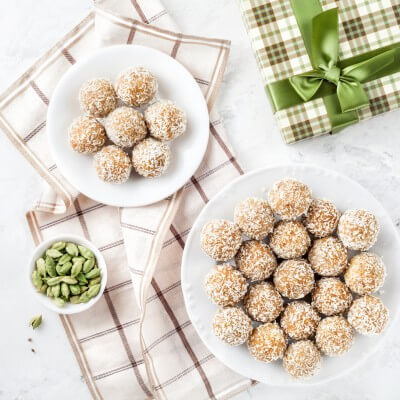 Cook Time: 1hr 5 minutes
Serves: 2-3 people
INGREDIENTS
1 cup fresh coconut (grated)
1 ½ cup milk
½ cup sugar
¼ tsp cardamom powder
1 tsp ghee
Desiccated coconut for garnish
METHOD
In a pan, heat ghee and sauté coconut for ½ a minute.
Add milk and stir until the milk thickens. This should take about 15 minutes.
Add sugar and cardamom powder to this and continue to cook.
Once the mixture firms up in around 30-40 minutes, remove from fire and allow it to cool.
Make small balls out of it and roll it into the desiccated coconut. Chill and serve.
Basundi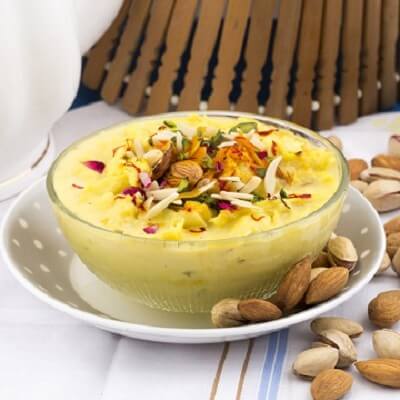 Cook Time: 35 minutes
Serves: 3-4 people
INGREDIENTS
1 litre milk
50g sugar
¼ tsp saffron
1 tsp chironji (charoli seeds)
1 tsp almonds (slivers)
1 tsp pistachio (slivers)
2 tsp cardamom powder
METHOD
Boil the milk on slow heat till it condenses to 1/3rd.
Add sugar, saffron, cardamom powder, and dry fruits. Let it cool and then refrigerate. Serve chilled.
In association with London-based chef and food writer, Hari Ghotra, Fodhall also brings you a delectable fusion dessert—this mouth-watering Pistachio Praline Parfait—that you can whip in just 10 minutes!
Pistachio Praline Parfait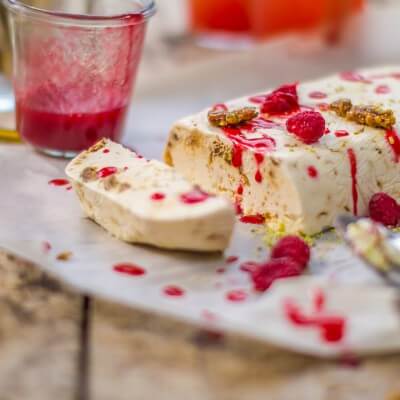 Cook Time: 10 minutes
Serves: 6 people
INGREDIENTS
For the pistachio praline:
100g castor sugar
55g unsalted pistachios
Baking parchment
Vegetable oil for greasing
For the parfait:
2 large free-range eggs, separated
50g castor sugar
Half a vanilla pod
200ml double cream
For the raspberry sauce:
100g sugar
200g raspberries
1tbsp lemon juice
(All ingredients are available at Foodhall stores)
METHOD
For the Pistachio Praline
Grease a sheet of baking parchment and put it on a tray. Crush the pistachios in a pestle and mortar – you want this lumpy not as a fine powder.
Heat a little of the sugar on gentle heat in a pan, once it melts add a little more and move the pan around to help it melt. Do not use a spoon to stir it. Continue until all the sugar has melted and it turns a lovely brown caramel colour.
Add the pistachios and pour out onto the baking parchment. Don't worry if it's not all smooth you will be smashing it up once it has set. Please be aware this is very hot and sticky, so don't touch it.
Once it has cooled and set hard, smash it into chunks by placing it in a bag and smashing it with a rolling pin.
For the Parfait …
Line a 450g loaf tin with a double layer of cling film, leaving a bit of it to overhang. Put the egg yolks, 50g castor sugar and the seeds from the vanilla pod in a large bowl, then whisk with an electric mixer or a balloon whisk until thick and pale.
In another bowl whip the cream to soft peaks and fold it gently into the egg yolk mixture using a balloon whisk. Whisk the egg whites in another bowl with clean beaters or a clean balloon whisk until very stiff, then gently fold them through the creamy yolk mixture with the whisk.
Gently fold through the broken pistachio praline, pour it into the tin and cover lightly with the overhanging cling film and freeze for around 8 hours.
When ready to serve, remove the parfait from the freezer and leave to soften for a few minutes. Unwrap the cling film on top and use it to lift the parfait from the tin.
Invert onto a serving platter, then peel off the cling film. Dip a palette knife in a mug of just-boiled water to warm it, wipe it dry and use the flat of the knife to smooth away the marks from the cling film
Leave for 10 minutes to soften, then slice.
Serve scattered with fresh raspberries, extra pistachios, and the raspberry sauce.
For the raspberry sauce
Put the 100g sugar in a saucepan with a splash of water and heat very gently until the sugar has dissolved.
Bring the mixture up to the boil and bubble for 5-10 minutes until it has reduced and become syrupy.
Stir in the raspberries and cook for a few minutes until the berries have almost completely broken down.
Add a squeeze of lemon juice. Remove the pan from the heat, then push the raspberry syrup through a sieve into a mixing bowl (discard the seeds). Set aside to cool completely.