Birla scion, daughter of Kumarmangalam and Neerja Birla, Ananya Birla is a power-packed personality, no less! She made waves when she floated the initiative MPower, as a means to support mental health in India and eliminate the stigma associated with it. She also promotes women empowerment through offering micro loans to women in the Indian countryside to grow their businesses. No wonder, she boasts of being featured on Miss Vogue's list of '28 Geniuses Under 28', among other accolades.
Another of Ananya's true calling is music. It all started when at the tender age of nine, she began learning to play the musical instrument, Santoor. Secretly, the little girl would write her own music. But, when she began playing her music on the live scene in London, she knew she was meant to pursue a career in music.
Her instincts paid off and led to a string of popular numbers. In 2016, when Universal Music Group India heard the song, 'I Don't Wanna Love', written, sung and produced by the talented girl, without any hesitation, they signed her up. That was just the beginning! Since then, her three singles,'Livin' The Life', 'Meant To Be' and 'Hold On' have clocked over 33 million views and 15 million audio streams, a rare occurrence for English songs in India.
Music aficionados would remember the Global Citizen Concert in Mumbai, where musical greats like Cold Play and Jay Z performed. Ananya performed her debut international single 'Livin' The Life',on the same stage. Meanwhile, it was produced by none other than Jim Beanz, who has also worked with Nelly Furtado, Demi Lovato, Britney Spears, Whitney Houston, and Timbaland. Not to mention, the single reached #11 on the Shazam 'India TOP100' Chart!
Proficient in playing the guitar, piano and of course the Santoor, this bold and beautiful girl, who shuttles between London, LA and Mumbai, was in for a stroke of luck when her number, 'Livin' The Life' was spotted by Dutch DJ Afrojack. He went on to officially remix the track, which was later released on Universal Music Group's global dance imprint, PM:AM Recordings. With this, Ananya Birla became the first Indian artiste to be released on PM:AM, putting her in the company of greats like Tiesto, Alesso, Jonas Blue, Afrojack and others, who have been on its roster.
Now, Ananya is working with teams across the globe to develop an EP/album. She is concentrating on building her audience in India while persevering to hone her talent to be recognized as an artiste with a purpose – globally.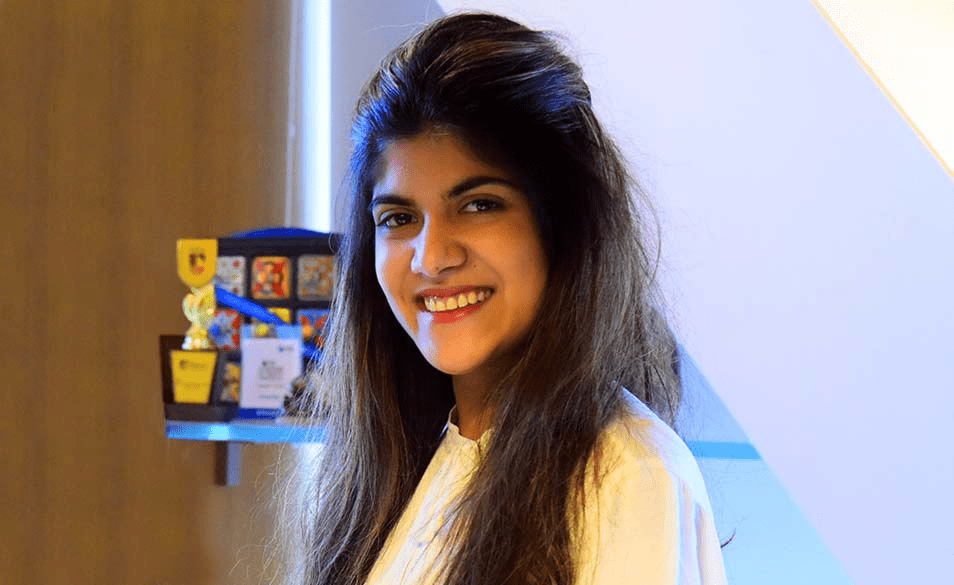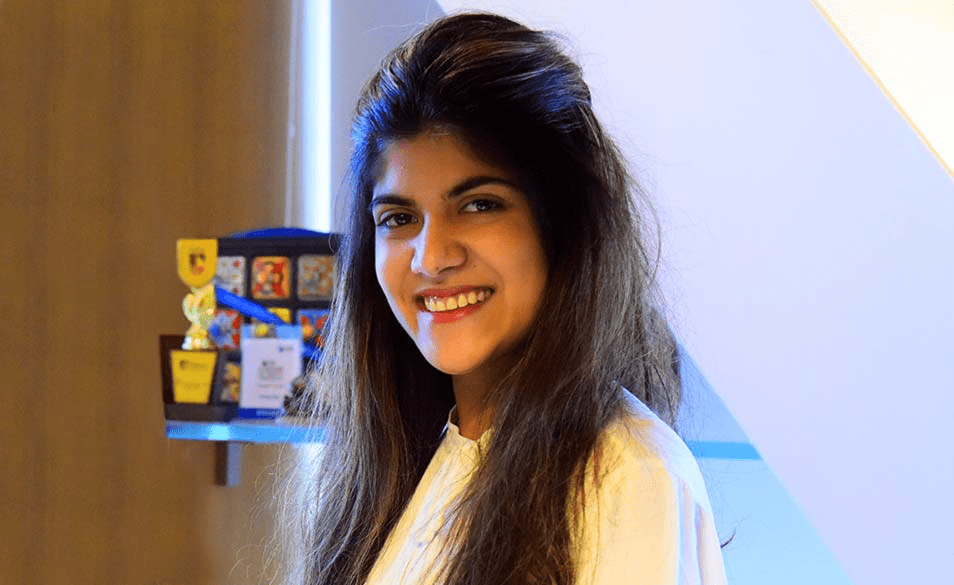 Apart from all the above, Ananya Birla is a self-confessed fashion fiend, with a style that is bold and eclectic yet laid back and effortlessly cool. She spoke to Bold Outline about her style sensibilities…
How would you define your personal style?
Laid back, sometimes grungy, often driven by my mood. Whatever I'm wearing, it's always an authentic reflection of how I feel. That means, sometimes I'll go glamorous, and other times, I'm totally chilled and just feel like kicking-back in jeans and a tee.
Style Vs Comfort. What will you choose?
 Comfort, always. I love my oversized hoodies and sneakers!
Who would you say has influenced your style?
My close friends are the people that have influenced my personal style the most. They are very down-to-earth and accepting, which encourages me to dress in the clothes that make me feel happy and comfortable, rather than dressing to impress or conform.
What will make for a perfect rock star look?
I would go with a grunge style – distressed denim, a loose checked shirt and un-done, messy hair.
Your favourite day time and evening look?
For the daytime, I'll usually be wearing torn boyfriend-fit jeans with a white tee and sneakers. For evenings, I go for a short dress with a loose jacket slung over my shoulders and some heeled open-toe boots.
What is that one piece in your wardrobe that you could refer to as 'timeless' in fashion?
A watch that my mom gave me. It's timeless because it has a lot of sentimental value and it looks good with anything, day or eveningwear. I don't like to pile jewellery on, I prefer a couple of simple pieces.
A fashion fetish you have…
Denim. I'll never get bored of jeans.
One current trend in clothes and accessories you love and one you hate?
Hate: Frills. It just feels weird on me.
Love: Athleisure. I travel so much with my music, so I love clothes that keep me comfortable.
How do you like to play with colours in your style?
I tend to stick with neutral, earthy colours -nude, black and moss green. They are easy to mix and match, versatile and work all year round and in different climates and seasons. Also, it's easier to wear something a bit experimental in a neutral colour because that immediately makes an outfit look a little bit subtler.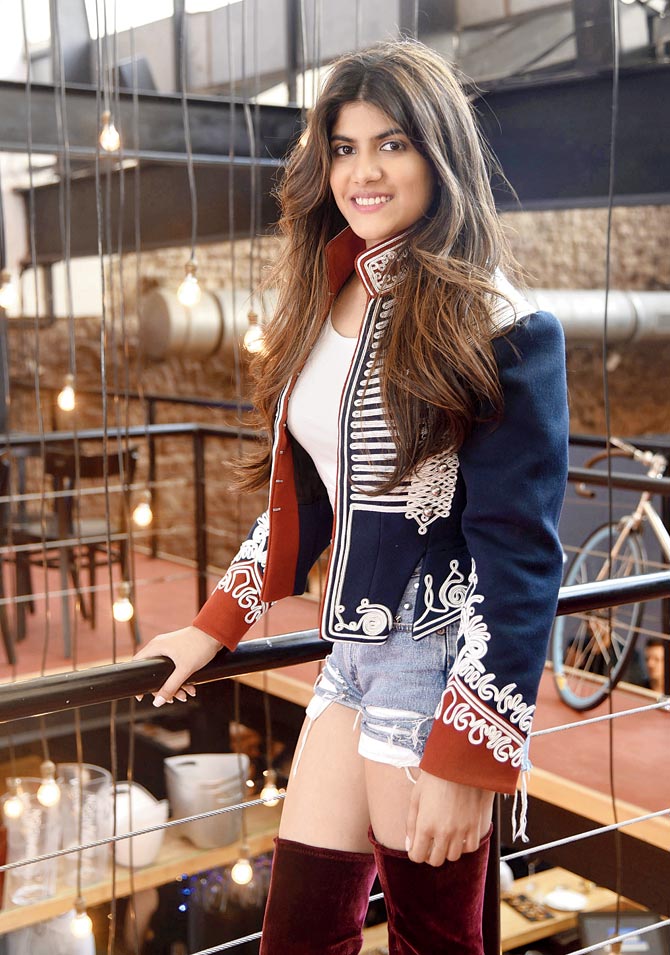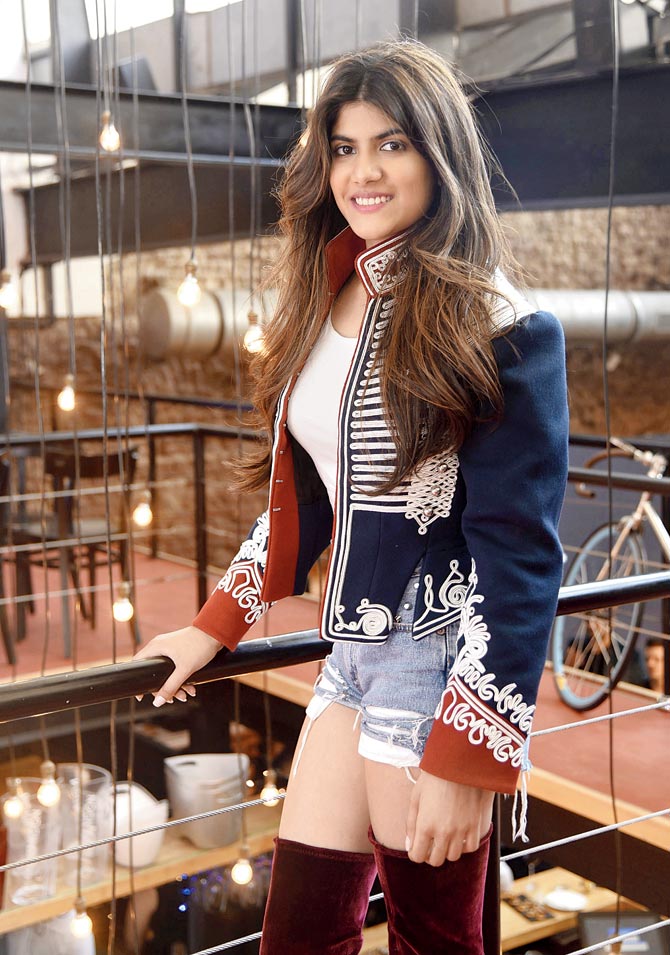 What would you wear to a wedding?
It depends on the location of the wedding, but usually I'd go for a mid-length dress and some heels. I like to be comfortable wherever I am, even a wedding! Also, lehengas that itch my skin are a definite no for me.
Do you experiment with risqué styles?
Occasionally, a friend will style me for an event and push me to wear something outside my comfort zone. Sometimes, for a photoshoot or performance, I'll wear something a bit more bold than usual, but I try to keep it classy and fun. I experimented a bit when we were shooting the artwork for my new single Circles – I fell in love with a sequin-covered red dress and it ended up being the cover image.
Who is your style icon?
Cara Delevigne. She dresses for herself, not other people. And,in spite of her glamorous lifestyle and fashion credentials, she usually just looks laid-back and effortlessly cool.
A designer you would choose for your personal wardrobe.
ADIDAS, YSL or Alexander Wang. 
Are you brand conscious?
In general, I'm not very brand conscious and I don't make a habit of following trends. I appreciate amazing clothes and the creativity that went into creating them. 
What do you think are the five must-haves in a girl's wardrobe?
LBD, a hoody, a t-shirt you love, a cool and comfy pair of jeans, heels. What more do you need? 
What is your favourite shopping destination in India and abroad?
In London, I go to Selfridges and Topshop. In NYC, I hit Dover Street Market for inspiration and a dose of creativity. When I'm working in LA, I try to go to the Grove, it's a really pleasant experience – like shopping on a movie set – and they have high-end and high-street options. 
Your favourite Indian and international designers.
I performed at the Amoh by Jade show at Lakme Fashion Week which was so much fun and introduced me to a lot more Indian designers. In terms of international brands, I like Acne, a bit of Gucci, and I love to experiment with new brands like Vetements.
What is in your immediate wish list?
Some Yeezy heeled boots – maybe, I'll treat myself if my new single goes platinum!