The second instalment to the sell-out collaboration, Manolo Blahnik for BIRKENSTOCK issues a new collection of boundary-pushing icons. The ultra-modern sensibility of the Arizona and the Boston are once again included in this collection, comprising of four new styles reinterpreted through Manolo Blahnik's absolute and archetypal flair. The second drop introduces a newly designed style Rodra delivering eye-catching new editions in polka dot and PVC. Presenting their most striking designs to date, the new styles in the Manolo Blahnik for BIRKENSTOCK collection will be available in India exclusively on www.birkenstock.in/1774 from June 23rd.

THE COLLECTION
Rodra polka dot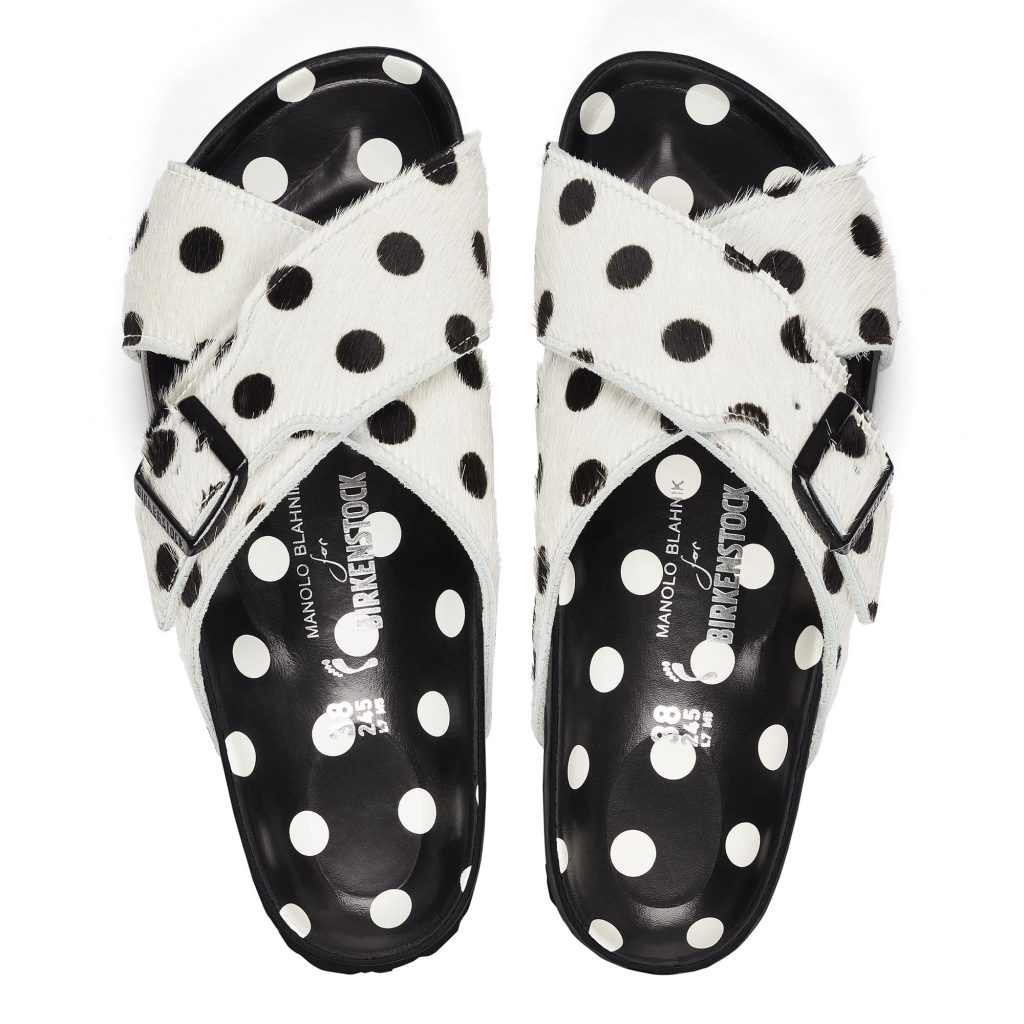 The Rodra sandal in all-over polka dot is a new style created for BIRKENSTOCK by Manolo Blahnik, reflecting the playful attitude of the house. An elegant cross between the creativity of both brands, and a nod to the robust function of BIRKENSTOCK's footbeds, the Rodra elevates the sandal for a new era.
Boston polka dot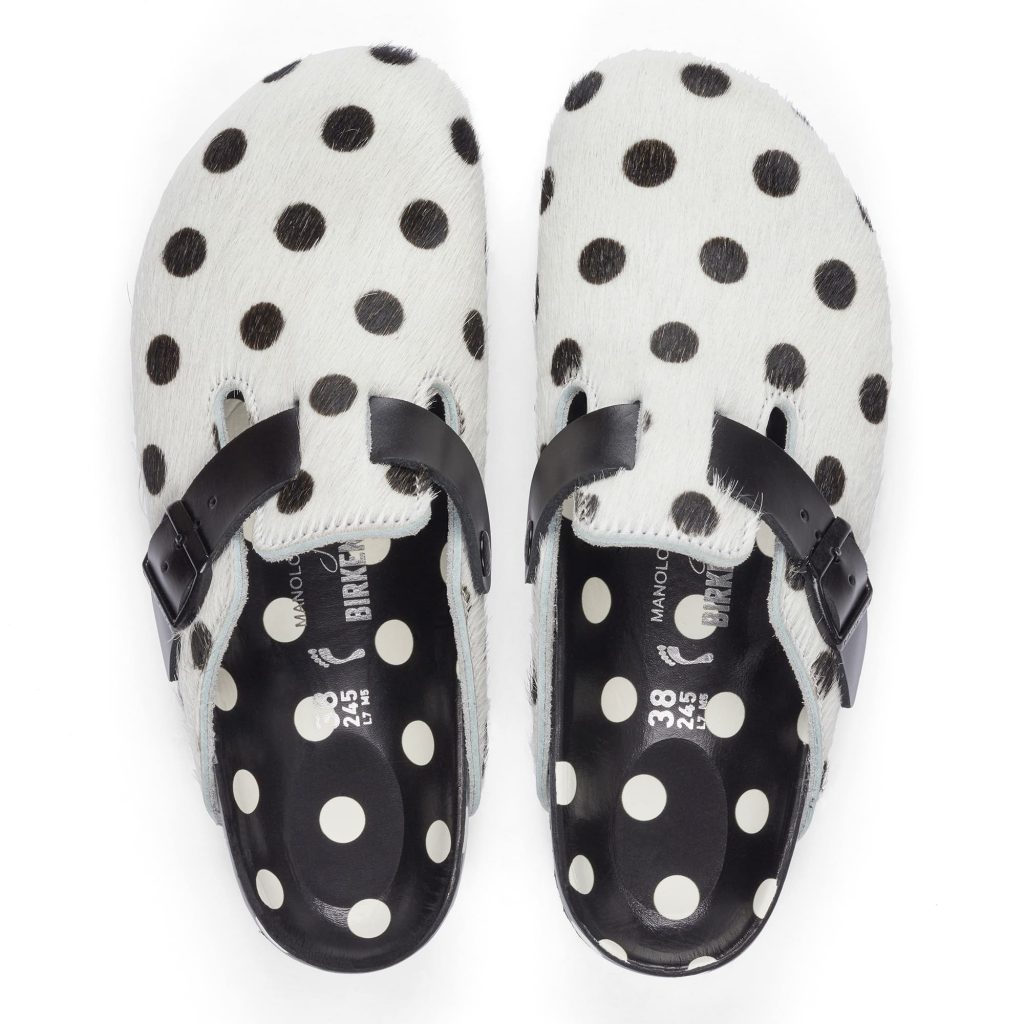 Manolo Blahnik makes a bold statement with the polka dot print adorning calf hair Boston styles. This timeless polka dot is a signature of the collaboration and has featured across many of Blahnik's past collections. The round-toed Boston slide has legendary status now amplified by the all-out ostentation of this new print.
Arizona pvc black & pvc white
The iconic PVC style of celebrated shoemaker Manolo Blahnik harks back to his classic 1970 designs, embodying a lightness in a structural and tactile sense. Now, Manolo Blahnik combines his transparent designs with a see-through spin on the Birkenstock Arizona sandal, arriving in two black and white PVC styles.
The collection launches globally on 23rd June and will be available in India exclusively on www.birkenstock.in/1774.
ABOUT BIRKENSTOCK –
BIRKENSTOCK is a global lifestyle brand with a heritage in iconic footwear, rooted in the creation of the BIRKENSTOCK footbed. The brand that can be traced as far as 1774 is guided by the notion of quality and function in all its actions and across all categories. The concept of all-round wellbeing is developed into footwear, sleeping systems and natural cosmetics, increasingly translating the lifestyle vision of the brand heritage.
With around 5,500 employees worldwide, this traditional, sixth-generation family-run business is also one of the German footwear industry's biggest employers. BIRKENSTOCK was already using the term "footbed" in the 1910s, giving it the meaning, which is commonly understood by consumers all over the world to this day – as a synonym for outstanding comfort when walking and standing. By the early 1970s, BIRKENSTOCK had become
a global player. Since 2021, the company is majority owned by L Catterton, the world's largest growth investor focused on the consumer goods industry, and Financière Agache, a holding company controlled by Agache, the holding company of the Arnault family.
Manufactured in Germany, the sandals are sold in more than 100 countries on all continents. BIRKENSTOCK also has a growing range of closed shoes, children's shoes, and occupational footwear, as well as specialist products for orthopedic retailers, socks, bags, and belts. In 2017, BIRKENSTOCK added sleep systems and natural cosmetics (BIRKENSTOCK NATURAL SKIN CARE) to its portfolio of products. BIRKENSTOCK has 16 sites in Germany, in the states of North Rhine-Westphalia, Rhineland-Palatinate, Hesse, Bavaria, and Saxony. The long-standing enterprise also operates its own sales offices in the United States and Canada as well as in Brazil, China, Hong Kong, Japan, Denmark, Poland, Switzerland, Spain, the United Kingdom, France, Norway, Dubai and India.
ABOUT MANOLO BLAHNIK –
With a career spanning 50 years, Manolo Blahnik is one of the world's most influential footwear designers. His shoes have spellbound an international set of adoring and loyal devotees across the globe. Blahnik is a craftsman.
Throughout the years Blahnik's achievements have been recognised by various bodies in many countries, most recently by the Couture Council of America and the independent luxury body Walpole, which awarded Manolo Blahnik with the 'Luxury Legend' award. Most prestigiously, Blahnik was awarded an Honorary Commander of the Most Excellent Order of the British Empire (CBE) by Her Majesty the Queen. He has also published numerous books, the latest being 'The Art of Shoes' with Rizzoli in 2017. Along with a leading women's line which includes evening and day bags, the brand also has a successful men's collection.
Manolo Blahnik is distributed in 303 doors globally with points of sale in 31 countries encompassing Europe, North America, Asia and Australia, and operates its own global ecommerce platform, manoloblahnik.com .The brand has 21 standalone boutiques including two recent openings in New York, a pop up in East Hampton and a flagship boutique in Manhattan located on the iconic Madison Avenue.
In 2019 Manolo Blahnik acquired its own atelier and production facility, located in Vigevano, Pavia, Italy.
In 2021 Manolo Blahnik celebrated its 50th Anniversary with the launch of The Manolo Blahnik Archives: 'A New Way of Walking'; an interactive virtual exhibition exploring the breadth of the house's archives and the constant innovation within, www.thearchives.manoloblahnik.com.
Manolo Blahnik is a committed partner of both the Mental Health Foundation and Wild at Heart Foundation, two charities with incredibly important causes that Kristina Blahnik and Manolo Blahnik are proud to support both personally and professionally.
@birkenstock1774
www.birkenstock.in/1774