By Prasanta Kumar Bhuian, Sr. Sous Chef, The Galaxy Club, Brigade Hospitality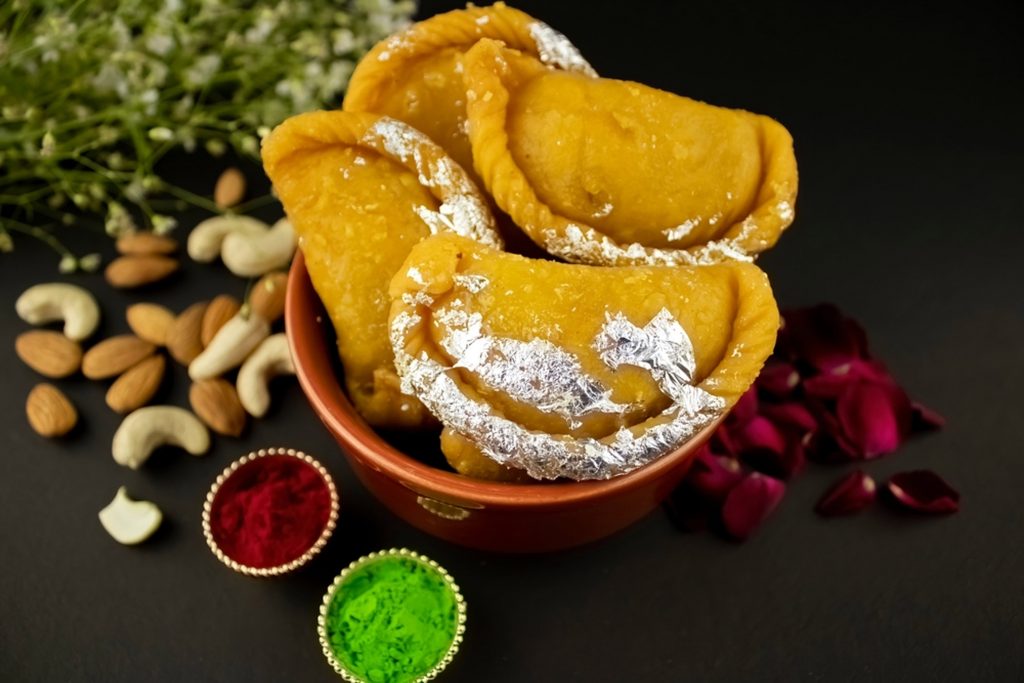 A sweet, colourful treat of assorted dried fruit baked to melt in your mouth.
For Dough
1 cup whole wheat flour – 120 grams
1 cup all-purpose flour – 125 grams
¼ teaspoon salt
⅓ to ½ cup water or add as required
2 tablespoons Ghee
For Sweet Stuffing
1 cup Khoya (Crumbled or Grated)
½ tablespoon Ghee
10 almonds (diced)
10 cashew nuts (diced)
½ tablespoon raisins (chopped)
⅓ cup powdered sugar (Sieved to avoid lumps)
½ teaspoon green cardamom powder.
Instructions
Gujia Dough
In a bowl, add all-purpose flour, whole wheat flour and salt.
Combine melted ghee with the flour until it forms a coarse mixture. Add small amounts of water and knead the flour into a firm and tight dough. Cover with a moist cloth and set aside for 30 minutes.
Sweet Stuffing
Chop dried fruits and set aside.
Melt ghee in a pan on a low heat, add the crumbled Khoya.
Stir on a low heat and cook till the Khoya begins to form a lumpy texture.
witch off the heat and allow it to cool at room temperature.
Once cooled, add powdered sugar, nuts, raisins, and cardamom powder
Mix well and set aside. Taste and add sugar if required.
Assembling and Shaping
Divide the dough into small balls and cover with a moist cloth.
Dust the rolling board lightly with some flour, roll each ball to make small circles.
With your fingertip or a pastry brush, apply a little water around the edges of the circle.
Place about 1 to 1.5 tablespoon of the filling in the middle and carefully, bring both the edges together and gently press them to seal well.
Trim the extra edges.
Baking Gujiya
Preheat the oven to 200° Celsius and brush oil or melted ghee evenly on the gujiya.
Place them in a baking tray.
Bake the mawa gujiya for 20 to 30 minutes at 200 degrees Celsius, until they are golden.
Allow it to cool and serve.