Raipur-based Azure Interiors is known for creating spaces that thrive on an emotional connect with the people who use them. The designer duo behind Azure, Rashi Bothra and Ruchi Gehani, has unveiled a collection of family lounges that blends elegant contemporary details and luxurious comfort.
As spaces where families bond over quality time together, lounge areas must speak for their shared interest and personality, and offer comfortable seating. Ditto with these lounges presented by Azure. They depict a range of themes based on the client's requirement – a serene space with a geometric play, a chic environment with European flavour, and a bright space with hints of glamour.
While trying to keep the design minimal as per the client's wishes, the designers create a space that comes alive with lots of textures and subtle geometric play with a Ravish Vohra center table truly taking centre stage. The vertical patterns of the feature wall behind the TV unit are highlighted with metal strips to add a touch of glimmer. The raw silk wallpaper keeps things subdued, so does the luscious Hands' carpet with its muted shade, while a painting from Suniyata Khanna's collection adds a spot of brightness.
A bright space with a hint of glamour, this lounge perfectly meets the client's requirement for a slightly flamboyant environment. The designers have thoughtfully introduced an artwork that looks like a continuation of the carpet with matching colours, pattern and a touch of gold. The bright colour sofa sets off the classic beige marble flooring, while Staturiao marble forms an elegant backdrop for the TV unit. The chandelier adds a bold feature to the space.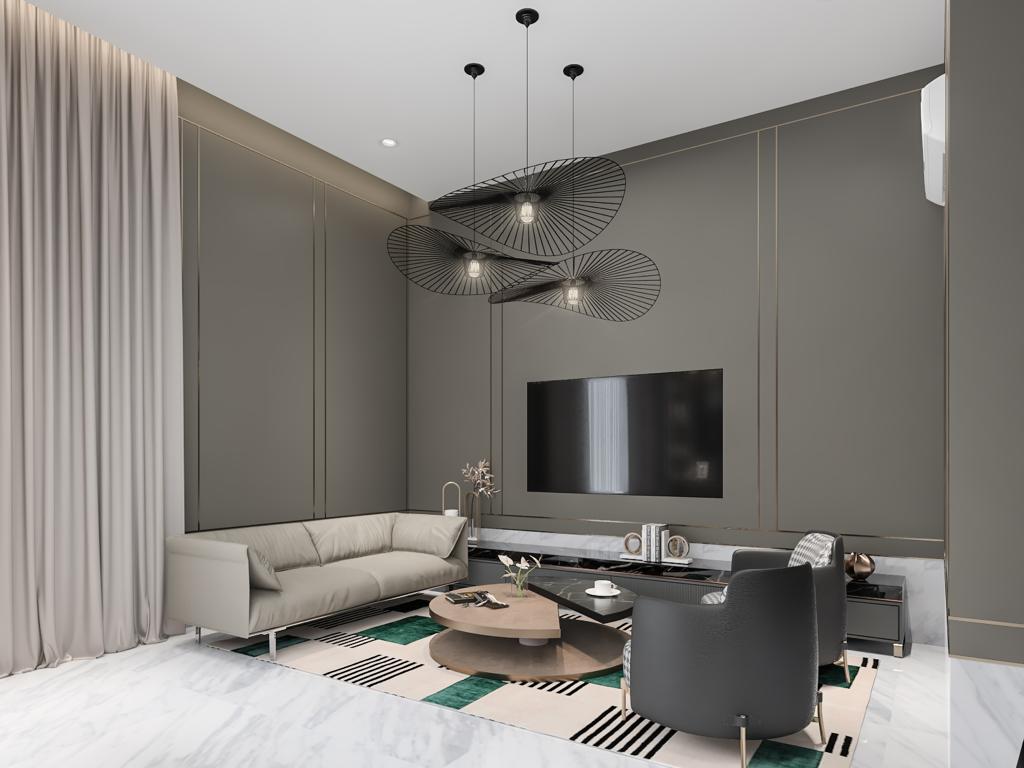 A chic grey palette, clean lines and subtle details give this lounge area its distinctive European flavour. Leatherette wall paneling with metal strips creates a sophisticated backdrop to the room. The TV unit is also made of the same leatherette, with a St. Laurent top. The flooring is Staturiao. The carpet infuses the space with brightness and some graphic elements. A statement light offers stark contrast. The sofa and armchairs are also done up in leather, while the metal and marble center table is rotatable.
About Azure Interiors
Azure Interiors is a leading interior and decor solutions company based in Raipur, helping people discover the nuances of bespoke decor. Azure was founded in 2013, by two friends – Rashi Bothra and Ruchi Gehani – professionally trained in interior design to bring a more personal experience to home design and styling. Having been in the industry for more than seven years, Rashi Bothra and Ruchi Gehani offer tailor-made solutions to clients to suit their personal taste and lifestyle. To add a more authentic flavour to their luxury projects, they have now begun to offer custom-made furniture solutions that boast a superlative standard. While their forte is luxury residential projects, the company has also taken up massive projects like Clark Hotels, Zeqon (luxury in land), Hello Bastar and many more concept retail stores. From just conceptualizing a space to key turn-around projects to consultations, they offer a range of bespoke interior solutions to their patrons. Their work exhibits unique aesthetic values, technical expertise and luxe quality, and fits the individual budget parameters.
Website: https://azureinteriors.zapplocal.com/