• PM Modi encouraged me to focus only on creating social impact with my music, said, 3 times Grammy winner and composer Ricky Kej
• Society has transformed in many ways which has brought a change in the film industry, said versatile actor and director Revathy.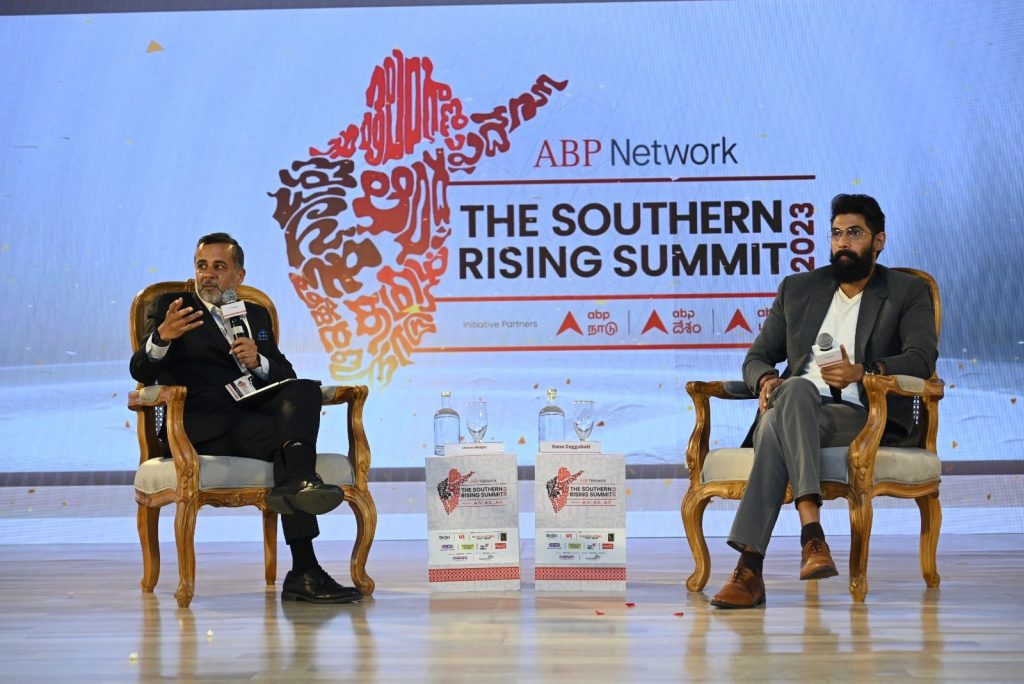 AI will disrupt everyone's lives. You will see interactive cinema getting personalized on devices through OTT, said actor Rana Daggubati at ABP Network's The Southern Rising Summit. He was speaking during a session titled 'So Many Cinemas: Celebrating India's Diversity.' The event also witnessed the presence of popular actor and director Revathy, and music composer, environmentalist and 3 times Grammy Award Winner Ricky Kej who shared their thoughts on various aspects during the Summit.
Speaking about tech enhancements such as the shift from film to digital and various facets of the filmmaking and entertainment industry, he said,
"Artificial Intelligence will disrupt everyone's lives like the Internet was very quickly applicable to us. The entertainment industry picks up tech at a very early stage. But at least in our lifetime, it is humans who will run the AI, and not AI that will run our world. You will start to see interactive cinema, and it will start to get personalized on devices through OTT. OTT is already changing the entertainment industry landscape."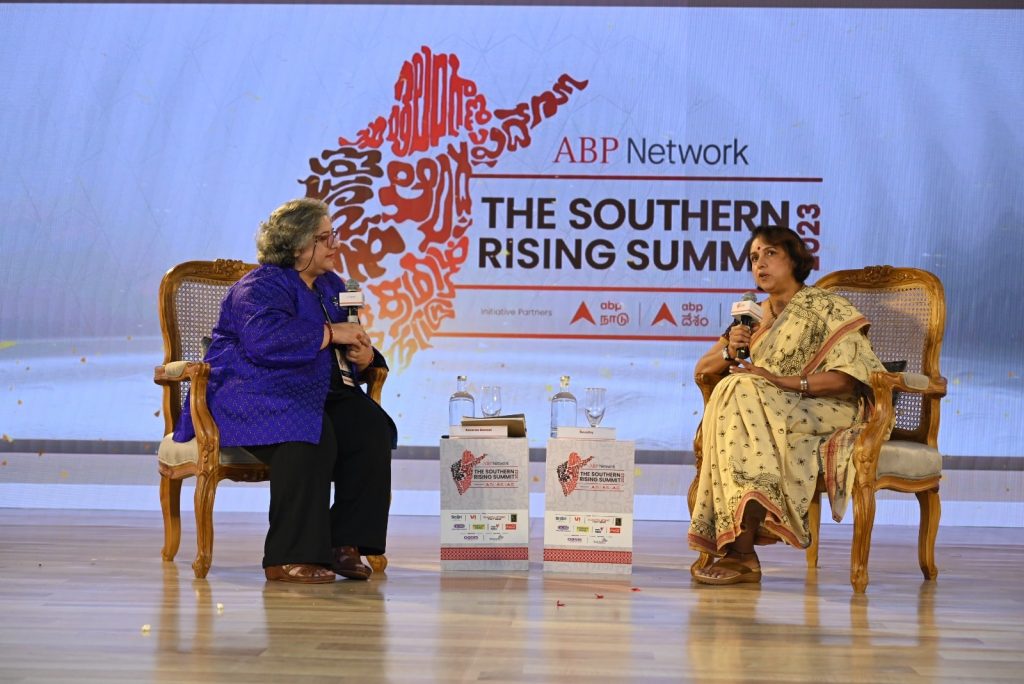 Speaking on the upcoming elections in India, he observed "There was never a time when elections were different. You should choose a side you want to be on."
Speaking during a session titled 'India on the World Stage: Rhythm Divine', Ricky Kej, Music Composer and Environmentalist, 3 times Grammy Award Winner said," When it comes to climate change, India is making significant strides. Concern in India on climate change is much larger than anywhere in the world. The Solar Alliance initiative taken by our government is path-breaking and PM Modi's LiFE mission is a game changer. When I won a Grammy, I was invited by the Prime Minister's Office for 5 minutes meeting. PM Modi was fascinated by my passion for the environment and music, and encouraged me to focus completely on creating environmental consciousness and social impact with my music. This was really the push I needed."
He added," Today, the biggest threat humanity faces is climate change. Addressing environmental challenges is all about individual actions. We always talk about changing the world but we don't want to change ourselves. The golden question is how we can take concrete actions within our times and what difference it can make. This is what I want to share through the emotional language of music."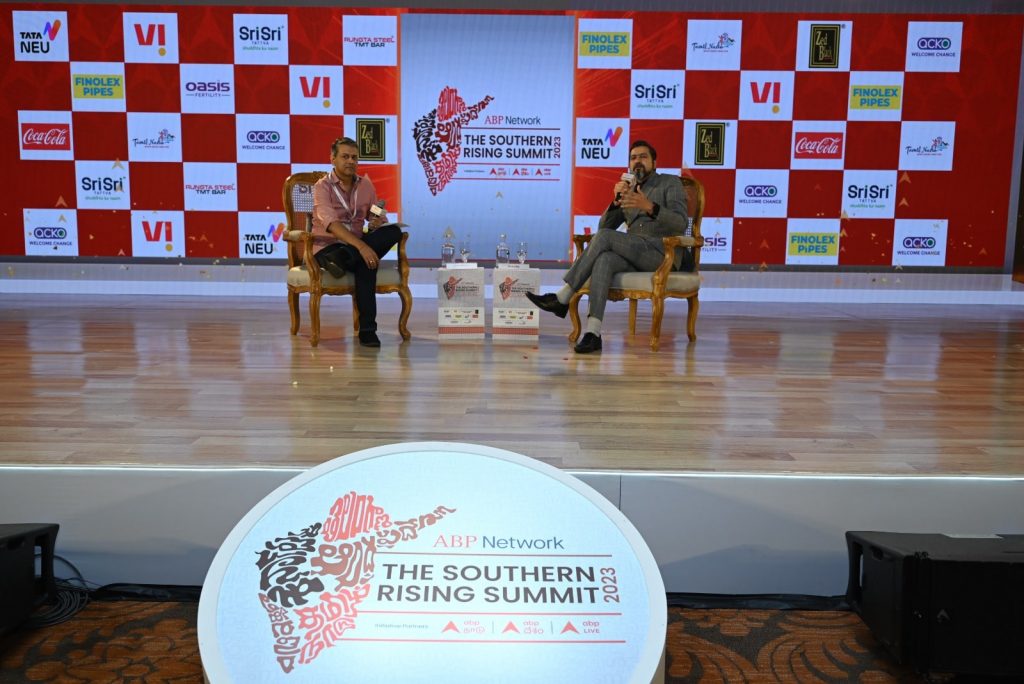 Versatile actor and director Revathy shared her experience of acting and film-making in the session titled 'Time Traveller- 40 Years on the Big Screen.' She said," I was introduced by Director Bharathiraja, who helped and taught me to listen to scripts, decide, and also learn to say no. It was a learning process, and I always had mentors like him. Mani Ratnam's 1986 film Mouna Raagam is very close to my heart. Nobody wanted to do it. It was the first film in my career where the performance was very realistic. I'm very passionate about filmmaking. It took me 18 years to make my first film. I did not plan to become a director. It just happened."
Sharing her journey and experience of working with different languages, she added, "Tooth Pari, a Netflix series, challenged me as an actor. The story has changed, storytelling has changed, filmmaking, and aspects of filmmaking have changed. Society has transformed in many ways which has brought a change in the film industry. My father is a retired army officer. We moved to places from Mathura, Dehradun, Hyderabad, and Kashmir, all over India. You tend to adapt easily. I didn't have an accent, and I was not really fluent in any language. It took me time to understand languages."
These multi-faceted sessions during the Summit celebrated India's artistic and cinematic achievements, reminding of the incredible depth and diversity found within the country's cultural landscape.
The Southern Rising' Summit was conceptualized and instituted by ABP Network as a tribute to the exceptional growth, cultural opulence, and societal harmony exemplified by the southern states of India. It aimed to celebrate the spirit and richness of southern states, united on a singular mission of driving a transformative journey for India. The summit witnessed profound deliberations and sharing of insights by the movers and shakers of South Indian states and Union Territories.
About ABP Network:
An innovative media and content creation company, ABP Network is a credible voice in the broadcast & digital sphere, with a multi-language portfolio of news channels reaching 535 million individuals in India. ABP Studios, which comes under the purview of ABP Creations – the content innovation arm of the network – creates, produces, and licenses original, path-breaking content outside of news. ABP Network is a group entity of ABP, which was incorporated almost 100 years ago and continues to reign as a leading media company.