The world is locked down and everyone is doing their bit to make people stay home and safe. Even the advertisement agencies have taken the responsibility on their shoulder to do their part.
Some of the important and renowned companies are promoting their brands with new ads around Coronavirus and safety steps associated with it:
Take a look:
1. Dominos:
Recreating the scene of Tom Cruise's 'Risky Business', the famous pizza brand Dominos released an ad for the contactless delivery to ensure the safety of all its employees and customers. Apart from promoting it's new feature, the company is also asking people to stay calm and indoor.
2. Toyota:
In the bleak hours, what we need the most is the hope for a better future and Toyota with its new advertisement is promoting the same. Capturing humanity by showing family bonds and community services, the company quotes "We're here for you now, and all the better days ahead", planting the seeds of hope in all of us.
3. Asian Paints:
'Har Ghar Kuch Kehta Hai', the tagline of Asian Paints which has kept us enchanted forever. Now, the company has released a new advertisement with the tagline 'Har Ghar Chup Chap Rehta Hai', cataloging the lives of people indoors. Showing that our home is a safe heaven and will always be, Asian Paints' advertisement is really heartwarming. Take a look:
4. Durex India:
Durex is all about fun with protection and has always amazed us with its creative ads. Now Durex India has tried to cheer us up during the lockdown times with its light-hearted, fun slogans. The company has posted a series of pictures with words that have wild meanings along with a generic message of 'Stay Home, Stay Safe'.
Check it out: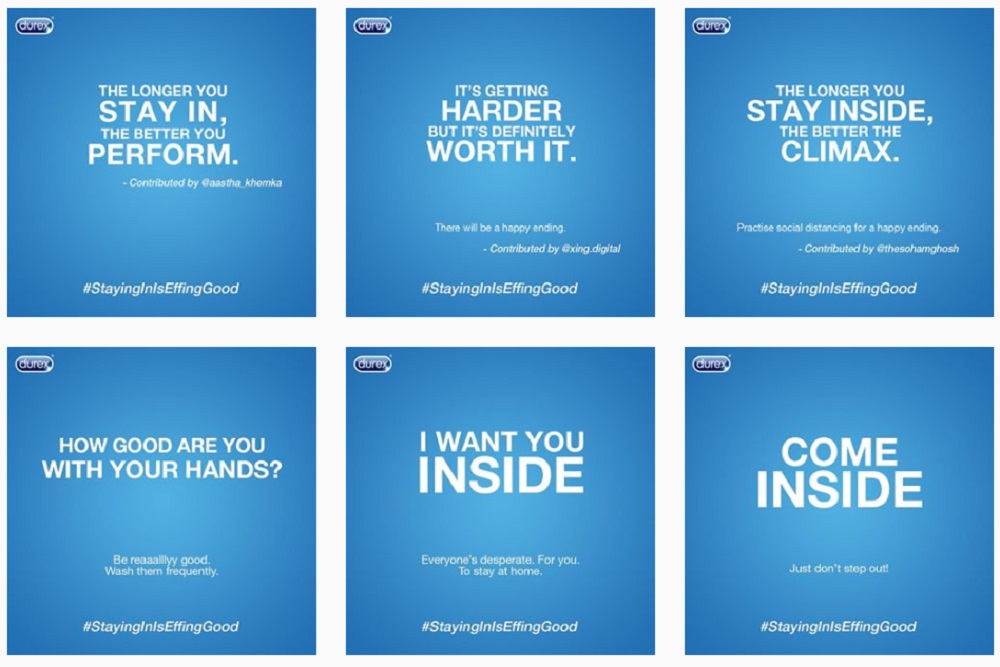 https://www.instagram.com/durex.india/?hl=en