A range of 4 power-packed products- SUGAR Coffee Culture Eye Firming Cream, SUGAR Coffee Culture Pore Purifying Mask, SUGAR Coffee Culture Brightening Serum, and SUGAR Coffee Culture Lip Scrub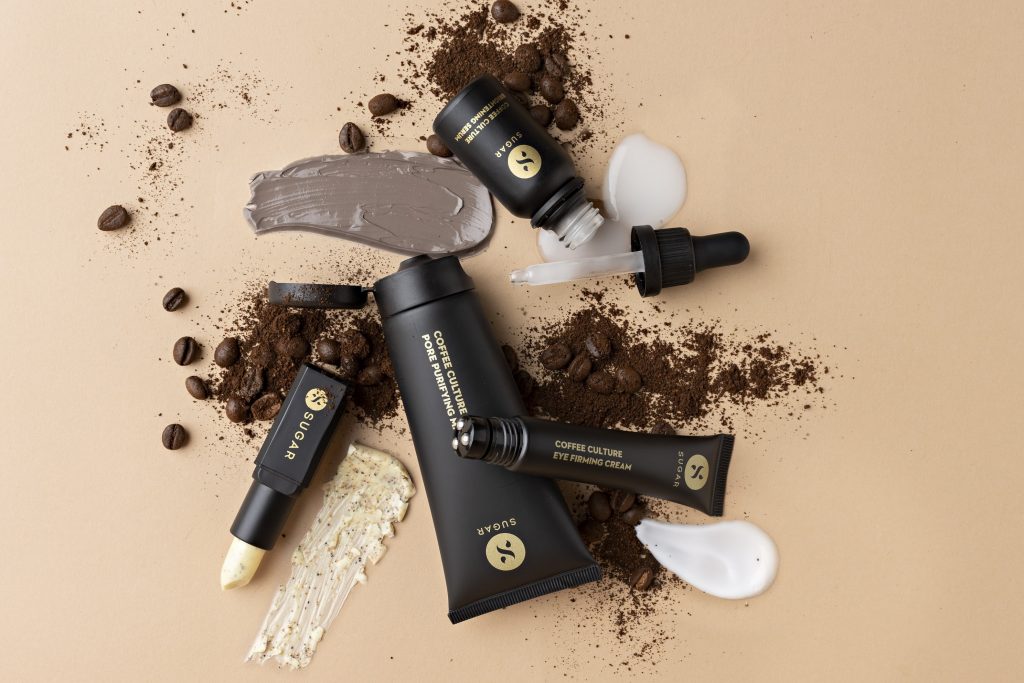 Don't most of us reach straight for a cup of coffee first thing in the morning to give us that much-needed boost? But adding coffee as a key ingredient to your skincare routine also promises a whole set of benefits that make it a favourite skin 'drink.' Coffee not only perks up your brain, but it also rejuvenates dull skin and adds a radiant glow!
Coffee Culture Firming Eye Cream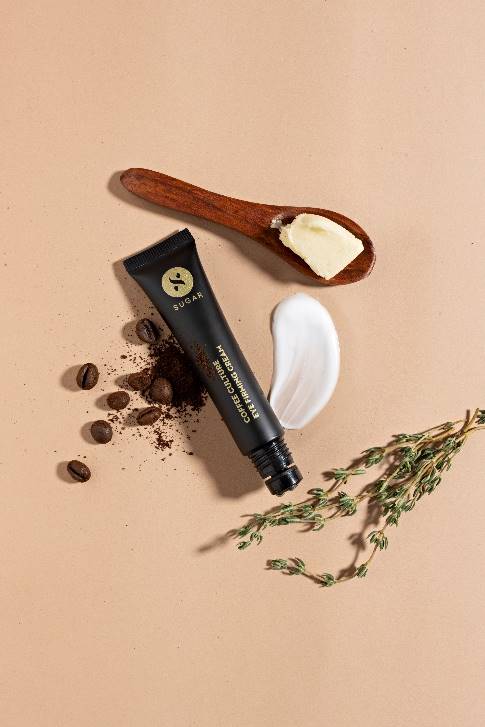 To help you brighten up and boost your skin, SUGAR Cosmetics brings you the Coffee Culture range of 4 power-packed products!
If you battle with dark circles and tired-looking eyes, you've come to the right place! Try the super-light and refreshing SUGAR Coffee Culture Firming Eye Cream. Enriched with skin-soothing seaweed, hyaluronic acid and shea butter, it gives your under-eyes a boost of moisture, brightens, and helps to strengthen the skin barrier. This intensely moisturizing anti-fatigue eye cream is infused with caffeine which de-puffs delicate skin around your eyes, smoothens out skin, and keeps fine lines at bay. It also contains peony extract which is known for its anti-inflammatory and antioxidant properties along with skin healing cica, which is prized for its anti-aging properties.
The Coffee Culture Firming Eye Cream comes with a note-worthy formula and a unique roll-on applicator- make it a part of your everyday skincare routine to nourish, repair, and soothe your eyes!
Priced at: Rs.399/-
Coffee Culture Pore Purifying Mask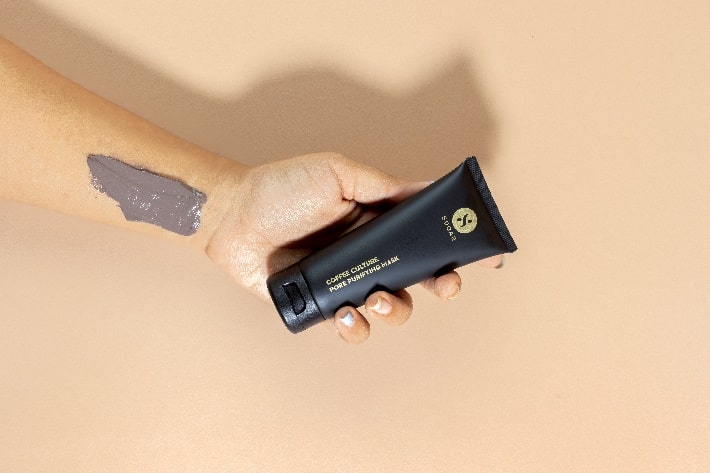 Has your skin been acting up lately? Try the SUGAR Coffee Culture Pore Purifying Mask – a soothing clay mask that deep cleanses pores and provides long-lasting, intense hydration. Enriched with antioxidant-rich coffee seed oil and green coffee extract, this skin brightening face mask helps fight premature ageing, tightens pores and keeps the skin firm and supple. The skin detoxing bentonite clay absorbs excess oil, dirt and impurities and works wonders for oily and congested skin. It also contains gentle kaolin clay, which unclogs pores, evens out skin tone and is great even for the most sensitive skin. Coffee Culture Pore Purifying Mask is also infused with skin-brightening tangerine peel extract which helps fade dark spots and adds glow. Use this skin-loving mask to leave your skin softer, brighter, and blemish-free!
SUGAR Coffee Culture Brightening Serum
Are you looking for a serum that'll bring dull skin back to life? Try the multi-tasking SUGAR Coffee Culture Brightening Serum that brings back skin radiance and targets spots, dark circles, and dryness. Formulated using revitalizing coffee seed oil, green tea and witch hazel extracts, this serum intensely hydrates, refreshes and adds a soft glow to your skin. It contains cica, which is known to soothe troubled skin, lessen fine lines and improve skin's elasticity. The best part? This serum is so lightweight, it absorbs quickly, leaving behind no sticky residue! The infusion of organic jojoba oil maintains the skin's pH balance and keeps it supple, while vitamin E keeps the skin firm and youthful. So, get ready to see your skin get brighter, smoother and dewy soft with every use!
Priced at: Rs. 499/-
SUGAR Coffee Culture Lip Scrub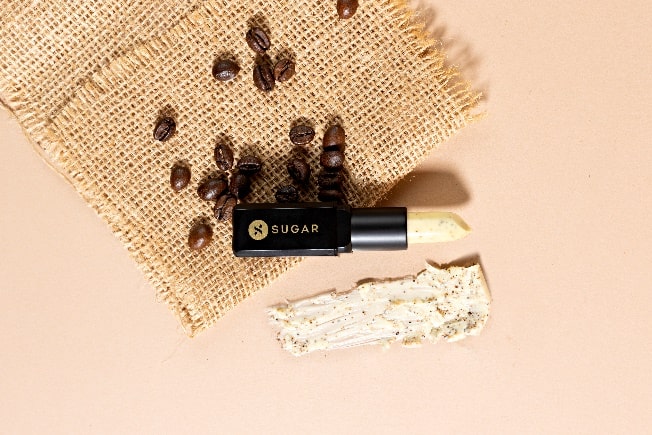 Are dry, flaky lips ruining your perfect pout? We got your back! Try the super nourishing SUGAR Coffee Culture Lip Scrub. This unique lip scrub in an easy-to-use stick format is infused with tiny granules of coffee along with coffee seed oil which gently exfoliates your lips to reveal smooth, plump and hydrated lips. Perfect for pre-lipstick application, Coffee Culture Lip Scrub with a creamy, wax-based formula polishes your lips, removes dryness and flakiness and leads lips extra softness and suppleness. It buffs away dead skin and lightens pigmentation, leaving you with smooth, pink lips. Expertly crafted with glycerin, olive fruit oil, jojoba seed oil and almond oil, this 100% vegetarian coffee lip scrub will leave your lips with a lasting shot of hydration!
Priced at: Rs. 299/-
About SUGAR Cosmetics (www.sugarcosmetics.com):
SUGAR Cosmetics, a cult-favorite amongst Gen Z and millennials, is one of the fastest-growing premium beauty brands in India. With its clutter-breaking persona, signature low-poly packaging, and chart-topping products, SUGAR is the makeup of choice for bold, independent women who refuse to be stereotyped into roles. Crafted in state-of-the-art facilities across Germany, Italy, India, the USA, and Korea, the brand ships its bestselling products in Lips, Eyes, Face, Nails & Skin categories across the world. With a cruelty-free range that is high on style and higher on performance, the brand is obsessed with crafting products that are a perfect match for every Indian skin tone across seasons and around the calendar. Backed by the trust of marquee investors and the love of millions of makeup enthusiasts, SUGAR Cosmetics is rapidly scaling its physical presence with 10,000+ retail outlets as of 2020 across 130+ cities and a mission of reaching the doorstep of every makeup user in the country.