Actress Zita Vass and Miss Europe 2020 & Model Gaby Guha attended one of the most prestigious global events, the Cannes Film Festival and walked on the carpet. For her walk at the 76th Cannes Film Festival, Zita Vass selected a sensational and cutting-edge couture gown by ReynuTaandon that complemented the actress's aesthetic and demeanor. The designer dress had a halter neck cut that accentuated the attractiveness of the silhouette and was made up of beads, Swarovski, and sequins. The silhouette was coupled with fashionable organza and included a waist cutout. The stunning and regal ingenuity enhanced the grandeur of the complete ensemble. Gaby Guha, a French model, opted to wear Nikhita Tandon's designs. Inspired by The Archangel Mehra trim energy, whose aura was included in a 10-metre-long hand embellished sequin net trail, served as the inspiration for the Miss Europe 2020 sequin embroidered orange ray light gown. The prima donna was hugged by the accentuated waistline and plunging neckline, creating a ground-breaking and jaw-dropping appearance.
ReynuTaandon's Insta Link: https://www.instagram.com/reynutaandon/
Zita Vass's Insta Link: https://www.instagram.com/zitavass/
Zita Vass was astounded by the couture dress' top-notch design. She claimed that ReynuTaandon's creation "matched my ideals. She and her team deserve my deepest congratulations for coming up with such a stunning look. "Nikhita and her team curated an inspiration gown that made me look like a celestial angel," said Gaby Guha in a statement. Thanks to the designer for coming up with such a fantastic and distinctive style that suited what I was looking for.
Nikhita Tandon's Insta Link: https://www.instagram.com/nikhitatandon/
Gaby Guha's Insta Link:https://www.instagram.com/gabyguha/
ABOUT REYNU TAANDON AND NIKHITA TANDON
Reynu Tandon's spirit and energy is reflected in profuse use of colors and embellishments in her creations. Her signature flamboyance is brought to life with her extraordinary sense of style. Her creations speaks of worldly ways in their intricate draping, magnificent construction and flawless finish. An extraordinary sense of style brings clean and distinct silhouettes alive. Every and each piece is an ode to individual expression that embellishes the wearer's identity. A seasoned couturier, Reynu Tandon's high end fusion garments celebrate femininity and sensuality. With around 2 decades of stellar experience in the industry, Reynu's body of work comprise working with an eclectic set of international clients (Harvey Nichols Riyadh RSH – Dubai, Anthropoligie – USA, Front Street – Saudi Arabia and Sun Motoyama – Japan) and Bollywood celebrities, at the same time leaving an indelible mark in prominent fashion runways. Spot her sparkling creations making a statement in the cocktail circuit from Bombay to Dubai to Paris.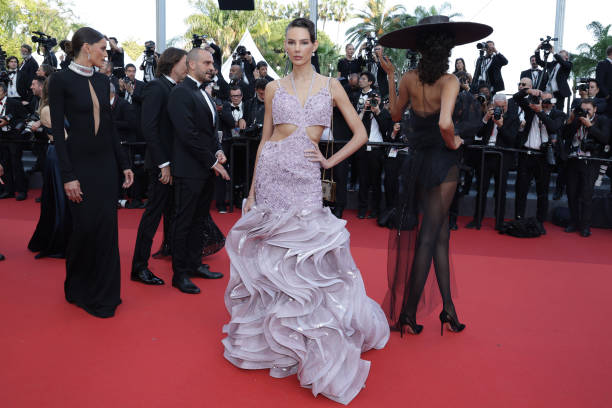 Nikhita Tandon, a fashion designer in Delhi, India is one of the most talented and budding fashion designers who influence the fashion industry worldwide and creates magic with her unbelievable talent and makes everyone fascinated with her unparalleled talent. Optimally praised as the most hardworking and dedicated fashion designers in India and around the globe with her modernized yet traditional touch and passion for fashion designing and establishment for style follows 'Perfection'. Always dedicated towards perfection and the complete picture- the most spellbound look! and believes every bit and element should be synergistic to create an eccentric portrait of total beauty with a spectacular style statement. Her dedication and love for perfect fashion sense no doubt makes her stand out as an exceptionally skilled fashion designer in the industry. From an early age, the super talented fashion designer Nikhita Tandon knew she wanted to set up her own fashion house. This served as an indication towards the direction she would be taking to emerge, years later, as one of the strongest voices and talents in couture and fashion internationally.
Website: https://mynahs-reynutaandon-nikhita.com/
Facebook Link: https://www.facebook.com/ReynuTaandonOfficial/