Move over Yellowstone National Park and hello Valley of Fire! With fewer crowds, lesser-known landscapes and breathtaking scenery, it's time for State Parks to get their turn in the spotlight. There are over 2,400 State Parks to explore across the U.S., so GoUSA.in has rounded up ten State Parks to kick-start your adventures in the great outdoors…
From left to right: Valley of Fire State Park, Desoto State Park © Brand USA, Sam Houston Jones State Park © Lake Charles Southwest Louisiana CV

Sam Houston Jones State Park – Lake Charles, Louisiana
Three hiking trails wind through the mighty Sam Houston Jones State Park, inviting travellers to explore the tree-filled lagoons that act as tributaries to Lake Charles' main Calcasieu River. The park is proudly home to more than 70 acres of longleaf pines – the oldest living southern pine species – and is actively restoring the splendour of the region's local forests via the educational Longleaf Legacy Project. Perhaps most special of all is the access to wildlife, with turtles, alligators, otters and raccoons scuttering through the park, and nearly 200 species of birds, making it one of the best bird-spotting places in all of Louisiana. The park's many waterways makes it a popular spot for water sports, and affordable campsites are available, as well as glamping options.
Valley of Fire – Overton, Nevada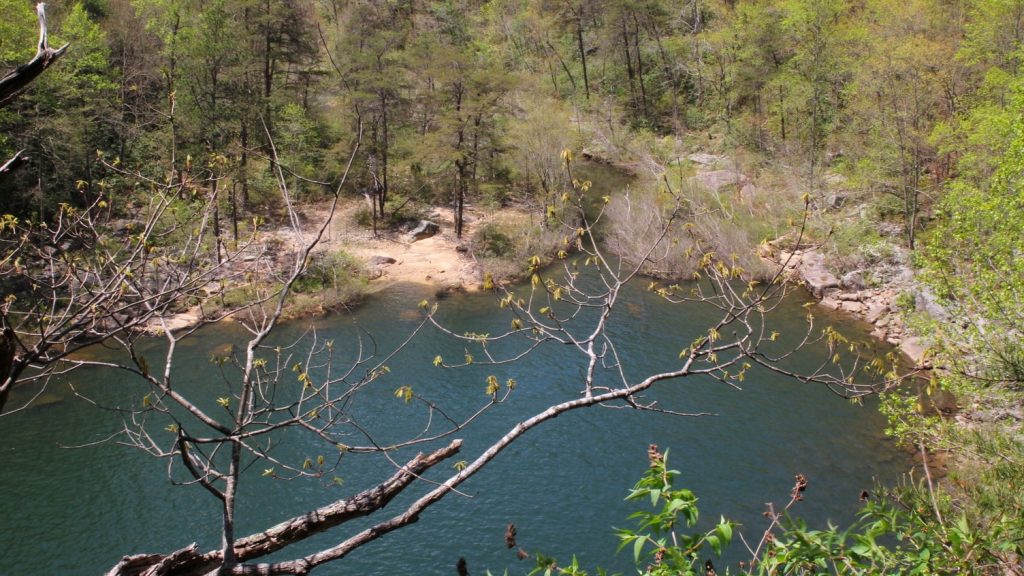 World-renowned for its 40,000 acres of bright red Aztec sandstone rocks, Valley of Fire State Park is home to ancient, petrified trees and petroglyphs more than 2,000 years old. Located in the Mojave Desert, the park is a true geological wonderland, with sandstone formations dating back to the Jurassic period. Nevada's oldest and largest State Park is only 80 kilometres northeast of Las Vegas, making it the perfect day trip for those wanting to escape the bustle of urban life. Drive through the park at sunset to witness a true natural phenomenon as the sun's rays reflect on the park, making it appear to be quite literally on fire!

Castle Rocks – Almo, Idaho
Located among the pinyon trees on the slope of Smokey Mountain in Cassia County, Idaho, with rock formations dating back 2.5 million years, Castle Rocks State Park is home to historic trail crossings, 20th century ranching, and even remnants of Native American pictographs. The challenging landscapes of Castle Rocks attract thousands of rock climbers every year, and more-experienced hikers will be rewarded with views along the California National Historic Trail. The steep terrain is ideal for mountain biking year-round, and cross-country skiing, snowshoeing and ice climbing in winter. Castle Rocks also makes for the perfect family day-out; practise your archery skills with the park's trained rangers, or keen fishers can try their hand at catching a Chinook, Salmon, Steelhead or Trout.
Desoto – Fort Payne, Alabama
At the southern foot of the Appalachian Mountains in Northeast Alabama, Desoto State Park's vast expanses of protected forests offer a year-round rainbow of natural beauty, with blazing sunset colours of fall foliage, brilliant pink and purple rhododendrons in spring and dense green forests in the summer. The park has 40 kilometres of hiking trails, with Alabama's tallest waterfall, Grace's High Falls – standing at 133 feet – just a short drive away at Little River Canyon. Walkers may even be able to spot a bear or two feeding in the river below, with daily reports of black bear sightings. Overnight park visitors can opt for cosy lodge cabins equipped with a kitchen and fireplace, or try their hand at a more rustic camping experience tucked away within the woods. Whatever choice of abode, park guests can be found gathered around the campfire toasting s'mores and singing along to country music classics.
Little Missouri – Killdeer, North Dakota
Little Missouri State Park, in Western North Dakota, is home to some of the most rugged and picturesque badlands in the State. The park has over 45 trails, and visitors are encouraged to ride on horseback to best explore them. One of the park's most popular trails is the Park Loop, an eight-kilometre route best suited for those seeking an off-the-beaten path adventure, with sweeping Badlands views. Make sure to bring binoculars as the park is also a haven for unusual wildlife; from mule deer to bobcats, and even golden eagles. After a day of roughing it among the badlands, spend the night in rugged comfort camping under the stars.
NOTE TO EDITOR
Accompanying high-resolution, destination-focused imagery can be downloaded via this Dropbox link: HERE
About Brand USA
Brand USA, the destination marketing organization for the United States, was established by the Travel Promotion Act 2009 as the nation's first public-private partnership to promote the United States as a premier travel destination and to communicate U.S. travel policies and procedures to worldwide travelers. The organization's mission is to increase international visitation to the USA to fuel the U.S. economy and enhance the image of the United States worldwide. Formed as the Corporation for Travel Promotion in 2010, the public-private entity began operations in May 2011 as Brand USA. According to studies by Oxford Economics, over the past nine years Brand USA's marketing initiatives have helped welcome 7.7 million incremental visitors to the United States, benefiting the U.S. economy with more than $56 billion in total economic impact and supporting, on average, more than 40,000 incremental jobs a year. Importantly, approximately half the jobs supported are outside the travel and tourism industry, including manufacturing, construction, finance, retail, and more.
Brand USA's operations are supported by a combination of non-federal contributions from destinations, travel brands, and private-sector organizations plus matching funds collected by the U.S. government from international visitors traveling under the Visa Waiver Program.
Visit GoUSA.in for exceptional and unexpected travel experiences in the United States and follow
Visit The USA on Facebook, Twitter, and Instagram.