The Countryside of Philadelphia, rich with its history, art, horticulture, and culinary expanse, is a hidden gem for travelers. From being called 'America's Garden Capital' to carrying accolades such as the 'Mushroom Capital,' the area, including Brandywine Valley, is a destination that offers the perfect weekend extension to your travel itinerary. Apart from the various historical and cultural aspects, the area is a major hotspot for food and drink lovers. The Countryside is home to thousands of restaurants, breweries, wineries, and distilleries that conserve some of the best aromas, flavors, ingredients, and culinary expertise.
The Countryside of Philadelphia is conveniently located on the East Coast between New York City and Washington, D.C., and just minutes from Philadelphia. Also, close to Philadelphia International Airport and accessible by rail and all major roadways, The Countryside is a great addition to any east coast itinerary as a weekend gateway. Eat and drink your way through a fascinating and delicious trail of food, beer, wine, and more on this trip.
Day 1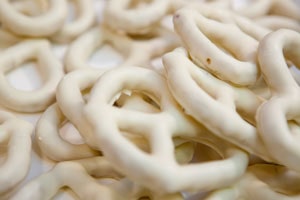 • We recommend starting your day of culinary indulgences with brunch at Victory Brewing Company. Pair your entree with soft baked pretzels and a craft beer flight (the Golden Monkey is a local favorite). If you visit on the weekend, you can sign up for a free guided brewery tour!
• The tastings continue at Chaddsford Winery, a pioneering wine estate producing renowned sweet wines. This spot is known for its live music, food fairs, and tastings.
Day 2
• Begin the day with a guided tour at the Herr's Factory. Get ready for a delicious blend of entertainment and education as you get a taste of Herr's history, products, and souvenirs. You haven't lived until you've tried a fresh Herr's Potato Chip hot off the line.
• Kennett Square is known as the Mushroom capital. Located in the restored Woodlands at Phillips farmhouse dating back to 1828, take a free, self-guided tour where you'll learn about "everything mushroom ".
Day 3
• Celebrate life's sweetest pleasure at Asher's Chocolates, a family-owned and operated company that has been making fine chocolate since 1892.
• Unwind at Stone and Key Cellars, an urban winery and cidery. Here you can enjoy wine by the flight, glass, or bottle as you overlook the production floor to see how it's all made.
The Countryside of Philadelphia offers a surprising basket of different experiences. With the variety of museums and gardens, the beauty of the Countryside, delectable food and drink, and a quaint setting away from the bustling city, it is highly recommended for every traveler. And the culinary scope of the Countryside adds the right amount of character to this short and sweet getaway.