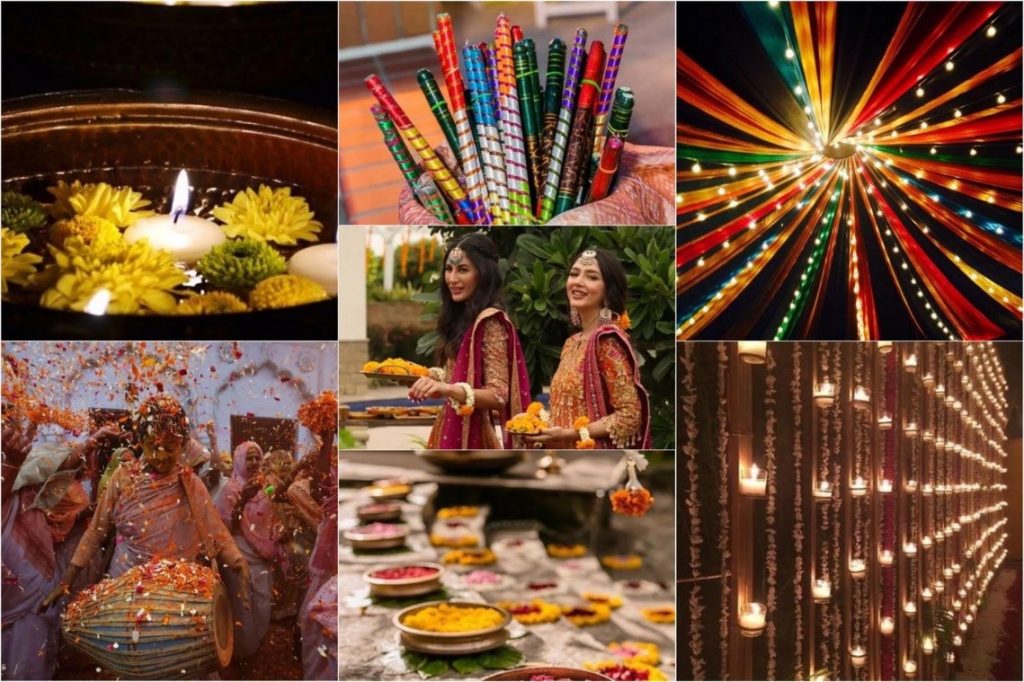 Festivities bring with them joy, happiness, and lots of colour. Every colour embraced during the festive season is a celebration of one's emotion. This Navratri, give your festive wardrobe a colourful makeover with 9 exquisite shades brought to life in festive wear curated by renowned fashion brands Sukriti & Aakriti, Ridhi Mehra, Nitika Gujral, Prints by Radhika, Loka by Veerali, Global Desi, Drishti & Zahabia, Vvani by Vani Vats, and Pink City by Sarika.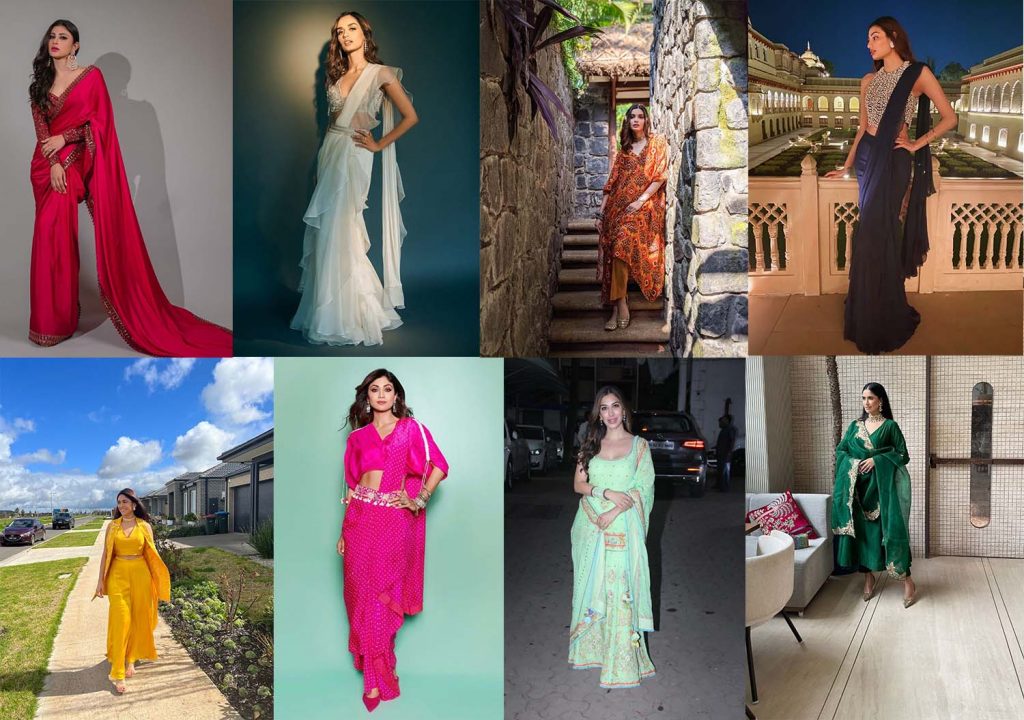 Colour: White
Brand: Sukriti & Aakriti

White Embroidered Sharara set
White plays the perfect canvas to highlight the magic of festivities through colourful embroideries and embellishments. Sukriti & Aakriti's sharara set adds to the festive cheer and the pristine white hue brings a sense of calm and serenity to the silhouette. Enhanced with intricate multi-coloured embroidery, this set is a great option to flaunt all your garba moves this Navratri.
Colour: Royal Blue
Brand: Nitika Gujral

Royal Blue Georgette Saree
Nothing spells royalty like the colour blue. Of the many shades of blue, the royal blue exudes power and grace. Nitika Gujral's exotic georgette saree feels like royalty in the shade. The antique sequins and intricate zardozi embroidery detailing designed on the blue saree looks similar to the sky on a starry night.
Colour: Yellow
Brand: Prints by Radhika

Straight Kurta Set
Be a ray of sunshine this festive season. Prints by Radhika's embroidered straight long kurta set featuring a minimal embellished dupatta celebrates the colour yellow. The bright hue enhances the baadla embroidery featuring sequin, cutdana and moti. The ethnic silhouette and colour combination together will complement your festive look this Navratri.
Colour: Green
Brand: Loka by Veerali

Hand Embroidered Kurta Set
Bring in a piece of nature into your festive wardrobe. The bottle green flared chanderi silk kurta hand embroidered with sequins and coloured thread work is what your festive fashion diet needs. Loka by Veerali celebrates the colour green in its festive looks and ensures you have a great time. The ensemble comes with an ombre silk dupatta in shades of melon pink, mustard, and ash grey, a bouquet of festive colours to brighten up your day.
Colour: Grey
Brand: Global Desi

Floral Straight Kurta
Spruce up your festive look with this grey floral printed kurta from Global Desi. The shimmery golden print and lacey borders designed on grey makes this kurta set an unconventional yet contemporary choice for Navratri. You can pair the set with a dupatta in contrast colour and accessorise with your favourite jewellery.
Colour: Orange
Brand: Drishti & Zahabia

Mix Print Panelled Kurta Set
Kesariya or orange seems to be the favourite colour this festive season. Add the bright hue to your festive style. Drishti & Zahabia's orange kurta in dupion silk base with dori work, mirrors, anchor, threads, sequins and zardosi hand embroidery, is a colourful mix of festivity with fun prints. Pair it with matching straight pants and a net embroidered scalloped dupatta.
Colour: Peacock Green
Brand: Vvani by Vani Vats

Embellished Pant Kurta Set
A dark greenish-blue colour, Teal makes for a fun festive shade. Vvani by Vani Vats gives the shade a deeper tone and celebrates it in an embellished pant kurta set. Enhanced with light rose gold and silver embellishments, the kurta is an ideal look for an evening function this Navratri.
Colour: Pink
Brand: Pink City by Sarika

Spaghetti Kurta Set With Bandhani Dupatta
Celebrate tradition with pink this festive season. Pink City by Sarika's zari embroidered straight spaghetti kurta in pink is a must have this season. The colour pink accentuates the embroidered booties and bandhani dupatta. A happy yet feisty colour to try out, spread the colour and be festive happy this Navratri.
day 2 Colour: Red
Brand: Ridhi Mehra

Embroidered printed silk ruched Anarkali
Twirl, Sway and have a blast in red this Navratri. A festive favourite, red has many emotions and celebrating the hue with you is Ridhi Mehra's gorgeous silk anarkali. The flair embroidered printed silhouette with ruched detailing, makes this radiant red ensemble a must have this festive season.